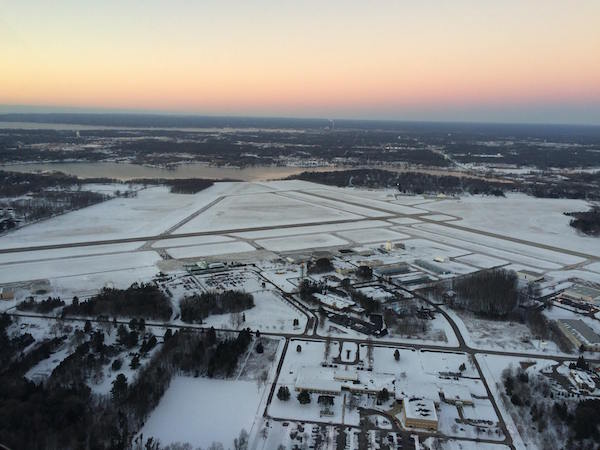 Jan. 15, 2016 // Facility Spotlight: Muskegon ATCT (MKG)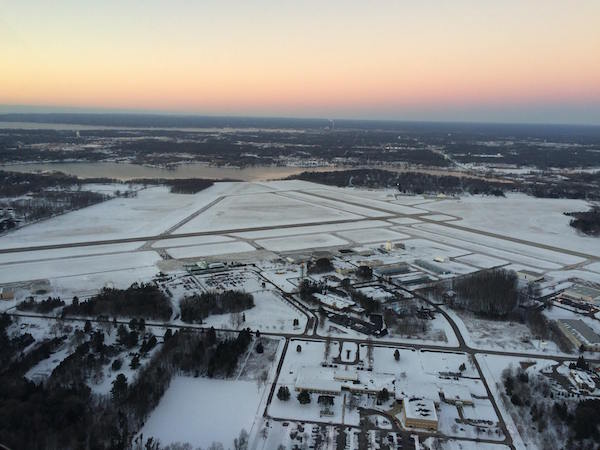 Muskegon Air Traffic Control Tower (MKG) is located not far from the beach of Lake Michigan in Muskegon, Mich. The facility has been in operation since 1967 and the TRACON since 1980. "The Hidden Jewel of West Michigan" provides air traffic control services for central west Michigan, from south of Pullman VHF Omni Directional Radio Range (VOR) to Sleeping Bear National Lakeshore, to the north near Oceana County Airport, and from Coopersville long-range radar site in the east, to halfway across Lake Michigan in the west. MKG shares airspace boundaries with Chicago Center (ZAU), Minneapolis Center (ZMP), Milwaukee/Mitchell (MKE), Grand Rapids (GRR), Kalamazoo (AZO), and South Bend (SBN).
Twenty-two controllers work at MKG, 11 of whom are developmentals. NATCA makes a great showing at MKG with all but four controllers being NATCA members. There are typically a couple of solidarity events a year and the most recent was a disc golf tournament and dinner. NATCA has a good relationship with management at MKG and is making progress in areas in which it is harder for the two parties to arrive at agreements. Overall, the atmosphere at MKG is professional but laid back.
There are pancake breakfast fly-ins at the numerous airports in MKG's airspace, but the big annual event at MKG is the Oshkosh EAA Airventure, which happens at the end of July and runs into August. There is a dramatic increase in traffic—around a 400 percent gain for the two weeks of the show. Controllers routinely guide everything from small single engine aircraft, corporate jets, regional jets, as well as air ambulance and military helicopters. Because MKG is a level 5 facility, it demands controllers who are flexible and dynamic and can handle workload increases at a moment's notice.
"One event that really showed the capabilities of our 'low-level' TRACON was the Chicago Center (ZAU) outage," says FacRep Mark Stoll. "At MKG, traffic counts went up 600 percent overnight, without warning. There was a lot of experimentation and solution-finding in the early hours of the emergency and what the controllers and management arrived at was a rather unorthodox arrangement."
Stoll explains that since the automation and communications channels that are normally used were not available, and since MKG was (and remains) short-staffed, the best solution was for the controllers to run all traffic on the outdated D-BRITE (Digital Bright Radar Tower Equipment). He says other controllers in the Terminal Radar Approach Control in Tower Cab (TRACAB) handled manual handoffs, passed strips, and coordinated with the operational sectors that remained controlling aircraft.
"This was an unorthodox solution, but it worked," says Stoll. "It was safe and it allowed the traffic to be worked while ZAU was being rebuilt."
In the winter, MKG controllers deal with significant icing conditions caused by the unique meteorological conditions associated with being near a large and cold lake. The conditions are such that icing experts, worldwide, have studied them and companies have tested known-icing equipment on experimental aircraft.
"Our traffic changes with the season, sometimes daily or even hourly," says Stoll. "Overall, the conditions at MKG make for a facility where the traffic may seem sparse at times, but is never dull. Being a FacRep here is a lot like the traffic: definitely not routine."