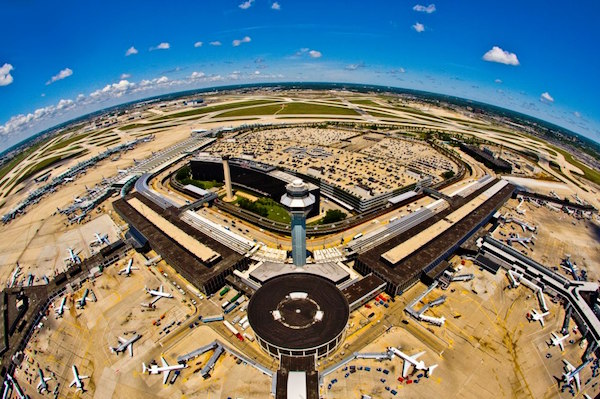 Jan. 15, 2016 // ORD Members Overcome Challenges to Keep Major Hub Airport Safe, Efficient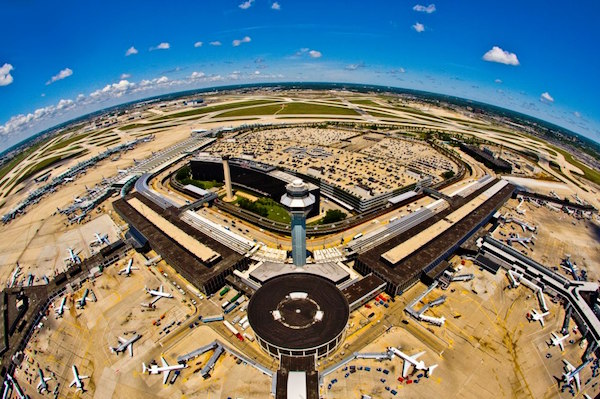 O'Hare from above.
Photo courtesy of John Hill, Tigerhill Studio.
When the Chicago O'Hare Modernization Program (OMP) was announced on June 29, 2001, it initiated incredible challenges for O'Hare Tower (ORD) controllers. The program's goal was to transform the outdated, intersecting runway layout into a safer, more efficient parallel layout. This would increase capacity at the airport and reduce delays moving into the future. The OMP is the nation's largest airport construction project ever undertaken and once completed, O'Hare will have six east-west parallel runways with two crosswind runways.
Aircraft delays before this project exceeded 20 minutes per operation. Once completed, the new layout is projected to reduce delays to below five minutes per operation. Essentially, ORD FacRep Dan Carrico says, an entirely new airport is being built directly on top of the existing one, all while ORD NATCA members have valiantly and very professionally maintained uninterrupted daily operations.
"This airport hums at a rate that is either the world's busiest or second-busiest at any given time, and through everything we've been faced with, our members have not skipped a beat," Carrico said. "That's really remarkable and impressive."
The list of challenges is lengthy and diverse, from the unprecedented effort to overcome the problems resulting from the 2014 Chicago Center (ZAU) fire, to the ever-common severe weather events, and even a chronic and frustrating elevator problem.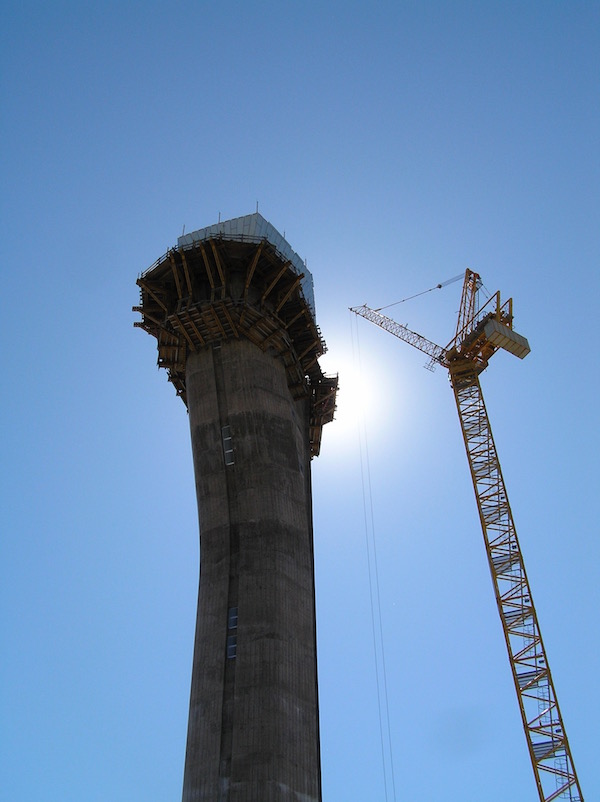 A new tower is constructed at O'Hare.
Photo courtesy of ORD NATCA member David Borger.
But after 10 years of constant construction, including three new runways and two new towers, controllers at ORD continue to maintain the highest level of safety in one of the busiest and most complex areas of the National Airspace System (NAS). Modernization has brought a host of new rules, tools, and regulations that have fundamentally altered how controllers at ORD move airplanes, including converging runway operations (CROs), the converging runway display aid (CRDA), and methods to better handle arrival and departure windows.
"When the rules changed unexpectedly, that presented another challenge on top of all the construction," Carrico said. "In the process, we developed CRDA and held a lot of meetings with the airport's users. We found a work-around to maintain our pre-CRO [or higher arrival rates] rates and continued to hum along."
Wake recategorization arrived too and precipitated major – but positive – changes to ORD's helicopter operations. According to Carrico, it was just another unforeseen circumstance to add to the ever-growing workload and challenges. True to NATCA resolve, members have met and excelled at overcoming everything thrown at them with minimal disruption to the airspace, Carrico added.
When a distressed contractor started a fire in the ZAU basement in 2014, ORD controllers sprang into action, helping make the hand-offs of all ZAU high-altitude traffic to neighboring Kansas City Center. They flawlessly and seamlessly made the emergency transition of aircraft while maintaining the highest level of safety and professionalism. On top of the construction challenges and despite the loss of ZAU, the ORD team regained the title of busiest airport in the NAS only four days after the fire. This was completely unexpected given the loss of efficiency caused by outage, but controllers at ORD overcame and thrived.
"For 11 out of the 17 days of recovery after the fire, O'Hare was the busiest airport in the country," ZAU FacRep Toby Hauck said. "That is an amazing feat."
Staffing is also a challenge at ORD, which has 48 certified professional controllers (CPCs), well short of the 68 needed. There are also 21 CPCs in training (CPC-IT) and, for the first time since the White Book last decade, five direct hires who have previous military experience. However, the facility will lose three CPCs to fill staff positions and five CPCs will move to other facilities. In addition, ORD has two mandatory retirements this year. While there are 10 more controllers slated to work at ORD, these losses and gains through 2017 will create an incredibly demanding workload. Something that controllers across the country working at already understaffed facilities feel every single day.
Through it all, ORD continues to excel. Everyone there maintains resolve to ensure that the busy ORD airspace continues to be safe and efficient during the continuing changes.
"The big thing for me is that this modernization project started over 10 years ago with a workforce at senior experience level," Carrico said. "Through turnover and retirements we are looking at a junior workforce now and they have continued to march forward and stick to the plan. It continues to flow. I am so impressed by that."
Carrico continued, "It's a completely separate workforce but no ball has been dropped. The construction comes and goes and we continue to work day in and day out. The success is because of our hardworking controllers and their excellent collaboration with management and the city of Chicago."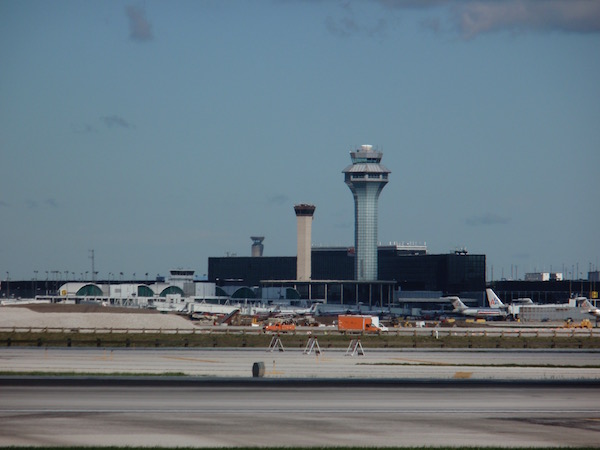 A view of O'Hare's three towers.
Photo courtesy of ORD NATCA member David Borger.