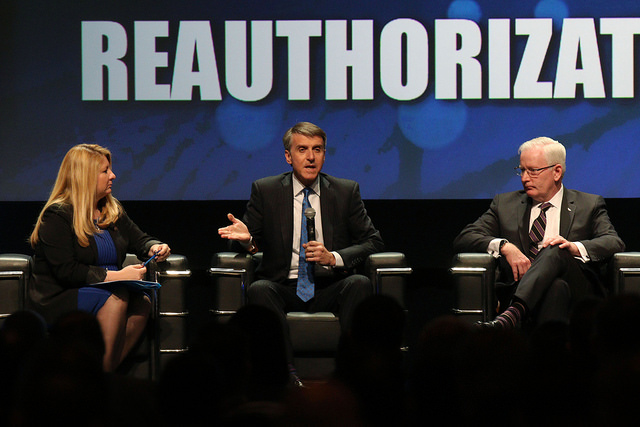 April 8, 2016 // Communicating For Safety 2016 Panel: The Pros and Cons of the Aviation Innovation Reform & Reauthorization Act (AIRR)
Moderator:
Trish Gilbert, NATCA, Executive Vice President
Panelists:
Randy Babbitt, Senior Vice President, Labor Relations, Southwest Airlines
Captain Tim Canoll, President, Air Line Pilots Association, International
Dr. Dorothy Robyn, Former Special Assistant to the President, 1993-2001
David Grizzle, CEO, Dazzle Partners, LLC, and former FAA Air Traffic Organization Chief Operating Officer
Ed Wytkind, President, Transportation Trades Department, AFL-CIO.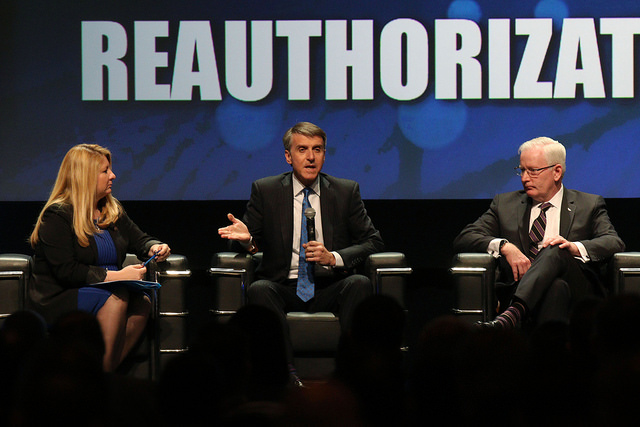 Pictured from left to right: Gilbert, Wytkind, and Canoll.
Overview:
The legislative process for passing a new Federal Aviation Administration (FAA) Reauthorization bill has the potential to be both lengthy and complex, but the near-universal call across the aviation community to end funding uncertainty — which threatens the growth and modernization of the National Airspace System (NAS) — remains clear. On Monday, March 21, the panel examined the issue in detail and covered the initial steps that both the House and Senate have made to address FAA Reauthorization.
The U.S. House of Representatives' Aviation Innovation Reform & Reauthorization (AIRR) Act proposes shifting control of the air traffic control operations from the FAA to an independent, federally-chartered, not-for-profit corporation.
NATCA supports the AIRR Act because it protects its members, creates a stable funding stream, and does not create a for-profit system, though Gilbert said she understands the apprehension that some members feel.
"Everybody understands the devil they know," Gilbert said. "It's almost accepted because at least we know what it is. We know what a shutdown looks like. We know what it's like to walk 20 flights of stairs when the elevator is out. We know that world. To have this other world, other than to look at NavCanada and see how it's worked out well for them, it's unknown. This is why we worked so hard to put in protections for our workforce."
Babbitt also supports the bill after having spent 50 years working with the current system saying, "I think it is time to try something new."
Robyn, who says she "believes deeply in the government," agreed, citing her experience advocating for restructuring since 1993. She downplayed fears of a new funding model.
"You don't have to worry about bleeding red ink," she said. "You do need to worry about not taking advantage of this opportunity."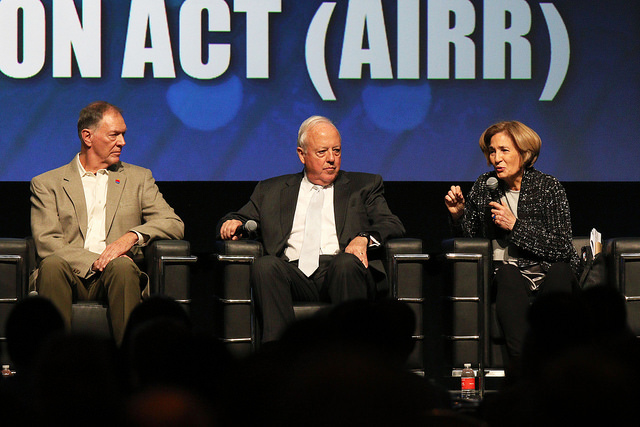 Pictured from left to right: Babbitt, Grizzle, and Dr. Robyn.
Wytkind said he has "grown weary of a system that uses FAA employees as scapegoats" and, "it's time for that nonsense to end." He stressed that the bill still needs work and that staying engaged to continue working through it is important. He also emphasized that "the real work will likely be done in the next Congress."
ALPA does not support the bill and Canoll expressed to the panel concerns that his members have had to endure numerous airline bankruptcies, but added that an air traffic control corporation monopoly would be different.
"Let's face it, you can't go out of business as a monopoly," he said.
Grizzle explained that even when the system is adequately funded, the procurement system remains broken.
"It is designed and controlled by the same people who control the budget, which sets up an impossible task," he said. "It requires the FAA to plan and schedule something that will not deliver a system for 10 years."
The Latest on FAA Reauthorization:
The House cleared legislation Monday, March 21, (as the panel concluded) and sent it to President Obama to extend legislative authority for the Federal Aviation Administration to July 15.
The FAA's current authority would have expired March 31. The temporary extension allows more time to reach consensus on contentious issues. For example, the House Transportation and Infrastructure Committee approved legislation that would last six years and would shift air-traffic control from the FAA to a not-for-profit corporation.
The Senate Commerce, Science, and Transportation Committee approved legislation that would last until October 2017 and will likely vote on it soon.
As of now the House version does not have floor time scheduled.
Watch the panel in its entirety.