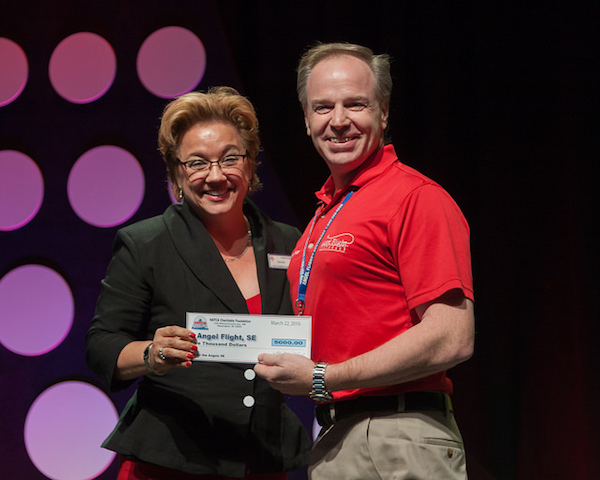 April 15, 2016 // Communicating For Safety 2016 Award: Mercy Flight/Angel Flight Southeast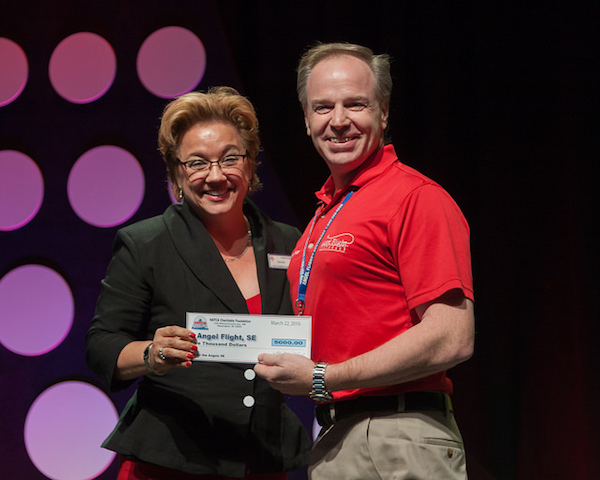 NATCA Charitable Foundation (NCF) President Elena Nash presented the CEO and volunteer pilot of Mercy Flight /Angel Flight Southeast Steve Purello with a $5,000 donation on behalf of NCF.
Angel Flight Southeast is a volunteer pilot organization of more than 650 volunteer pilots who utilize their personal aircraft, fuel, and time to provide free air transportation to medical facilities for citizens who are financially distressed or otherwise unable to travel on public transportation. The organization coordinates an average of 3,000 missions per year, including those which transport organ transplant candidates, people involved in clinical trials, chemotherapy or other repetitive treatment, victims of abuse seeking relocation, families receiving help from Ronald McDonald Houses, Shriners Hospitals, and many other charities. They also transport disabled or sick children to special summer camp programs, and for many other humanitarian reasons.
The pilots volunteer to fly patients that reside in Florida, Puerto Rico, U.S. Virgin Islands, and the Bahamas. Angel Flight Southeast belongs to the Air Charity Network, the world's largest integrated volunteer pilot organization covering the entire United States.
NCF is a 100 percent volunteer organization with over 95 percent of money raised going directly to those in need. Please consider a payroll deduction or tax-deductible donation to NCF to help support charities like Angel Flight Southeast.