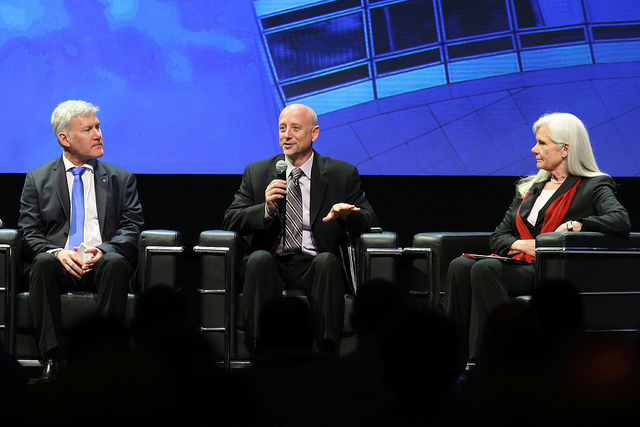 April 15, 2016 // Communicating For Safety 2016 Panel: NextGen and SESAR
Moderator:
Mary McMillan, Vice President, Aviation Safety & Operational Services, Inmarsat
Panelists:
Kevin McLaughlin, NextGen Representative, NATCA
Eric Risdon, Executive Vice President, Professional, IFATCA
Simon Hocquard, Operations Director, NATS, UK
Donald Ward, NextGen International, FAA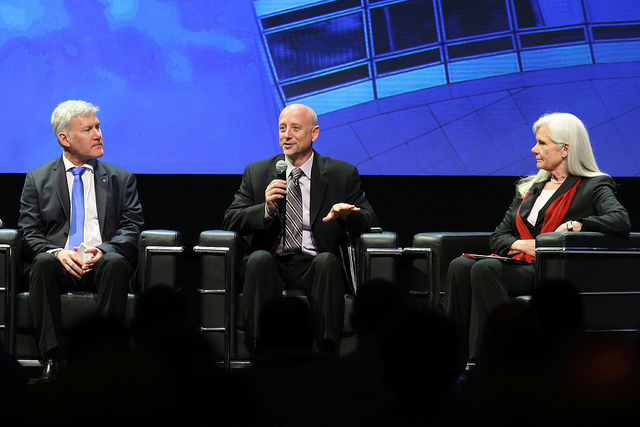 Pictured from left to right: Risdon, Ward, and McMillan.

Overview:
NextGen modernization efforts for the National Airspace System (NAS), with safe and effective new equipment and procedures, are a global initiative. Similarly, SESAR (Single European Sky ATM Research) is a joint effort between Eurocontrol and the European Union to modernize the European air traffic management system. The two programs seek to apply all available data and research to the development of new technologies that will modernize the NAS and European Airspace, respectively, while maintaining the highest safety standards. They are the driving force behind the design of systems for the next generation of air travel.
During this panel, each panelist presented their organization's efforts to incorporate new NextGen and SESAR technologies into their countries' respective airspace, as well as how they will maintain interoperability between these new systems. Interoperability between all NextGen and SESAR projects is key for air traffic controllers because they operate in a global airspace. Interoperability is essential to ensure what functions in the United States will function around the world without breaks in service, efficiency, or safety.
Ward focused on the International Civil Aviation Organization (ICAO) and its function as a global initiative in aviation. For years, the FAA has sent people to work with ICAO to help drive the industry forward. Controller viewpoints at ICAO are exceedingly important to the collaboration of NextGen and SESAR to ensure this next round of technology is built correctly. A lack of controller input at all stages of development can lead to lengthy and expensive setbacks when technology does not perform at the high standards demanded by the operating environment.
As automation becomes more prevalent in global air traffic systems, the human factor to traffic management becomes increasingly important. Risdon shared information on SESAR research. He said performance, safety, technology, human performance, and human factors are all elements that can be enhanced through research. He said that designing technology through this research should make things easier, faster, and safer but must never replace the human element. The ability of a human controller to react quickly and accurately in real time to constantly changing flight situations can never truly be automated.
Hocquard focused on the collaboration between SESAR and NextGen, pointing out that developing new technologies is a joint effort, not a race to the top. He said that continuously learning and bringing each other up can create a high-functioning and safe global aviation environment. NextGen and SESAR are the biggest changes ever undertaken in the United States and European airspace systems. Hocquard described a picture of what is happening today, and what will come tomorrow, saying, "We have the opportunity to make it what we want it to be." He emphasized that the key to the success of these projects is having controller involvement at every phase of development of new technologies.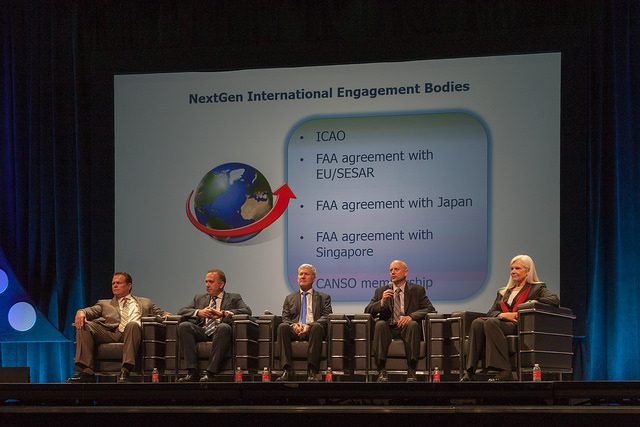 Pictured from left to right: McLaughlin, Hocquard, Risdon, Ward, and McMillan

McLaughlin discussed the future of 4D-Trajectory and the information sharing that will lead to its success. 4D-Trajectory is a concept based on the integration of time into the 3D aircraft trajectory, which aims to further streamline aircraft routes. He said, "ATC wins through these programs and the possibilities for this technology moving forward is robust." The transformational nature of NextGen has begun and will continue to drive future technologies as controllers and engineers improve systems. He stated that users want efficiency and predictability moving forward and warned that we could lose both if we do not incorporate the data collected into new technologies within the NAS and global airspace.
McMillan closed the panel by describing the paradigm shift occurring through NextGen and SESAR, saying that "the future depends upon successful collaboration between these programs and I encourage everyone to be engaged in these important conversations." This shift to controllers being more involved will only grow as more technologies are developed, tested, and applied to the global airspace.