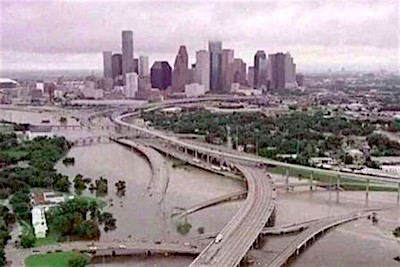 April 22, 2016 // This Week's Notebook: Member in Need, Youth Cap, Retirement Seminars, and Much More!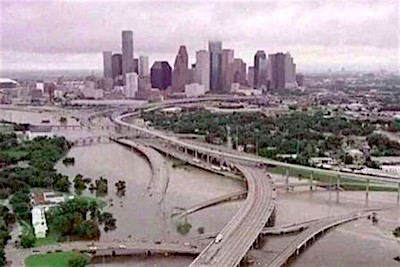 Houston Center's (ZHU) newest member, Lincoln Fox, arrived in Houston on Sunday, April 16, from the FAA Academy and rented a hotel room two miles from ZHU. He prepared to report for duty for his first day at the Center bright and early the next morning. He knew a storm was approaching, so he went down and moved his car, a 1999 Honda Civic, to the highest spot in the parking lot, just to be safe.
He had no idea that historic flooding in the area would soon occur. He awoke the next morning to find his car completely submerged, a total loss. Fox still has to return to Michigan and retrieve his belongings before setting up shop in Houston permanently.
Regardless, with all of the above ongoing, he joined NATCA within hours of his arrival at ZHU.
Let's all pitch in and show our newest member what a Union is all about. Let's take care of one of our own.
View the GoFundMe account and consider donating if you can.
---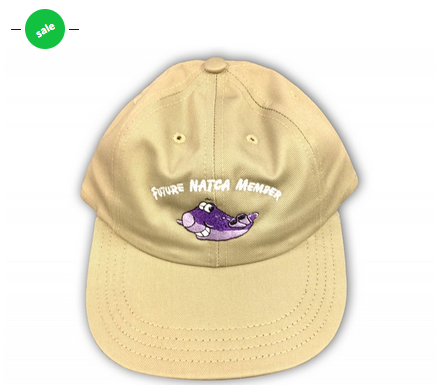 Store Item of the Week: Youth Cap
Features of this cap: 100 percent brushed cotton cap with plastic strap and embroidered eyelets. Features cute airplane design for "Future NATCA Members."
Sizes: Youth – one size fits all.
Price: On clearance at $10.
Made in USA
To see the item and how to order, click here. Select USPS or UPS as your shipping preference on your orders. Reminder: Apparel items take three to four weeks to deliver from date of order. If you need items by a certain date, please contact NATCA Store customer service for arrangements. Expedited shipping charges may apply.
To check on stock availability or for further assistance, call 800.266.0895 or email natcastore@natcadc.org.
---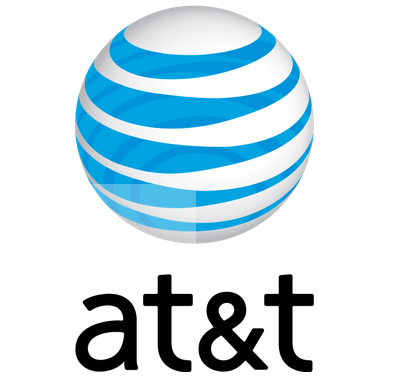 Benefits Spotlight: AT&T
AT&T for Twitter and Facebook – NATCA members go to the following link for the discount code to save 15% on your AT&T bill: https://www.unionplus.org/cell-phone-wireless/att-wireless.
AT&T Spotlight: When you choose AT&T, you're choosing to support more than 140,000 union brothers and sisters working at the country's largest private union employer.
For new customers, go to the AT&T Premier Site and enroll in the employee discount program. Union Plus Credit Card holders receive up to a $250 rebate, and receive free activation of a new device, which is a savings of up to $45.
For existing customers: Visit AT&T Premiere and click on "Register for Discounts" in the lower right.
Or, you can visit a store with along with your union ID and the Union Plus discount Fan number: 3508840, and the following coupon: https://www.unionplus.org/statics/0000/6802/2015_ATT-Buckslip.pdf.
---
Cambridge Corner: Am I eligible for Medicare?
Public Law 97-248, enacted in 1982, provides Medicare Part A — hospital coverage — without cost at the age of 65 to all federal employees actively employed during and after Jan. 1, 1983. Anyone who qualifies for premium-free Part A should enroll.
Medicare Part B, which covers medical and physician bills, is available to most Americans at age 65 but comes with a monthly premium. The monthly Part B premium for 2015 starts at $104.90 and is subject to a sliding income scale for those whose individual annual income is above $85,000. Enrollment in Part B is neither mandatory nor required.
Call 888-900-4690 or click here for more information on how Cambridge Financial Partners can help you.
---
Upcoming Retirement Seminars Provided By 4 Square: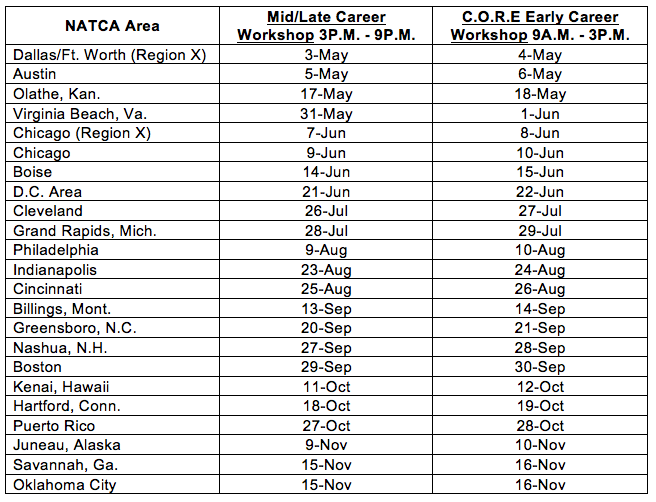 Standard seminar for members with more than 15 years of service held from 3-9 p.m. local time.


Register by signing on to the NATCA Portal. Please verify the personal information listed for you including email and cell phone number. If any information is incorrect or missing, please correct or add it under the "My Profile" tab.


To register for a seminar, click the "Events" tab, followed by "2016 Retirement Seminars". Complete the requested information and click "Next". When you come to the screen listing the seminars, select the one you wish to attend, hit "Next", verify your requested seminar information and then click "Done". You will receive a confirmation email that your registration was complete.


A second email will be sent two to three weeks prior to the seminar giving you the logistical information for the seminar. Also included in this email will be instructions on how to obtain a benefits estimate at the seminar.


Spouses and significant others are also invited to attend. Please ensure that you add them to the registration when asked if you will be bringing a guest.

Please try to register three weeks prior to the seminar. Walk-ins are permitted to attend as long as they can provide their membership ID number. However, you will be unable to obtain a benefits estimate at the seminar.


For any questions or problems with registration, please contact Grace Colby, NATCA Executive Administrative Assistant: (202) 220-9829, gcolby@natcadc.org.
Upcoming Retirement Seminars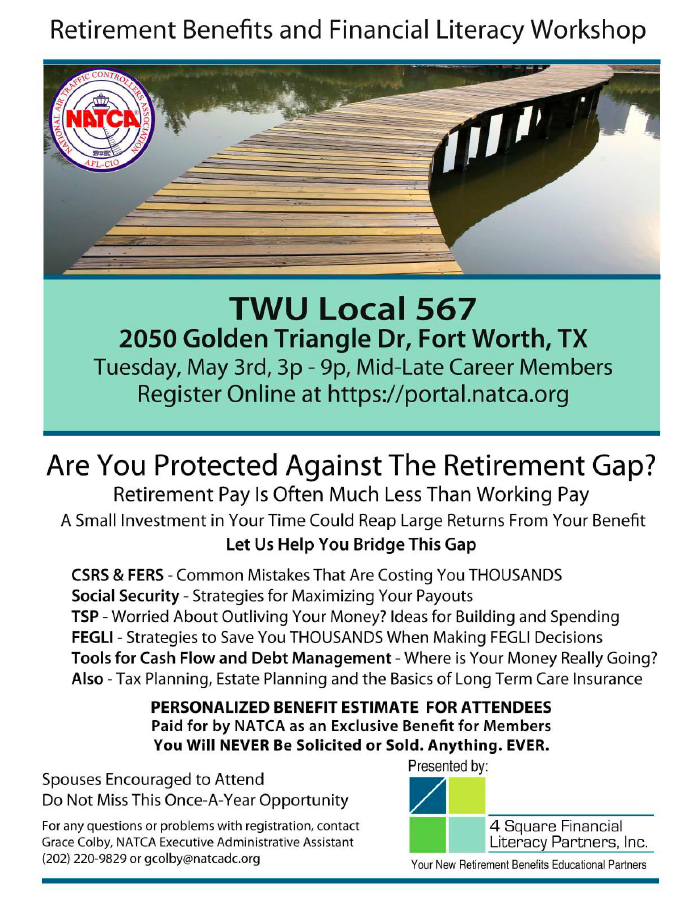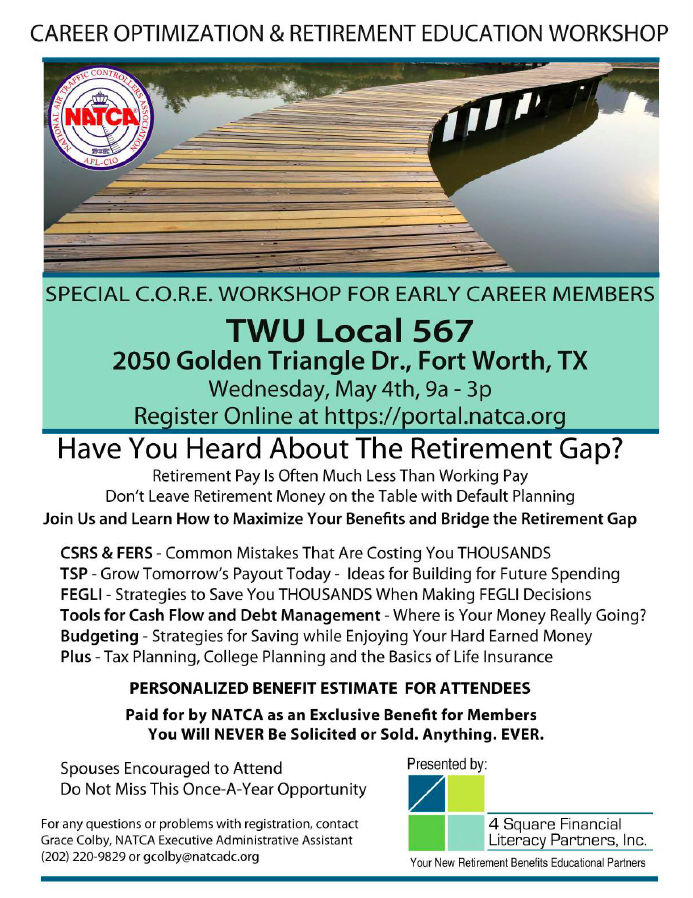 ---
We are now offering Career Optimization and Retirement Education (C.O.R.E.) Seminars in many cities! These seminars are geared towards employees with 0-15 years of service who want to maximize their retirement benefits and plan for financial stability in retirement. Log in to the Portal today to see which cities are offering this great new program.
---
NATCA EDGE — Designed exclusively for NATCA members!
Can't get to an in-person retirement seminar? We'll bring the seminar to you!
Presenting an all-new, flexible access, web-based session of our popular retirement benefits seminar:


To register for a session, visit the NATCA Portal. Click "Events" on the menu bar on the home page, then select the "2016 NATCA Edge Online Retirement Webinar" link. Follow the questions and directions from there.


Personalized benefit estimate for participants paid for as an exclusive benefit for NATCA members. You will never be solicited or sold anything, ever!


For any questions or problems with registration, please contact Grace Colby, NATCA Executive Administrative Assistant: (202) 220-9829, gcolby@natcadc.org.