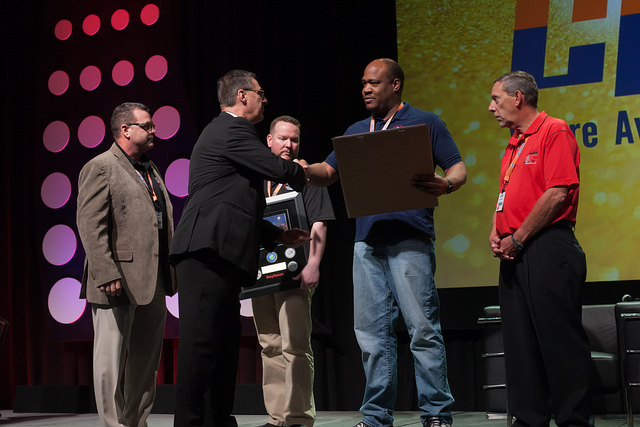 April 29, 2016 // Communicating For Safety 2016 Awards: STARS Transition Facilities and TAMR Team
NATCA Terminal Automation and Replacement (TAMR) lead Mitch Herrick and Raytheon Director for Air Traffic Control Michael Espinola presented plaques to the nine TRACONS that have successfully transitioned to Standard Terminal Automation Replacement System (STARS) as of March 22, 2016: Dallas/Fort Worth TRACON, Denver TRACON, Louisville Standiford TRACON, Northern California TRACON, Southern California TRACON, Atlanta TRACON, Minneapolis TRACON, St. Louis TRACON, and Potomac TRACON. They all received honors for their successful and efficient transitions.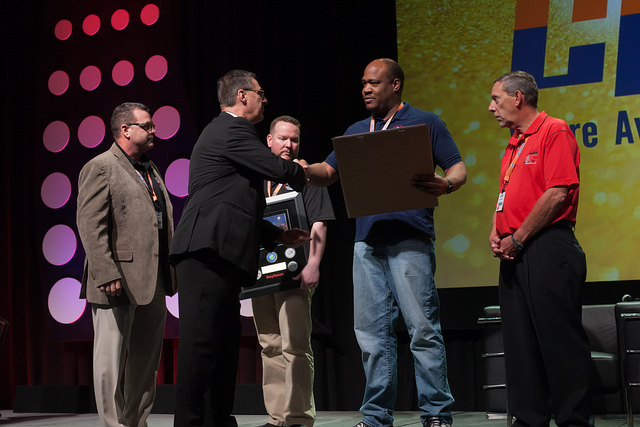 "It's really about growing the system, taking ownership, pushing forward, and quite frankly, this is a great representation of that," Espinola said. "It's seamlessly transitioning an actual TRACON with an automation system while it's live. Job well done, great professional effort. We're really proud of you."
Herrick also presented awards to three members of the TAMR team who have gone above and beyond helping make these transitions a reality: Candy Barr, for her steadfast dedication as an Operational Support Facility Specialist; Tim Poer, for his dedication and hard work at every task he is given with STARS; and Doug Peterson, Segment 1 lead for large TRACONs, for his incredible knowledge and efforts at all TRACONs to ensure STARS is a success.
"We have been very successful as a result of collaboration," said Herrick. "The things that we can do when we work together with the agency and with a vendor that is willing to be so responsive to our needs — we have done some things that are amazing."