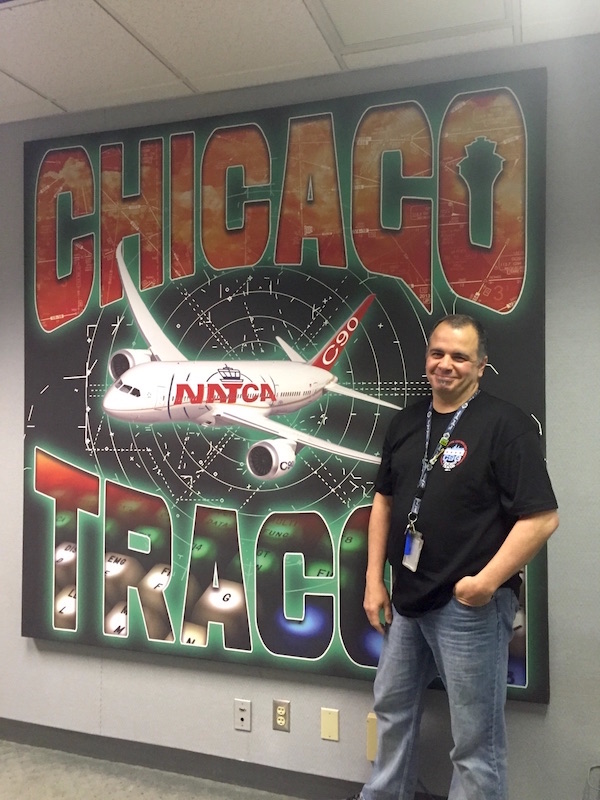 May 20, 2016 // Chicago TRACON Member Ed Ribeiro Donates Kidney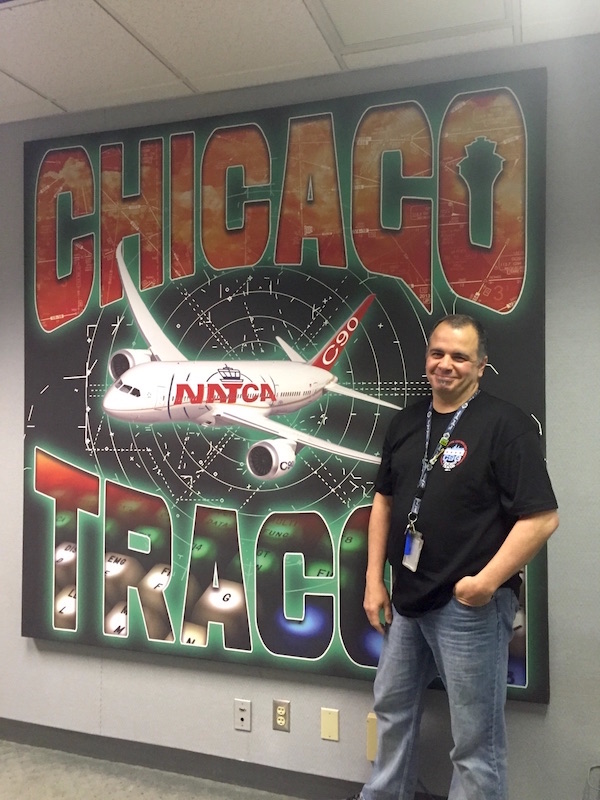 Chicago TRACON (C90) member Ed Ribeiro is a veteran NATCA member and controller. His passion for his Union and fellow controllers was reinforced this year when he relied on his peers to guide two MEDEVAC flights carrying life-saving kidney donations for his brother, Matt Ribeiro, safely to their destinations.
Matt has been on dialysis for the last eight years. Dialysis is a treatment that recreates the function of healthy kidneys that is needed when your own kidneys no longer function at the capacity needed to suit your body's needs. Matt had reached total end stage renal failure due to numerous bouts with cancer and being a Type 1 Diabetic from an early age.
"Dialysis sucks!" Ed explains. "It's a temporary fix while patients wait in hope for a transplant. Matt never asked for anything nor complained about a thing while going through any of this."
Matt was a long way down on the transplant list from a deceased donor, so Ed took matters into his own hands. In September 2015, out of curiosity, he called the Great Lakes regional flight surgeon to inquire if he was eligible to donate a kidney and retain his medical. Ed was surprised to learn that as long as he had full function in his remaining kidney, he could.
"I had to take the chance," Ed says. "I picked up the phone and called the Yale-New Haven Hospital transplant coordinator."
After a quick informational interview, Ed learned that his body mass index (BMI) was too high to safely donate. It was the motivation he needed to achieve his goal of donating. Over the next three-and-a-half months, he lost 40 pounds and got physically and mentally into shape for the procedure. He contacted the transplant coordinator again and began the process.
"After about six weeks of blood and urine workups, X-rays, electrocardiograms (EKGs), and doctor visits it was determined that I was healthy enough to proceed to the next step, but I was not a match for my brother," explains Ed. "We required what is called a kidney paired exchange."
A kidney paired exchange is implemented when a living kidney donor is not a match with the intended kidney recipient and instead exchanges kidneys with another donor. For example, donor 1 (Ed) could donate a kidney to recipient 2, enabling recipient 2 to then give a kidney to recipient 1 (Matt). This enables a "paired" donation, with two incompatible recipients receiving healthy, more compatible kidneys.
In mid-February, Ed made the trip to Yale University Hospital for a complete medical workup and evaluation. He passed the physical with flying colors and upon the medical board's review of Ed's mental evaluation and interview, the board determined he was a suitable donor.
After the medical board approved Ed's kidney donation to his brother, Yale University Hospital staff notified them they would search within the University's system for a match. A week later, they learned there were no matches at Yale. Ed and his brother were placed into two different National Kidney Paired Exchange databases and within two weeks they learned there was a potential match. Surgery was then scheduled for April 20. After final tests and matching confirmations, Matt and Ed approached the surgery date with excitement and apprehension.
"The morning of April 20 the other donor and I were prepped for surgery — them at Emory Hospital in Atlanta and me at Yale," says Ribeiro. "After a three-and-a-half hour surgery, both kidneys were placed in coolers along with GPS locators and shipped on MEDEVAC flights trading places between Atlanta Hartsfield (ATL) and Hartford-Bradley (BDL). Knowing that my NATCA brothers and sisters were on the job getting these flights to-and-from both hospitals safely and quickly helped me rest at ease."
Matt and the other recipient, both in their respective hospitals, prepped for their surgeries and a new lease on life. The four-hour surgery went late into the night to accomplish the end goal: a working kidney for Matt.
"He pulled through surgery like a champ, commenting that for the first time in eight years he doesn't feel sick," says Ed. "He is getting stronger every day and preparing for the arrival of his first child in July with his wife, Jeanette."
"As for me, I am feeling great approaching four weeks post-op," he continues. "I am so appreciative of all of my co-workers and what they have done including the texts, calls, a great send-off party at work, and covering for me while I was out. Thank you to NATCA for negotiating the leave policy for living organ donors and making it easy for its membership to accomplish this. I want to send a special thanks to my FacRep, James Hall, and C90 Air Traffic Manager Bill Tracey for working together to make this work for us."
Ed has been an air traffic controller for over 18 years and has been a NATCA member that entire time. He's worked at Richmond ATCT, Norfolk ATCT, Atlanta TRACON, and is now at C90. He is also a nine-year veteran of the U.S. Navy. He lives in St Charles, Ill., with his wife, Tracy. Ed has two children; Gehrig, 19, and Reilly, 18.