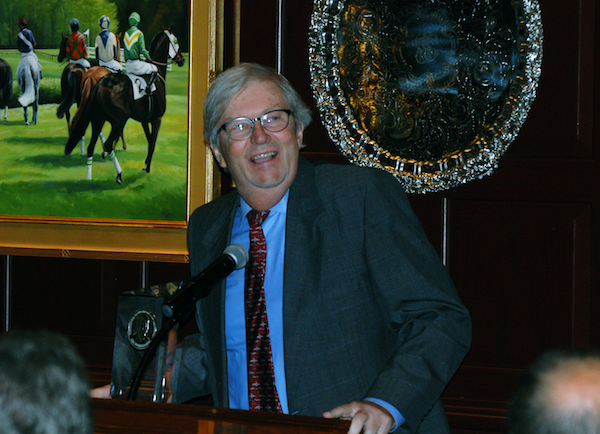 May 27, 2016 // NATCA Honors Retiring Safety and Technology Director Dale Wright With the Union's Highest Honor – the John Thornton Award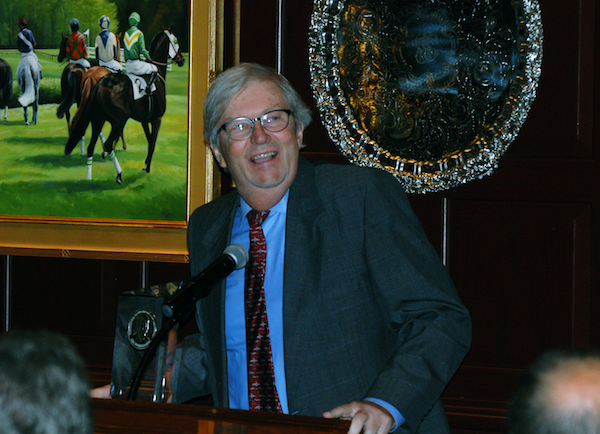 NATCA on Wednesday, May 25, celebrated the wonderful career of Safety and Technology Director Dale Wright with a retirement dinner honoring his nearly four decades in air traffic control and his tireless work in support of furthering aviation safety, the ATC profession, the workforce, and the Union.
Over 100 people closest to Wright, including members of his family, NATCA leadership and Executive Board Members, NATCA brothers and sisters, friends, National Office Safety and Technology Department employees, other staff members, and current and former Federal Aviation Administration officials gathered to pay tribute to Wright's remarkable service to the Union and the National Airspace System.
Wright, whom NATCA President Paul Rinaldi called "a NATCA treasure," was presented with the Union's highest honor, the John Thornton Award, which is given in recognition of extraordinary contributions that have significantly changed the course of NATCA's history.
In accepting the award, and closing the evening in his trademark simple, honest, and professional style, Wright thanked everyone for attending. He relayed one of his favorite axioms for the relationships he has made and kept through the years, saying, "I always went by the guide of treat people like you want to be treated."
Wright said of his retirement, "it's time." He credited his staff at the NATCA National Office; Deputy Director Jim Ullmann, who will succeed Wright as department director next month, Terminal Technology Coordinator Bill Geoghagan, Terminal Operations Coordinator Chris Stephenson, En Route Technology Coordinator Mark Prestrude, Technical Representative Liaison Robert Utley, and Administrative Assistant Pauline Hines.
"They are great to work with, as well as all of the tech reps we have," Wright said. In addition, he praised the relationship that NATCA has built with the aviation industry.
Wright first began his career in the Air Force, working at Berlin Center in Germany and England Air Force Base in Louisiana before joining the FAA in 1983 in Atlanta. He spent the majority of his air traffic career in Charlotte before retiring from the FAA in 2007 and accepting a position at NATCA as the Director of Safety and Technology.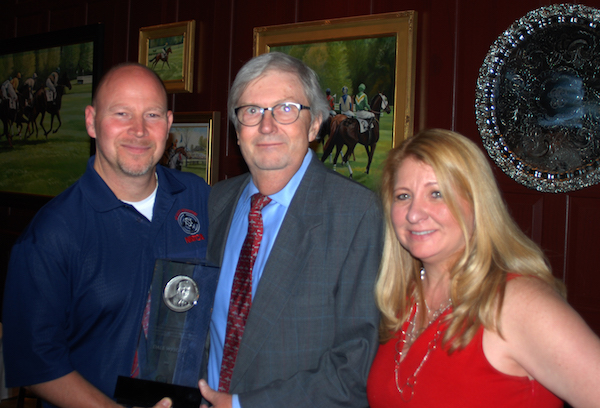 Wright (center), along with Rinaldi (left) and NATCA Executive Vice President Trish Gilbert.
In 2012, NATCA created a special award in honor of Wright – the Dale Wright Award for Distinguished, Professional, and Exceptional Career Service to NATCA and the National Airspace System. Rinaldi and NATCA Executive Vice President Trish Gilbert presented the first award to Dale at the NATCA Biennial Convention in Denver. Other winners since 2012 include Mike Hull, Ricky Thompson, Tom Morin, Tim Leonard, and Don Chapman.
In 2013, Wright was honored by RTCA – founded as the Radio Technical Commission for Aeronautics in 1935 – with that organization's highest honor, the Achievement Award. Since that time, Wright continued his great work for NATCA. The details of that, and the deep emotions of appreciation, friendship, and solidarity, were made clear at the retirement dinner, where many of Wright's closest friends and colleagues went to the podium to speak with one voice of thanks.
"We are truly blessed to have such a great man with us, a true aviator and someone who is committed to aviation safety," Rinaldi said in opening the evening's presentations. "Words fall short." In directing his comments to Wright, Rinaldi said, "You've been a friend and mentor, and you see it in this crowd. Thank you for everything you have done."
FAA Air Traffic Organization Chief Operating Officer Teri Bristol called Wright, "one of the kindest people I've ever met." But she also said Wright, in a compliment to his fierce dedication to safety and the workforce, was one of the "most challenging people to work with, if it's something he needs to fight for in safety."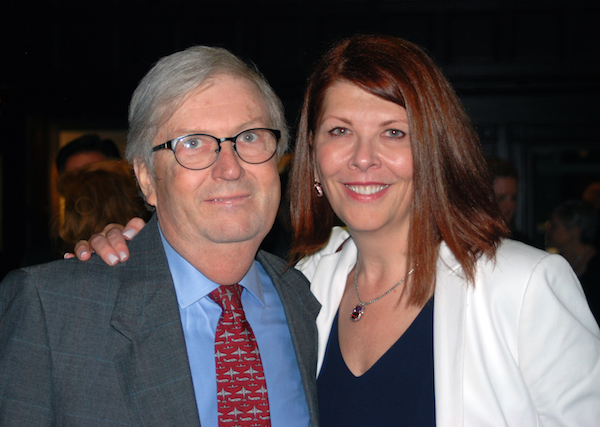 Wright (left) with Bristol.
"It's been an honor to sit beside you," Bristol added. "You're one of the true collaborators. With you, it's not about winning, but what is about what's right for the system."
ATO Director of Labor and Employee Development Mark DePlasco said he met Wright 20 years ago with the Standard Terminal Automation Replacement System. He said the two of them have been on opposite sides of the table in discussing issues and it's been difficult, he said, "because we can read each other so well. It's such a pleasure to work with you. You have shaped my relationship with NATCA."
Bristol and DePlasco presented Wright with a framed piece of art featuring Charlotte Tower.
Former NATCA President Pat Forrey saluted Wright's work with the Union's National Finance Committee several years ago. Forrey was in office when he had the opportunity to bring Wright to the National Office as director of safety and technology.
"What Dale was and what Dale is, is a great advocate for our Union, whether it's IFATCA (International Federation of Air Traffic Controllers' Associations) safety, finance, or director of safety and technology," Forrey said. "He's so organized, so detailed. He is so with it. He always had the right perspective on every avenue we pursued and quite frankly, the FAA loved him. They loved what he did. He would stand up for the membership and what's right for the system and he always did. He served this union proud and the aviation system proud."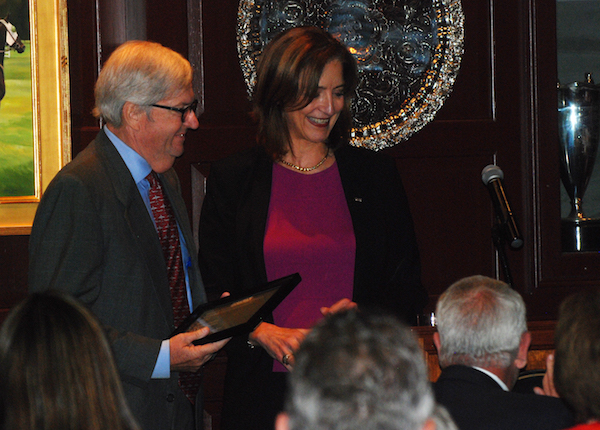 Wright (left) with Jenny.
RTCA, Inc. President Margaret Jenny joked that, "I'm still surprised Dale answers the phone when my number comes up. He's been a go-to person and, reliably, the voice of all of you, the controllers, who work so hard. Dale is devoted to his profession and his colleagues." Jenny credited Wright as an expert listener. "He takes action about what he hears."
Retired FAA and Metron Aviation official Jack Fearnsides, said, "I developed a tremendous respect for somebody that came to do the job, do it with integrity and saw it through to the end."
Former FAA Vice President of Terminal Services Walt Cochran, now with Lockheed Martin, looked at Wright, seated directly in front of the podium, and said "I respect you like nobody's business. We share that passion for air traffic control."
Cochran credited Wright for his instrumental role in ushering in a period of great collaboration on safety and technology issues between the FAA and NATCA. "Without Dale's leadership at NATCA, the implementation of all the safety and tech we have done in the last 10 years maybe would have happened, but not the way they should have happened."
Wright's father, Jimmy, was a special guest at the dinner. During his remarks, Cochran acknowledged him and thanked him. "He got his values from you," Cochran said, looking at Jimmy Wright. "You raised a great son who I am proud to be associated with."
Ullmann remarked that Wright accomplished something very few people have done – he worked for every one of NATCA's six presidents. He said Wright helped raise NATCA's Safety and Technology Department to "a level that is hard to measure." He said his own work on the En Route Automation Modernization program brought him closer to Wright.
"I was excited to work and learn from someone who has always been there for me just like he has always been there for NATCA," Ullmann said. "We are fairly simple human beings. We believe in what is better for NATCA, for our workforce, and for the aviation system." In closing, he told Wright, "don't change your phone number because I am gonna need you."
Gilbert followed Ullmann to close the evening by presenting Wright with the John Thornton Award. She said the award honors a select few individuals who, "had they not been a part of NATCA and our profession, and committed to our workforce and the system, we would not be where we are today. Dale Wright is one of those individuals."
Thornton, one of NATCA's founding fathers, passed away in 2013. The next year, at the Minneapolis Convention, NATCA honored Thornton's memory with a special presentation and the introduction of a new award named for him and inspired by his extraordinary contributions to the birth of the Union.
Before Wright, there are only three people who have received the award – Presidents Emeritus Barry Krasner and John Carr, and former two-term Executive Vice President Dr. Ruth Stilwell.
In accepting the award, and speaking to close the special evening, Wright relayed something his father had told him when he was growing up: "He always told me that he didn't care if I dug ditches, but I had better dig the best ditches there is." Wright then paused, and said, "I loved being an air traffic controller. That was the job for me."