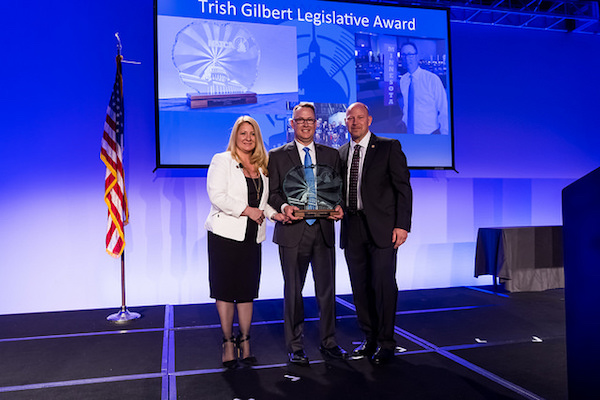 June 3, 2016 // NIW 2016: Trish Gilbert Legislative Activism Award Winner Steve Weidner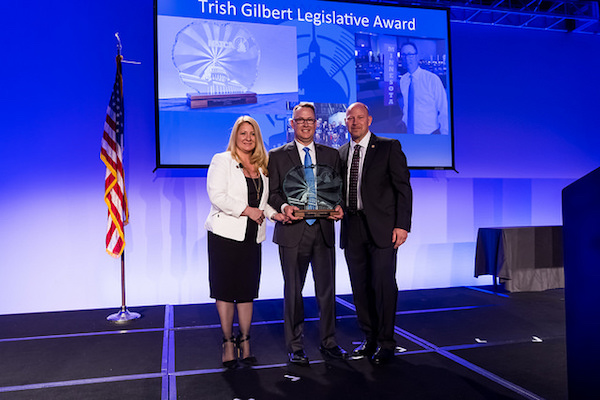 From left to right: Gilbert, Weidner, and Rinaldi.
The Legislative Activism Award was established in 2009 by NATCA to honor NATCA's strongest activists. In 2010, the award was appropriately renamed after Executive Vice President Trish Gilbert. She has set the standard and defined what it means to be a legislative activist in this Union. Her incredible work ethic and her drive to move NATCA from good to great in the legislative arena are unparalleled.
This year's winner is National Legislative Committee (NLC) Chair Steve Weidner. It is common for the NLC chair to introduce NATCA's highest legislative achievement, but because he happened to be the winner, NATCA President Paul Rinaldi stepped in.
"He has been a mentor and role model to many on the NLC," said Rinaldi. "Anyone who has met or served with Steve can attest to his dedication and passion."
"I was privileged to serve on the NLC when Trish Gilbert was the chair," Weidner said. "I learned how to be a legislative activist by watching her and working with her. I'm honored and humbled to have my name on an award that was named for Trish."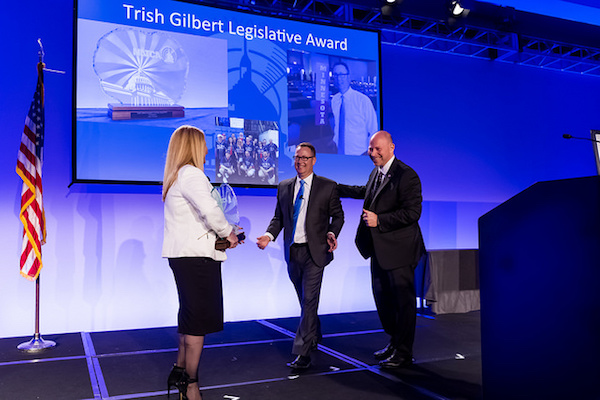 Weidner began his distinguished career in the Air Force in 1987 as a tower/precision approach radar controller at Hill Air Force Base in Utah. He was hired by the FAA in March 1991 and has been assigned to Minneapolis Center (ZMP) ever since.
He has served as an alternate area rep and was the ZMP legislative rep from 2004-2006. For the past year, he has been the national rep for Unmanned Aerial Systems (UAS), and a NATCA rep on the 7110.65 rewrite workgroups.
He was appointed as the NLC Great Lakes rep in 2006, later taking over as NLC chair in September 2009, where he is currently serving his third term. He is also chair of NATCA's Historical Committee.
"Steve is admired and respected by the committees he leads and serves," Rinaldi said. "His committee often wonders where he finds the time and energy to do all he does and yet remember the little details like birthdays and important dates."
Weidner is also a Tim Haines Memorial Award winner. He initiated and built both the basic and advanced legislative classes that have educated and inspired the current and next generation of activists. NATCA in Washington has flourished under his direction and leadership.
Weidner joins the list of these distinguished past winners: Jason Arnold, Memphis Center, 2015; Toby Hauck, Chicago Center, 2014; Mitch Herrick, Miami ATCT, 2013; Betsy Beaumont, Fort Worth Center, and AnnMarie Taggio, Potomac Consolidated TRACON, 2012; Brody McCray, Washington Center (ZDC), 2011; Mark Griffin, Boise ATCT, 2010; and Linda Miller, ZDC, 2009.