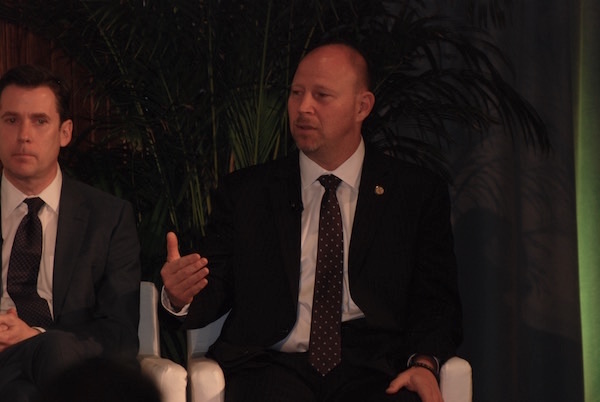 June 3, 2016 // RTCA 2016 Conference Coverage: Rinaldi Discusses FAA Reauthorization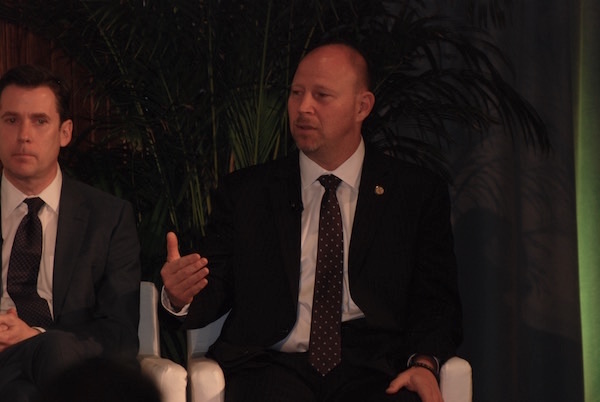 Panel:
Conversation on FAA Reauthorization: Outlook for What's Ahead
Moderator:
Stephen Van Beek, Vice President, ICF International
Panelists:
Paul Rinaldi, President, NATCA
Mark R. Baker, President & Chief Executive Officer, Aircraft Owners and Pilots Association (AOPA)
Edward M. Bolen, President & Chief Executive Officer, National Business Aviation Association (NBAA)
Carl D'Alessandro, President, Critical Networks, Harris Corporation
Captain Stephen M. Dickson, Senior Vice President, Flight Operations, Delta Air Lines, Inc.
Dr. Gerald L. Dillingham, Director of Civil Aviation Issues, Government Accountability Office (GAO)
Sean Kennedy, Senior Vice President, Safety, Security & Operations, Airlines for America (A4A)
Overview:
On June 2, NATCA President Paul Rinaldi took part in an RTCA 2016 Global Aviation Symposium panel on FAA Reauthorization. The National Airspace System (NAS) still runs on decades-old technology, yet efforts to update it have limped forward. Travel delays and safety concerns are mounting because of structural and funding issues.
The Senate-passed FAA bill is essentially another extension, providing funding for only 18 months. Proposed legislation from the House provides funding for six years and includes language that would reform the Air Traffic Organization (ATO) through major reform.
Inadequate funding streams have included short-term extensions, furloughs, and government shutdowns that prevent the FAA from planning long-term or even mid-term capital investments into the NAS, leaving modernization projects like NextGen at a standstill, Rinaldi said. This unpredictability in funding has also prevented the FAA from meeting its hiring and staffing goals. Currently, there is a 27-year low of certified professional controllers (CPCs).
Concerns about ATO reform during the panel were largely voiced from AOPA and NBAA. While they see the proposed bills as positive, both Baker and Bolen said their membership is most concerned about user fees.
"Our associations view is that current air traffic control works well for us," said Baker. "We don't see a lot of problems for us. We're inquisitive of what we're, (the aviation community) is trying to accomplish. There is not a lot of support from our members to change."
Kennedy felt very differently saying that, "When you look back to NextGen, 35 years have passed, six billion dollars have been spent, yet, Rinaldi's folks are still using paper strips and telephones to hand-off airplanes." He went on to say that the United States may have the largest, most safe, and complicated airspace in the world, but controllers "are still using World War II technology."
Bolen described both bills as "drastically different" but did elaborate that the bills are complementary; they identify the issues facing the aviation community, and offer targeted solutions. "After a lot of debate, problems have been identified, and we have an opportunity to do something that makes tomorrow much better than it is today," he said.
D'Alessandro described his biggest concern with ATO reform being rooted in how unique it is from the rest of the world. "It's large, it's complex, and the safest in the world," he said.
"It's not easy to build industry consensus," Dickson said. He described that it requires trade-offs and informed policy decisions because "the path is not linear to get to the destination." He also warned that stakeholders should not underestimate the complexity and diversity of American NAS.
Dillingham described the focus that should go into identifying what the problems are that the aviation community needs to solve. He believes that challenges are there that can be overcome without massive reform.
"Change is difficult, change is hard, but it will be worse if we don't adapt and don't make these changes," Kennedy said. "Which bill has an actual impact on the 2.2 million passengers that fly every day? The proposed House bill. It will put into place the changes that we have been trying to get out of NextGen for decades."
Rinaldi began his discussion of the issue by highlighting the number one need of the NAS: a stable, predictable funding stream.
"People may say the system is fine because we do the best job, we run the safest, best NAS in the world," he said. "While that's true, what we need is new equipment and a steady stream of air traffic controller candidates coming through the system to keep it that way."
Due to staffing shortages, many controllers currently work mandatory six–day workweeks and 10-hour days. These staffing challenges, which make it exceedingly difficult to develop and implement new technology, Rinaldi said, may be the most obvious sign that the status quo is not as great as some of the panelists claim.
"I don't have enough controllers to help implement NextGen," Rinaldi said. "We're 140 CPCs down just at New York TRACON. Several of our other busy TRACONs are also short; including Atlanta, Dallas, Houston, and Chicago. They're working six-day weeks. I have a staffing crisis. These are the people you want to test and train on new equipment, but we can't get them off the boards."
Baker and Bolen highlighted their biggest concern about reform of the aviation system: that it would turn into a for-profit venture. Yet, Rinaldi countered, their concerns must face the facts.
"The reality is, the towers that that they (AOPA and NBAA) primarily use are already for-profit towers that are privately funded through Congress," Rinaldi said. "People say they don't want to privatize our system. But we already have 252 towers out there that are private. Training at the (Oklahoma City) FAA Academy and at facilities are already done by private companies for-profit."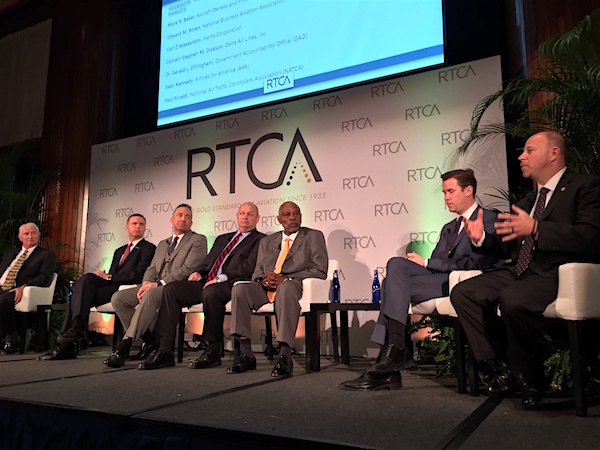 From left to right: Baker, Bolen, D'Alessandro, Dickson, Dillingham, Kennedy, and Rinaldi.
Rinaldi went on to describe that the process to create change within the aviation system must be streamlined so long-term planning of modernization and infrastructure projects can be accomplished without the significant delays caused by funding shortages, sequestration, furloughs of controllers, and short-staffing.
"We are falling further and further behind," he said. "FAA leaders are squished between Congress, the White House, the Department of Transportation, the Office of Personnel Management — it's a strangulation against moving forward. If we continue to ignore the current problems with our funding, infrastructure, and staffing, we will create even more problems."
Baker claimed that, "the system is working. I don't know that we have a funding problem."
"It's been very consistent," Bolen added.
But Rinaldi countered with a strong rebuttal: "Lets be clear and go back to what we saw in 2013. The government proposed closing 238 towers not for safety, but to save money. They went to a fix-on-fail policy for our equipment, not for safety, but to save money. They stopped stockpiling critical equipment at facilities not for safety, but to save money. If we think the government doesn't have a bottom line, we're fooling ourselves."
Rinaldi pointed out that NextGen projects like ERAM (En Route Automation Modernization) took 15 years to deploy and was billions of dollars over budget. He described that the program still isn't perfect and there are no funds to fix it. STARS (Standard Terminal Automation Replacement System) is another example of a hindered NextGen initiative that was developed in the 1980s and is just now being implemented into facilities across the country.
"We've tried to streamline processes but the current system only slows down the process," Rinaldi said. "Something has to give. We need stable, predictable funding and reform to run a dynamic air traffic control system, not more bureaucracy."
Dickson pointed out that, "no one on this panel is arguing for the status quo."
But, with so much opposition to change, Rinaldi posed, "I wonder what's going to give first? Our aging equipment? Our staffing? What will give first so people go 'ah, there's the problem,' and actually do something about it?"
"Short-term extensions like we've seen in the past are not the answer," he continued. "Let's be clear, the Senate bill is just another short-term extension. We need a comprehensive bill that provides substantial reform and gives us stable, predictable funding."
Rinaldi also made clear that he does not believe that the U.S. aviation system should necessarily be based on any other system in the world, saying, "We need to build our own system in this country that works for us. Let's build our own best system. Tell Congress what the best system is for our country because the status quo is completely unacceptable."