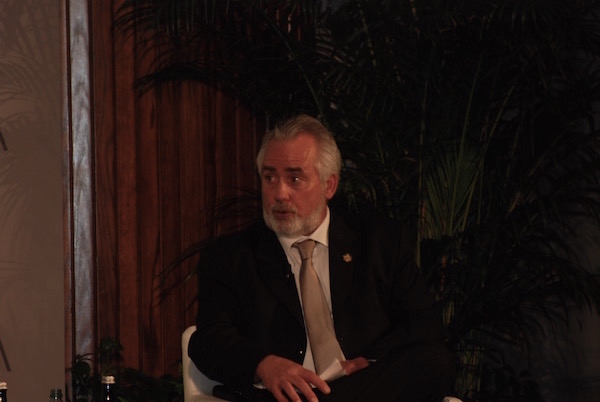 June 3, 2016 // RTCA 2016 Conference Coverage: Ullmann Sheds Light on NAS NAV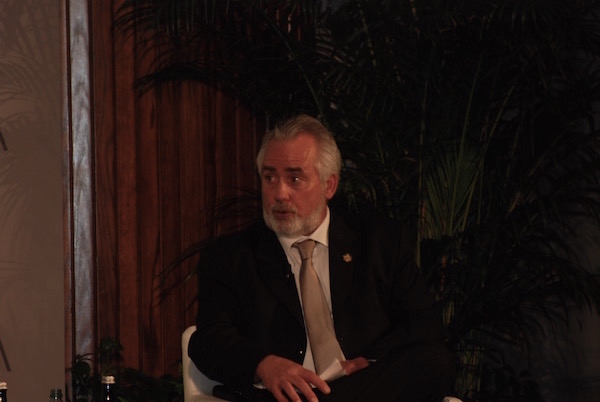 Panel:
NAS Navigation Roadmap Strategy, Delivering Incremental Benefits from Ground-Based to Flight-Deck-Based Traffic Flow Management Capabilities
Moderator:
Bruce E. DeCleene, Division Manager for the Flight Technologies & Procedures Divisions (AFS-400), FAA
Panelists:
Jim Ullmann, Incoming Director of Safety & Technology, NATCA
Captain Mark Bradley, Industry Affairs, Delta Air Lines, Inc.
Rick Dalton, Director Airspace & Flow Management, Southwest Airlines
Captain Joe DePete, First Vice President, air Line Pilots Association, International (ALPA)
Dr. Tony Ng, Aviation Solution Architect, Lockheed Martin
Overview:
Turning their view to the farther term, this panel discussed different views and visions of how National Airspace System (NAS) navigation capabilities will evolve over the next 15 years.
Discussion on the roadmap for NAS navigation centered on NextGen's Performance-Based Navigation (PBN) system. The roadmap was developed because of the need for long-term planning on how to accomplish transitioning over to this new technology. It laid out a 15-year strategy in five-year implements that outlined infrastructure and equipage.
DeCleene said that the successes of this roadmap include 98 percent of the airports with instrument flight rules (IFR) now have switched over to a PBN system. Of those airports, 25 percent of the airports only have PBN access and no longer require conventional access with over 300 RNAV (area navigation) arrival and departure procedures.
"We all rolled up our sleeves and said, 'We know where we are today and where we want to go tomorrow,'" Bradley said. "Now, what should we do with that information? The Roadmap was framed with that in mind."
Dalton pointed out that when looking at any change in the aviation system, safety is always the biggest concern. With the many challenges facing the NAS, including unpredictable funding, it grows increasingly hard to roll out these new, increasingly automated programs.
"We can't go on the way we are," said Dalton. "We have the safest system and we have to maintain it. It still has to be human-centric."
Ullmann described that there is "no doubt" that implementation of these new procedures and programs have had implications for the workforce.
"Controllers are good at making things work," Ullmann said. "The longer I'm studying this issue, I think we have some of the same issues the users have, which are predictability and implementation, especially in high-volume airports."
Ullmann continued by saying that predictability in equipage is key. "The more aircraft there are in line for an approach that can't use updated PBN procedures complicates matters," he said.
From left to right: Bradley, Dalton, DePete, Ng, and Ullmann.
Dalton discussed that in addition to equipage, training is an issue because through implementation of these new technology programs, airspace is being compressed. He said that having a just culture and the ability to share safety-related information without fear is more important than ever — which can only be accomplished through a predictable funding stream.
"We always find a way but it's a challenge," Dalton said. "I hope we all heed the warnings we heard from Paul Rinaldi today. We have the safest airspace in the world and we need to keep it that way."
Ullmann pointed out that from the beginning, NATCA has known there must be a combination of equipage in the aircraft and air traffic controller access to the best technology available.
"Controllers and the pilots work things more smoothly and effectively when they have the best technology," he said.
Ng described that collaboration is key moving forward and to listen to one another to make sure each change is a success story. Ullmann agreed, saying that continued stakeholder involvement in the development of new programs and technologies is essential.
"It's important that relationships and collaboration happen," Ullmann said. "Controller involvement from the ground-floor up has proved valuable. We want to continue that. It's our best chance to be successful from where we are. I'm also starting to see staffing as an issue. Our involvement is important on a consistent basis."