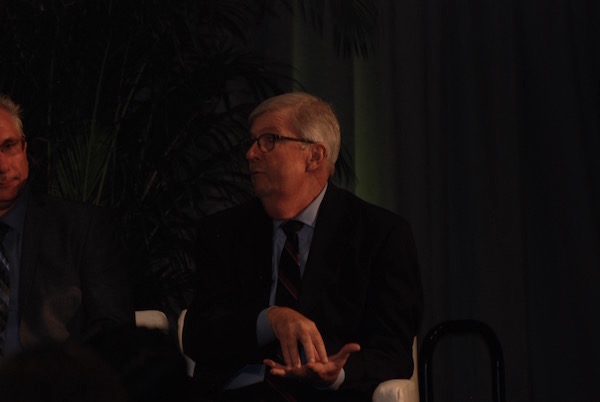 June 3, 2016 // RTCA 2016 Conference Coverage: Wright Describes How Industry Handles Challenges Within the NAS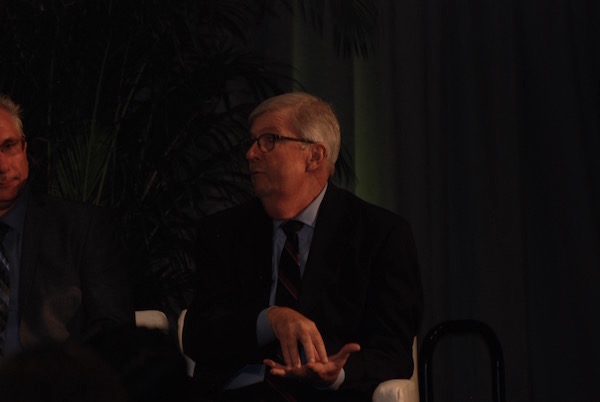 Panel:
Tackling Tactical Operational Challenges in the National Airspace System (NAS)
Moderator:
Captain Brian Will, Director of Airspace Optimization & Aircraft Technology, American Airlines, Inc.
Panelists:
Dale Wright, Retiring Director of Safety & Technology, NATCA
Mark Hopkins, Director, Air Traffic Management & CDM, Delta Air Lines, Inc.
Robert "Bob" G. Lamond Jr., Director, Air Traffic Services & Infrastructure, National Business Aviation Association (NBAA)
Captain Brian Quigley, Former Managing Director of Flight Operations, United Airlines, Inc. now chief pilot for the airline
Elizabeth "Lynn" Ray, Vice President, Mission Support Services for the Air Traffic Organization (ATO), FAA
Captain Bart Roberts, Vice President, Flight Operations, Jetblue Airways
Ralph Tamburro, Delay Reduction Manager, Port Authority of New York & New Jersey
Overview:
The FAA is leveraging the best and the brightest operational experts in the industry to tackle the most vexing near-term challenges in the National Airspace System (NAS). The panelists discussed how they collaborate to solve real-world problems in the ever-changing environment of the National Airspace System (NAS).
"When you look at what we're attempting to do today — have procedures that go from gate-to-gate that are safer and more efficient than what we've had historically — we see increasing demands from countries around the world for even more benefits," said Will.
Ray added that all safety and technology programs introduced into the NAS need industry engagement, saying that, "Collaboration within industry is very important."
When creating new programs, the FAA tasks the TOC (Tactical Operational Challenges Committee) with a question to answer. Being able to understand the question is important, Ray said. Meaning that right from the get-go, collaboration and communication between stakeholders is essential.
"The TOC allows me to martial FAA resources and pull people together to collaborate," said Ray. "It's important to the FAA to communicate internally. We provide subject matter experts through this process, hopefully pretty good ones, and assign them to work groups."
Will described that in terms of developing and implementing new programs, the aviation system is moving down the highway at 70 mph and trying to change a tire while moving without a disruption in travel.
"We're discovering we need to change each 'tire' individually," Will said. "When we change something, it might be unbalanced, so we have to go back and reassess. We've heard a lot about NextGen programs but the TOC groups are the warriors and boots on the ground making real-time changes on a daily and tactical basis."
Lamond went on to explain that when it comes to collaboration on far-reaching programs that affect the NAS, if you think the answer is easy, you don't understand the problem.
"We came to find out pretty early on that it was a very complicated deep dive in to understand exactly what the costs are to develop, publish, and maintain a procedure," Lamond said.
Roberts described addressing the challenges of the NAS as an opportunity to evolve. He gave one example of the TOC ensuring that the Caribbean airspace is as efficient, safe, and free of emissions as possible.
"We're looking for positive control of aircraft in an oceanic setting with the equipment we've all bought into, and the FAA has invested in, by using the space-based systems being implemented," Roberts said. "The work I've seen on the TOC is a group of people working behind the scenes very diligently, solving problems, and bringing forth solutions."
Hopkins further discussed how the panelists are the operational people involved in the day-to-day operations and the challenge associated with always looking ahead. The ability to plan long-term and have predictable funding for new programs is key to the TOC's success.
"We usually look at more than a day ahead," Hopkins said. "There are ongoing issues that are out there that need to be collaborated on to improve the situation. The task is how to define a timeline in the process to address operational needs without diminishing efficiency."
Hopkins went on to say that bringing in this wide group of experts helped the TOC develop a solid set of recommendations to the FAA about the best steps to take moving forward.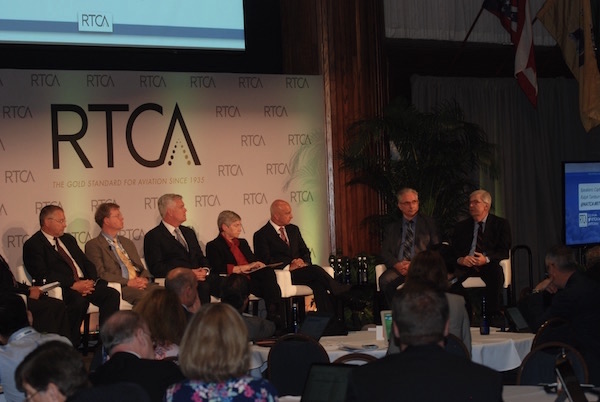 From left to right: Hopkins, Lamond, Quigley, Ray, Roberts, Vice President, Tamburro, and Wright.
Looking to the future, the panel discussed how stakeholders must be involved at all levels of operation. Wright gave an example of how NATCA started work on adjusting VHF Omni Directional Radio Range (VOR) when it was first brought to the organizations attention from local FacReps.
"It's more than just moving a VOR at an airport because it affects other locations," Wright said. "We reached out to facilities about the VOR, provided input back to the TOC, and gave people in the field information on what to expect through the changes. We benefit and the group benefits when NATCA is involved in operations."
Wright went on to describe that while the process of collaboration has helped, there is still a long way to go, especially in terms of training.
"The thing that keeps me awake at night is related to everyone being trained on everything," said Wright. "One thing we cannot let slide is a procedure that has not been properly vetted. We need to make sure controllers and pilots are properly trained and make sure communications are clear from the top down to the facilities so that the line controller and pilot know how to work it. Not only the airline pilot or business pilot, but the general aviation pilot as well."
As with most challenges in the NAS, funding and staffing are major hindrances to efficiently tackling challenges moving forward.
"One problem that NATCA runs into is that at the end of the day, we need someone to talk to the airplanes," concluded Wright. "Like Paul Rinaldi said, we don't always have the people to get somebody on the project. We often have to run double duty. That's a major issue when it comes to resources."