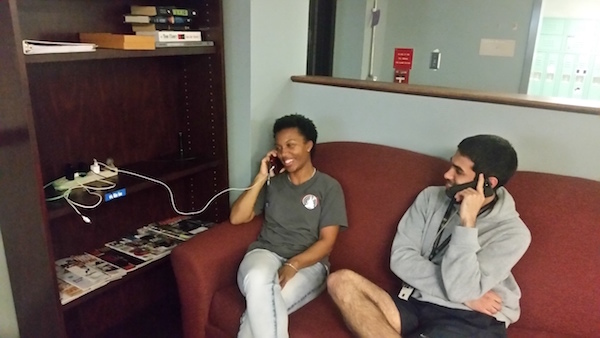 June 10, 2016 // TOTI: "We're Always Looking to Remove Distractions"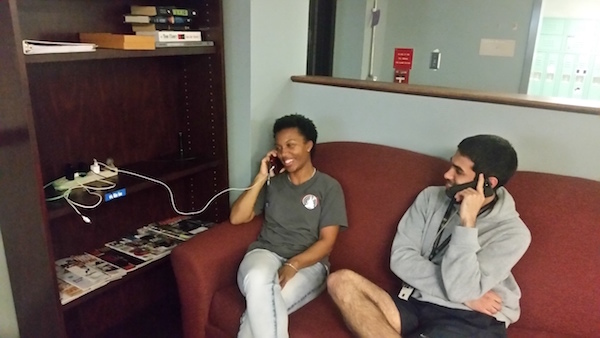 BHM controllers Monique Phillips (left) and Hani Suleiman take advantage of the facilities charging station.
At Birmingham Tower and TRACON (BHM), NATCA and management are working hand-in-hand in the effort to eliminate workplace distractions.
"Controllers here actively participate in holding each other accountable," Air Traffic Manager Jeff Boyett said. "They're constantly looking out for each other to keep operations safe."
In the last few years, the air traffic control facility has experienced an influx of new hires. Established controllers have taken the initiative to make sure their new colleagues are aware of the dangers of workplace distractions.
"Our senior-level controllers kind of do all the dirty work for us," BHM FacRep Jeff Duckworth said. "They show the newcomers where to put their phones."
The Turn Off Tune In (TOTI) campaign, a joint NATCA-FAA initiative launched in 2013, has enabled collaboration between controllers and managers in the effort to remove distractions from the operating quarters. In this spirit, Boyett and Duckworth, both of who have been at the facility for about two years, work diligently together to keep the work environment safe.
"Turn Off Tune In helps a lot in the conversation piece," Boyett said. "It's sort of the nuts and bolts in getting the job done. It's not so much a mandate but that it's done for the right reasons."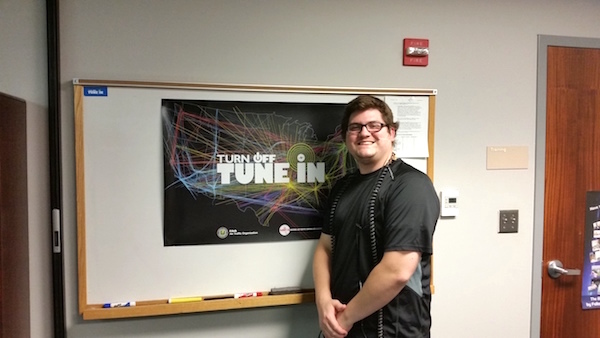 BHM controller Bryan Nelson shows his pride for eliminating workplace distractions.
NATCA and management hold briefings on the dangers of workplace distractions, and continue to promote professionalism while pushing out messages to discourage people from using their phones and other devices while on position.
They have also looked beyond cellphone distraction issues.
The facility was one of the few in the National Airspace System (NAS) that used an intercom paging system throughout the building, including the control rooms, until recently. Staff members recognized that function as an audible distraction and removed it from those rooms.
"We're always looking to remove distractions," Boyett said. "And Jeff is helping to ensure controllers remain professional and task-oriented in the operational areas."
This story has been published jointly by the FAA and NATCA. Learn more about how controllers and managers are eliminating distractions by visiting the Turn Off Tune In webpage.