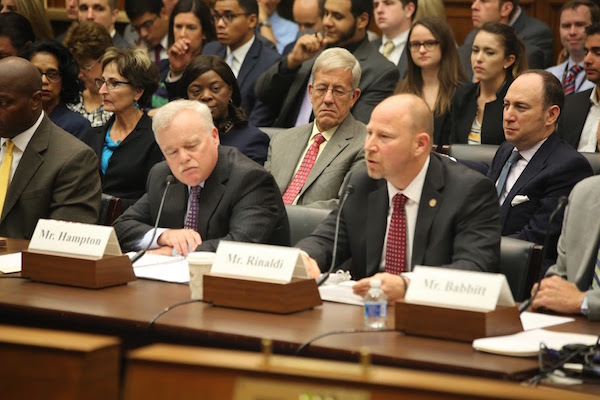 June 17, 2016 // Rinaldi Testifies Before Congress on Air Traffic Controller Staffing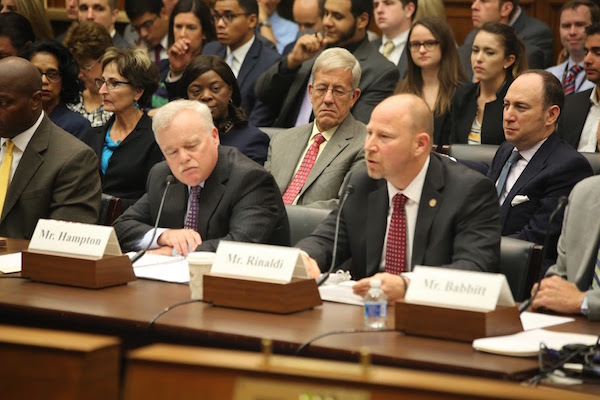 On Wednesday, June 15 NATCA President Paul Rinaldi testified before the U.S. House Transportation and Infrastructure Subcommittee on Aviation. Witnesses at the hearing, "A Review of the Federal Aviation Administration's Air Traffic Controller Hiring, Staffing and Training Plans," included Rinaldi; Teri Bristol, Chief Operating Officer, Air Traffic Organization, FAA; Rickie Cannon, Deputy Assistant Administrator for Human Resources Management, FAA; Matthew Hampton, Assistant Inspector General for Aviation Audits, Office of Inspector General, Department of Transportation; and Randolph "Randy" Babbitt, Senior Vice President of Labor Relations, Southwest Airlines.
Subcommittee on Aviation Chairman Frank LoBiondo opened the hearing by highlighting that the National Airspace System (NAS) is operating with the lowest staffing levels in 27 years. Looking forward, he worries that due to projected increases in airline passengers, that the FAA may be forced to reduce air traffic services.
"This has led me to conclude the current controller hiring process is underserving our nation and the flying public," LoBiondo added.
Aviation Subcommittee Ranking Committee member Rick Larsen said he hoped the hearing would highlight the need for a timely FAA Reauthorization bill. The current authorization expires on July 15. Larson said that while there is no evidence of safety lapses due to critical staffing at the busiest facilities in the country he is, "concerned about understaffing in critical facilities," adding that the FAA must hire enough controllers to make up for projected retirements.
House Transportation and Infrastructure Committee Chairman Bill Shuster commended the dedication and professional work of air traffic controllers across the country, adding that it is "unclear why the FAA has dropped the ball" on hiring. Shuster went on to describe his concern over the FAA's history of poor hiring practices, including ensuring there are enough certified professional controllers (CPCs) to deploy a modern air traffic control system.
"Under the status quo, passengers will continue to suffer," he said. "This problem has to be solved now to prevent more problems down the road."
House Transportation and Infrastructure Committee Ranking Member Peter DeFazio addressed the challenging reality of mandatory six-day workweeks and 10-hour work days that controllers across the country face, saying, "that's not sustainable."
In his opening remarks, Rinaldi described current staffing levels as a "crisis" that puts the status of the largest, safest, most efficient, most complex, most diverse airspace system in the world at risk. He said that staffing is one of the most critical problems facing the NAS.
"Further staffing reductions could have an immediate detrimental effect on capacity, meaning fewer planes in the sky and greater potential for delays," said Rinaldi. "Likewise, the FAA would continue to fall further behind in its development, testing, deployment and training for NextGen modernization programs, procedures, and equipment."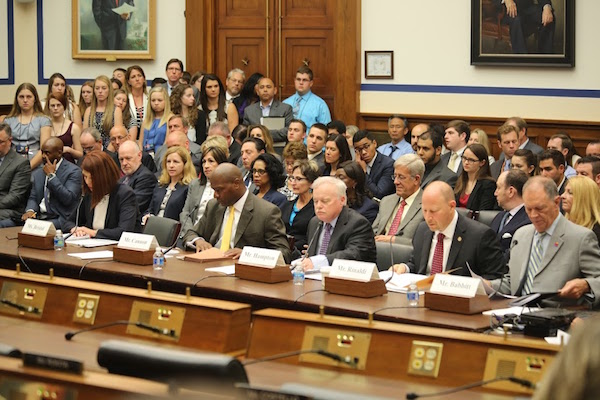 Rinaldi also highlighted the successes of collaboration with the FAA in addressing staffing concerns but urged immediate and decisive action from Congress to pass bipartisan legislation H.R. 5292, The Air Traffic Control Hiring Improvement Act of 2016, that would streamline the hiring process by ensuring a path for experienced controllers to be hired quickly with fewer bureaucratic hurdles and allow military Veterans and graduates of colleges and universities that participate in the FAA's CTI to be hired more expeditiously without causing any additional delays in the hiring process.
In her opening remarks, Bristol highlighted the FAA's four areas of staffing concerns as hiring, training, placement, and collaboration with NATCA. She also explained the two tracks of hiring for candidates, those with no air traffic experience (CTI and off-the-street-hires) and those with air traffic experience (military and FCT). While this does not explain the FAA's 2014 decision to merge CTI and off-the-street into the same pool and the addition of the biographical questionnaire, Bristol did stress that collaboration with NATCA is the key to their success.
"Collaboration establishes trust and enables us to work together to make a better decision," she said. "NATCA helps us place controllers where we need them."
Hampton explained that despite efforts to address staffing, the FAA lacks metrics on how long it should take candidates to make it through the hiring process. He said that the FAA introducing standardized minimum qualifications for all candidates in the short-term does not necessarily address controller training, hiring, and staffing issues — which are long-term concerns.
Babbitt stressed that despite staffing challenges, safety has never been in question. Instead, his main concern centers on capacity of the airspace.
"I'm concerned whether or not the current air traffic control system can be sustained in its current form," he said. "In order to avoid crisis, the federal government needs to do more to provide CPCs and training on NextGen capabilities by supporting significant reform."
While the hearing was called to address staffing, funding of the NAS is a part of that conversation. The inability to make long-term plans because of unreliable funding streams has hindered the FAA's ability to meet its hiring goals.
Rinaldi explained that NATCA has consistently stated that the status quo is unacceptable when it comes to stop-and-go funding and air traffic controller staffing.
"There are many reasons that controller staffing has reached crisis level," Rinaldi said. "Therefore, in addition to NATCA's recommendation that the FAA take a holistic, collaborative approach to resolve its critical staffing issues, Congress also needs to pass an FAA Reauthorization bill that provides the necessary stable, predicable funding."
Read the full version of Rinaldi's written testimony
View the hearing, "A Review of the Federal Aviation Administration's Air Traffic Controller Hiring, Staffing and Training Plans"
For more information on staffing: