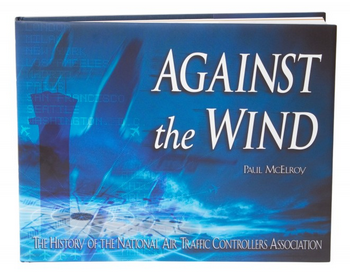 June 17, 2016 // This Week's Notebook: Against the Wind, Investing for the Future, Seminar Dates, and Much More!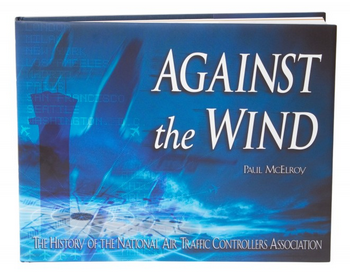 What's New at the NATCA Store? Against the Wind Book
Features: Author Paul McElroy earned acclaim in the aviation industry for TRACON, his award-winning, technically authentic suspense novel about air traffic control. In Against the Wind, this former journalist for the Seattle Post-Intelligencer and Chicago Sun-Times addresses the controller strike of 1981 and the formation of the National Air Traffic Controllers Association (NATCA) as a result. Learn more about the culture air traffic controllers supported as they were adamant about improving air safety and working conditions. To learn more about NATCA, pick up a copy of this must read book!
Price: $7
Printed in USA.
To see the item and how to order: Select USPS or UPS as your shipping preference on your orders. Reminder: Apparel items take three to four weeks to deliver from date of order. If you need items by a certain date, please contact NATCA Store customer service for arrangements. Expedited shipping charges may apply. To check on stock availability or for further assistance, call 800.266.0895 or email natcastore@natcadc.org.
The NATCA Store wants your ideas! Participate in the t-shirt design contest for the adult gothic t-shirt and lady gothic tee!
Send us your creative designs and win prizes! The NATCA logo must be incorporated into the design. The design must be appropriate for work attire and must not be so complex that the details are not visible. Send your designs to natcastore@natcadc.org no later than June 30.
To view the current gothic t-shirt, click here. The new design will be reviewed prior to display at NATCAstore.com. The winner, announced in early July, will receive one FREE gothic t-shirt and a $50 NATCA Store gift certificate.
For questions, contact Customer Service at 800.266.0895 or email natcastore@natcadc.org.
---
Benefits Spotlight: Show Your Unionism
If you're reading this, you're a Union member. Chances are pretty good that you are also reading this on some kind of a device that you bought with a credit card. But, did you use the Union Plus credit card? If you did, you may take the next few sentences off (but only if you promise to go and tell your friend about your card). If you didn't, and would like to learn how you can show your unionism by which credit card you use, click here.
---
Cambridge Corner: Stick to Your Goal
Investing for a goal that's far in the future isn't always easy. Immediate financial needs, like paying your mortgage and putting gas in your car, may seem a lot more pressing. So, what can you do to make sure you're saving enough to reach your future goals? Practicing tried-and-true long term investing habits can keep you on course.
Call 888-900-4690 or click here for more information on how Cambridge Financial Partners can help you.
---
Upcoming Retirement Seminars Provided By 4 Square: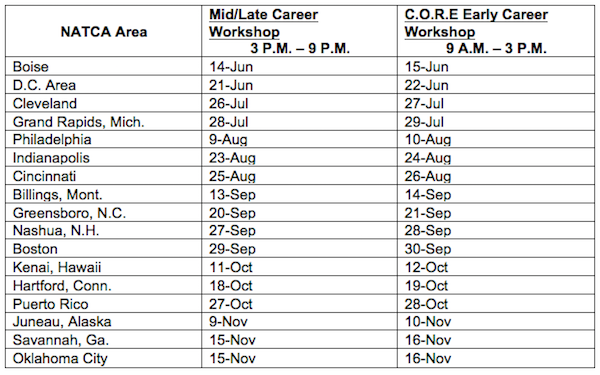 Standard seminar for members with more than 15 years of service held from 3 to 9 p.m. local time.
Register by signing on to the NATCA Portal. Please verify the personal information listed for you including email and cell phone number. If any information is incorrect or missing, please correct or add it under the "My Profile" tab.
To register for a seminar, click the "Events" tab, followed by "2016 Retirement Seminars". Complete the requested information and click "Next". When you come to the screen listing the seminars, select the one you wish to attend, hit "Next", verify your requested seminar information and then click "Done". You will receive a confirmation email that your registration was complete.
A second email will be sent two to three weeks prior to the seminar giving you the logistical information for the seminar. Also included in this email will be instructions on how to obtain a benefits estimate at the seminar.
Spouses and significant others are also invited to attend. Please ensure that you add them to the registration when asked if you will be bringing a guest. Please try to register three weeks prior to the seminar. Walk-ins are permitted to attend as long as they can provide their membership ID number. However, you will be unable to obtain a benefits estimate at the seminar.
For any questions or problems with registration, please contact Grace Colby, NATCA Executive Administrative Assistant: (202) 220-9829, gcolby@natcadc.org.
Upcoming Retirement Seminars: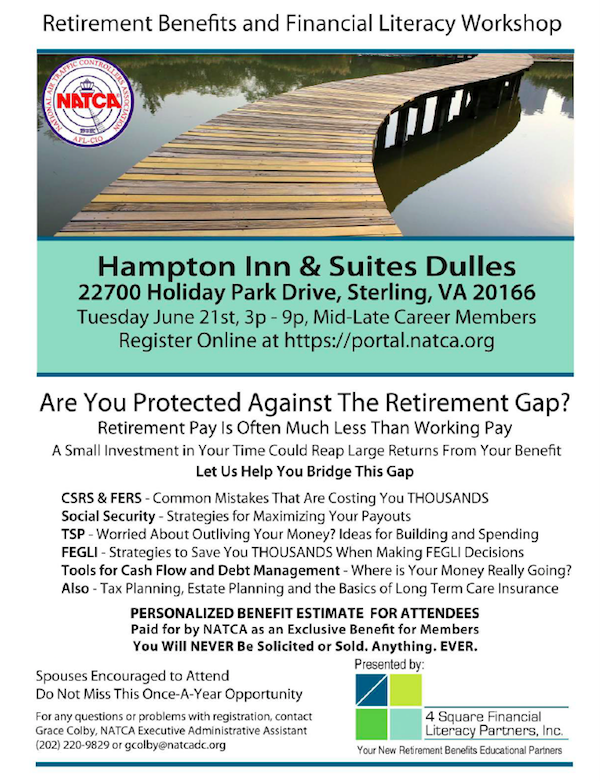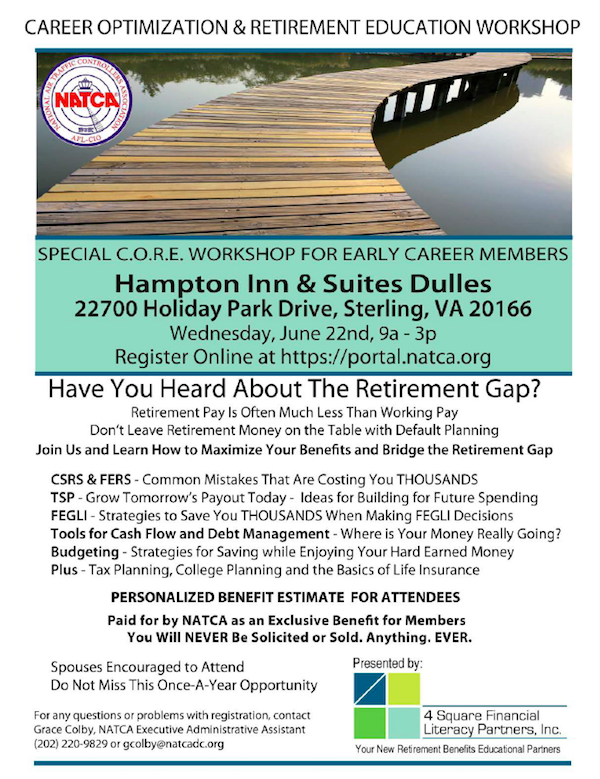 ---
We are now offering Career Optimization and Retirement Education (C.O.R.E.) Seminars in many cities! These seminars are geared towards employees with zero to 15 years of service who want to maximize their retirement benefits and plan for financial stability in retirement. Log in to the Portal today to see which cities are offering this great new program.
---
NATCA EDGE – Designed exclusively for NATCA members!
Can't get to an in-person retirement seminar? We'll bring the seminar to you!
Presenting an all-new, flexible access, web-based session of our popular retirement benefits seminar:

To register for a session, visit the NATCA Portal. Click "Events" on the menu bar on the home page, then select the "2016 NATCA Edge Online Retirement Webinar" link. Follow the questions and directions from there.
Personalized benefit estimate for participants paid for as an exclusive benefit for NATCA members. You will never be solicited or sold anything, ever!
For any questions or problems with registration, please contact Grace Colby, NATCA Executive Administrative Assistant: (202) 220-9829, gcolby@natcadc.org.