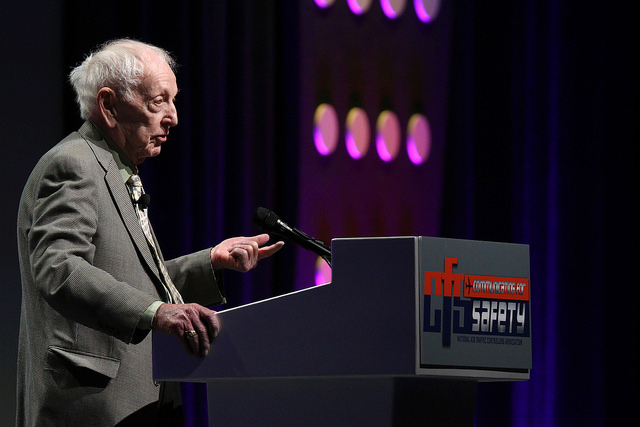 July 1, 2016 // Communicating For Safety 2016: Speaker: Captain Al Haynes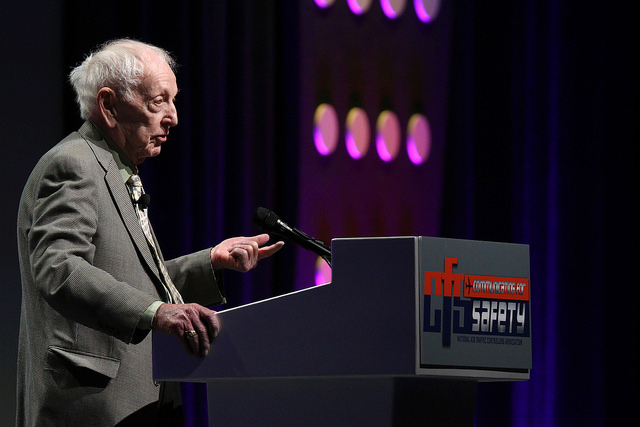 United Airlines Flight 232 Capt. Alfred Haynes presented his inspiring, "Against All Odds" presentation at Communicating For Safety (CFS) 2016. While the story is memorable to all in the aviation community, hearing the details first hand from the pilot was an incredible experience for all in attendance.
Nearly 300 people were aboard the seemingly normal United Airlines Flight 232 that departed Denver, headed for Chicago, on July 19, 1989. Sixty-seven minutes into the flight, Captain Alfred Haynes notified Minneapolis air traffic control that the number two engine had failed, and the aircraft was only marginally controllable.
The flight crew had to make an emergency landing, so they steered the aircraft towards the closest airport at that moment – Sioux City, Iowa. As they tried to guide the plane in to land, witnesses say the right wing dipped slightly and hit the ground, sending the plane into cartwheels and into a cornfield between runways. Of the 296 souls on board, 184 survived the crash.
Haynes discussed the crash landing, and how five main factors contributed to the survival of those 184 people: luck, communication, preparation, execution, and cooperation. Haynes believes impeccable air traffic control assistance, effective cockpit and cabin crew training, proper inter-communications training among ground units, and proper use of available facilities also made a huge difference in the survival rate.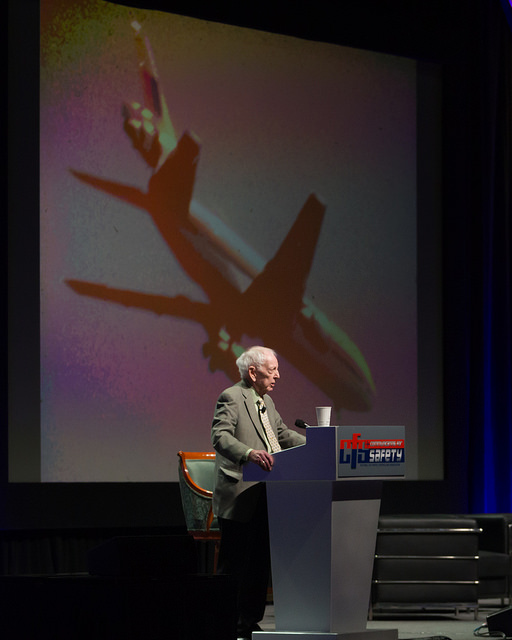 Haynes described the "luck" he experienced during this event as the instruments that he still had at his disposable that got the aircraft to the ground. The incredible odds he and the crew faced seemed insurmountable, yet, Haynes and the air traffic controllers were able to communicate effectively and use all tools available to them. Haynes also described that being over the flatlands of Iowa as opposed to over the ocean, and good weather conditions were also "lucky" contributions to the outcome.
"Everything had to work in the right sequence, and it happened to work, so we got the airplane, at least, to an airport," he explained.
Communication was also a major factor in the surprising outcome for such an extremely dangerous emergency. He said the quick response of air traffic controller Kevin Bachman was key to getting the aircraft on the ground. Ironically, Bachman had recently moved to Sioux City because he had found his previous duty station too stressful.
"The calmness of his voice, the communications with him were outstanding," Haynes said.
He also described that communication with first responders on the ground through Second Officer Dudley Dvorak were essential to the survival of more passengers. Emergency crews had a full 20 minutes to prepare and get into position, possibly saving many more lives.
Haynes said that being prepared and having emergency drills for ground crews, a plan-of-action for controllers, and practiced emergency responses for pilots was essential to saving lives that day. Haynes also discussed the importance of having post-incident resources available, describing that post-traumatic stress and lingering psychological effects are common in any emergency situation, especially incidents with loss of life.
Haynes commended his crew, air traffic control, and ground units in their execution of emergency procedures and maneuvers. He also commended the cooperation between all parties involved throughout the emergency, saying that without everyone's willingness to do everything in their power to save lives that he may not be standing there today giving the presentation.
"The best help, I think, came later," he said. "From our families and our friends. I had a lot of people tell me, I didn't call you, because I felt you were going to be so busy, that I didn't want to bother you. You're not bothering anybody. If somebody has a crisis or has a trauma, help them: call them, tell them that you're there. Let them know you're concerned about them, because that's part of the healing process."
This aspect of handling emergencies is so dear to Haynes, he met with NATCA's Critical Incident Stress Management team (CISM) after his presentation to discuss all of the support services they offer, including their on-call coordinators that are available 24-hours a day, seven-days a week, 365-days a year. To reach the NATCA CISM team, call 202-505-CISM (2476) or email cism@natca.net.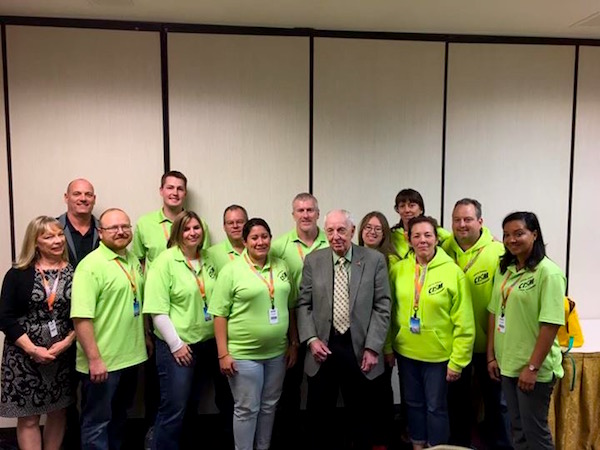 Haynes meeting with the NATCA CISM team at Communicating For Safety 2016.
Haynes, who continued to fly after the emergency, retired in 1991, has given nearly 2,000 presentations, raising money for charities while never accepting any money for himself. His goal is to educate other pilots, air traffic controllers, flight attendants, emergency crews, and emergency planners. His narrative of the "Against All Odds" crash landing is a tremendous teaching tool.
Haynes was born in Paris, Texas, and was raised in Dallas. He attended Texas A&M University before joining the Naval Aviation Cadet Training program in 1952. He was released from the service in 1956 after serving as a marine aviator. He joined United Airlines that year as a flight engineer, and served in that capacity until his promotion to first officer in 1963.
He flew the DC-6, DC-7, DC-8, Boeing 727, and DC-10. Haynes was promoted to captain in 1985 and flew the Boeing 727 and DC-10 until his retirement, accumulating over 27,000 hours of flight time. Haynes has been a volunteer umpire for Little League Baseball for the past 40 years, and a stadium announcer for high school football for the past 35 years.