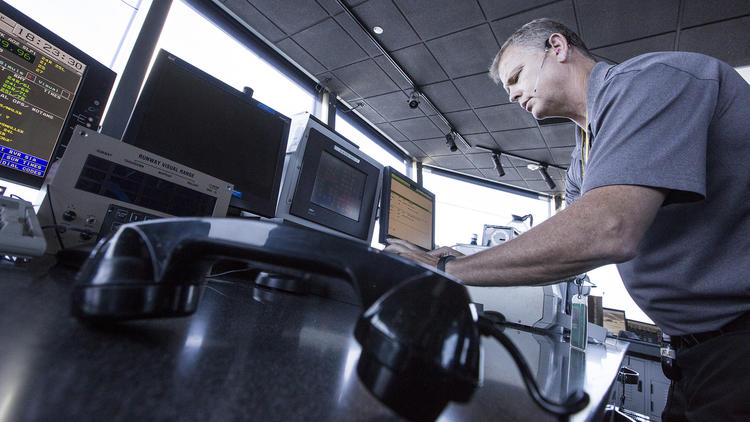 July 1, 2016 // NATCA Participates in Data Comm Press Event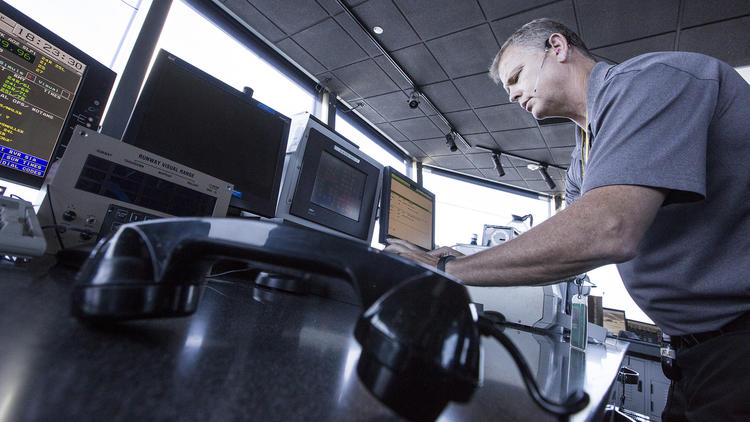 LAX VP Mike Foote at the Los Angeles International Airport uses text-based technology that enables planes to receive data electronically instead of verbally.
Photo Courtesy of Brian van der Brug / Los Angeles Times.
NATCA Data Comm Article 48 Rep Jim McAllister spoke at an FAA press event on Friday, June 24 at Los Angeles ATCT (LAX) about Data Communications (Data Comm). Data Comm will assume an ever increasing role in controller to flight crew communication, contributing significantly to increased efficiency and safety of the National Airspace (NAS). Data Comm represents the first phase of the transition from the current analog voice system to an International Civil Aviation Organization (ICAO) compliant system in which digital communication becomes an alternate and eventually predominant mode of communication.
The FAA and United Parcel Service (UPS) held the joint press conference to unveil Data Comm at LAX airport. The event was kicked off outside at the base of the tower with opening remarks from Glenn Martin, FAA Regional Administrator Western Pacific Region, followed by UPS spokesman Captain Ed Faith.
The event then moved to the tower conference room and tower simulator where FAA Data Comm Program Manager Jesse Wijntjes provided an overview of the Data Comm program to include numbers of operators participating, daily operations at LAX and across the nation, along with timelines for implementation to be complete at all 56 towers. McAllister followed with remarks thanking NATCA controllers, the agency, the airlines, and all industry partners for the excellent collaboration and exceptional work that have ensured a successful deployment.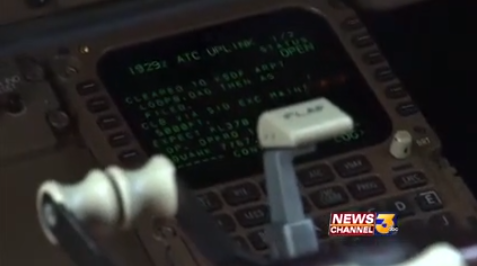 What pilots see in the cockpit through Data Comm.
Photo courtesy of KESQ-TV Pam Springs.
McAllister explained that Data Comm, simply stated, is the uplinking of messages from air traffic control to properly equipped aircraft to provide electronic communications instead of verbal communications. Without Data Comm, controllers have to verbally read all re-routes to aircraft during weather events or whenever re-routes are necessary. He said that Data Comm, formally known as Controller Pilot Data Link Communications (CPDLC), allows the controller to send route information from the Tower Data Link System (TDLS) or En Route Automation Modernization (ERAM), directly to the flight deck of the aircraft and moreover, to the Flight Management System (FMS). He said that with the touch of a few buttons on the FMS, the pilot is able to load the new route information automatically instead of typing each element separately.
McAllister said that CPDLC has been used by Anchorage, New York, and Oakland Oceanic sectors to communicate with aircraft over the ocean and out of normal analog communications coverage since the 1990s. In this environment, messages take a few seconds to uplink to the aircraft. Since the aircraft are many miles apart, McAllister explained that the timing is acceptable. However, brining CPDLC to the domestic Air Route Traffic Control Centers (ARTCC) presented more of a challenge. Messages must uplink to the aircraft in less than a second and provide immediate feedback to the controllers.
LAX VP Mike Foote also spoke during the press event and provided an excellent overview of the deployment at LAX, including the capabilities and usefulness of the new Data Comm system as it pertains to the operation at LAX.
LAX Local Data Comm Article 48 Rep Anu Shreederan was also in attendance and provided a demonstration of the new system. Shreederan created an audible simulation of delivering a clearance via voice to an aircraft. She also created a visual simulation showing the steps an aircraft must take to receive a verbal re-route during weather events, along with the steps a controller must take to move the aircraft out of the way while the pilot loads the new route and checks weight and fuel to fly the new route. Shreederan then showed a second audible and visual simulation using Data Comm to deliver the same information in both instances that showed the extremely noticeable time and fuel savings.
The Data Comm program is comprised of two primary phases; Phase 1, Tower, and Phase 2, En Route.
As part of Phase 1, proof of concept and infrastructure testing started in 2013 at Newark International Airport (EWR) and Memphis International Airport (MEM) with a beta test system. Following successful operations and agreements to move forward with industry partners, key-site activities began last June (2015) at Salt Lake City International Airport (SLC). Additional key-site activities took place at both Houston airports (IAH and HOU) in August and September. The FAA conducted a review of the program and provided an in-service decision in December, allowing the deployment to officially begin in January 2016. By the end of November of this year, Data Comm will be deployed to 56 towers across the nation.
Phase 2 En Route progress is moving forward at a significant pace. Changes to the ERAM system are required to fully implement the Data Comm program at ARTCCs. Utilizing the processes in place, changes have been slated for the next few ERAM software builds, with key-site activities scheduled for June 2018 at the first ARTCC.
For more coverage on this event, check out the following media coverage:
Los Angeles Times: New text-based system speeds up LAX departures
airpoty-technology.com: NextGen's Data Comm provides communications benefits at Los Angeles International Airport