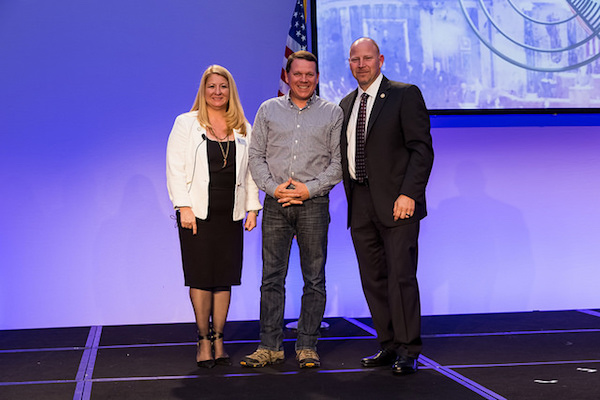 July 1, 2016 // NiW 2016 Speaker: Representative Sam Graves Encourages Controllers to Act
Rep. Sam Graves, R-Mo., has served as a member of the U.S. House of Representatives since 2001. An avid pilot with over 3,000 logged hours, Rep. Graves is the Chairman of the House General Aviation Caucus and an active member of the House Aviation Subcommittee on the Transportation & Infrastructure (T&I) Committee. Additionally, Rep. Graves serves as Chairman of the House Highways & Transit Subcommittee on T&I, which oversees the development of a national transportation policy and focuses on improving America's highway system.
Rep. Graves opened his remarks to NATCA in Washington (NiW) 2016 attendees by sharing the passion he has felt throughout his career for aviation, saying one of the proudest things he has ever done was "fly an airplane." With important FAA Reauthorization legislation needed to fund the aviation community, he asked that all in attendance not feel discouraged by stalled movement in Congress in regards to air traffic control reform and adequate funding for the National Airspace System (NAS).
"I think we've got a pretty good bill," Rep. Graves said of the Aviation Innovation, Reform, and Reauthorization Act (AIRR) of 2016. "We've been able to pass a highway bill. These are very bipartisan bills. FAA Reauthorization has created a lot of problems on whether it (ATC reform) should stay in the bill or come out of the bill. So how do we move forward?"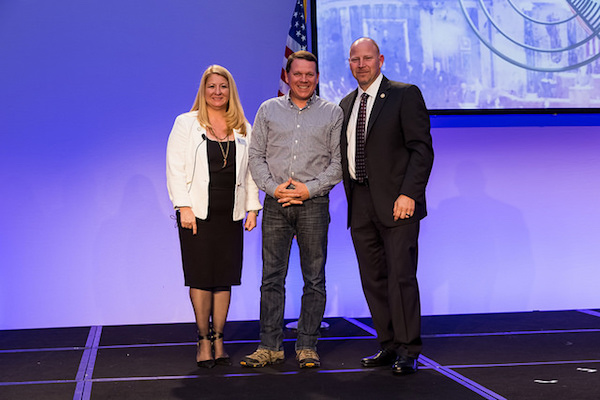 From left to right: NATCA Executive Vice President Trish Gilbert, Rep. Graves, and NATCA President Paul Rinaldi.
Rep. Graves explained that House Transportation Committee Chairman Bill Shuster, R-Pa., must assess if he can move forward with air traffic control reform as it is outlined in the AIRR Act, or if he will have to pull that part out in order to pass FAA Reauthorization. Rep. Graves also said that Congress must assess how to move forward and that air traffic controllers and the aviation community must make their voices heard in that discussion.
The Congressman explained that in response to questions he receives during town hall meetings with his constituents on how he feels about reform legislation, that he "likes the idea of saving money and putting that money back into NextGen."
"There is no where else that handles the amount of traffic that you all handle in the United States," he continued. "It's flawless and moves very well."
Despite the safety and efficiency of the system, Rep. Graves pointed out that the system is "broken" and that Congress must act to fix it. He stated his strong concerns regarding the staffing of air traffic controllers in TRACONs and facilities across the country. He also described his concerns that General Aviation may shrink in the future.
"There is a lot of uncertainty," he said. "I want Chairman Shuster to be as successful as he can possibly be but everything's up in the air. It's hard to tell at this point what is going to happen."
In his closing remarks, Rep. Graves urged all attendees to convey and create an urgency for action during their Capitol Hill visits and when meeting with Congressional offices at home.