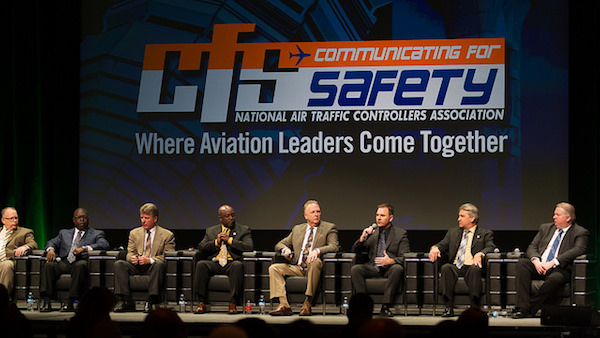 July 8, 2016 // Communicating For Safety 2016 Panel: Improving Safety Through Collaboration
Moderators:
Steve Wallace, Collaboration Facilitator, NATCA
Vern Huffman, Collaboration Facilitator, FAA
Panelists:
Jay Barrett, Human Performance Representative, NATCA
Jason Demagalski, Human Performance Manager, ATO
Billy Kisseadoo, FacRep, Miami Tower/TRACON, NATCA
Bob Hildebidle, Manager, Miami Tower/TRACON, ATO
Nick Daniels, FacRep, Fort Worth Center, NATCA
Tommy Graham, Manager, Fort Worth Center, ATO
Jim Apone, FacRep, Myrtle Beach Tower/TRACON, NATCA
Ricky Washington, Manager, Myrtle Beach Tower/TRACON, ATO
Overview:
Collaboration facilitators Steve Wallace and Vern Huffman focused on teamwork, how highly collaborative teams conduct business every day, and how they help facilities recover when things go wrong during the Improving Safety Through Collaboration panel at Communicating For Safety 2016. Chief Operating Officer of the ATO, Teri Bristol, introduced the panel, setting the tone of the discussion to come.
"Our intent is to highlight good practices from three facilities and some of the science behind teams and teamwork," Wallace said. "We hope that the audience will gain a deeper understanding of what it means to collaborate in the interest of safety along with a few tips and suggestions on how to get teams of people working together more effectively."
While the core of FAA employees' jobs is very serious in nature, Wallace said, highly collaborative teams of people are able to solve extremely complex problems in a way that is not only positive for the workforce but also educational and acceptable by all in the process.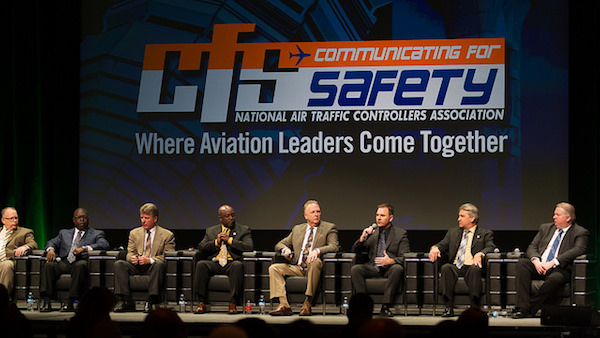 From left to right: Apone, Washington, Hildebidle, Kisseadoo, Graham, Daniels, Barrett, and Demagalski.
"We tend to assume the worst intent," said Demagalski. "At the NATCA and FAA level, when we talk and we collaborate, we understand each other's goals and missions. If we don't, we assume the other person or party doesn't have the best intentions in mind."
Demagalski continued by explaining that through collaboration, both parties can see that they may actually have the same goals, or if they don't, can at least share the journey to resolution together.
"One side may believe one thing, another side may think something different," explained Kisseadoo. "You have to really come in to collaboration and have the same objective to get to the right spot and move forward together. Once you do that, commit to it and put it out to the workforce together."
At Fort Worth Center, Graham and Daniels instituted a peer-based leadership model as the foundation of collaboration at the facility.
"Whenever you have a stressful moment or difficult issue at work, that's not the time to start collaborating or working on the relationship," explained Graham. "We sat down and talked about how we would work issues together from the beginning in order to address challenges."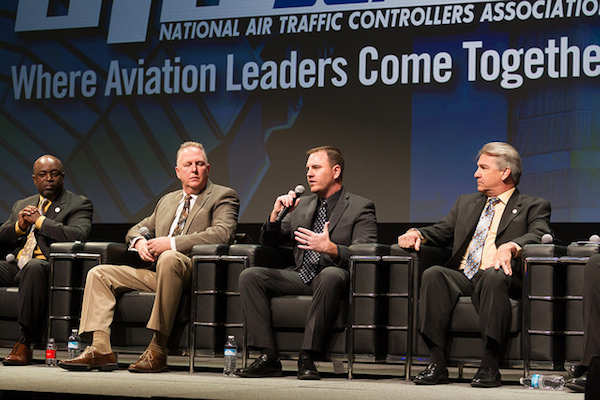 From left to right: Kisseadoo, Graham, Daniels, and Barrett.
Daniels explained that he and Graham decided to tackle communication at the facility together. He said that the way it had always worked was NATCA would deliver their message and what they worked on with management and then management would deliver their own message with what they worked on.
"We had to change that dynamic," said Daniels. "We changed our messages to one message and we are going to own that on every level."
Washington explained that he and Apone chose to collaborate and it has become a way of life.
"Collaboration is communicating for safety," Washington said. "So how do you do safety? You talk, communicate, and collaborate."
Apone said the first thing he and Washington agreed upon was that it should never be personal because safety must come first.
"I don't know an air traffic controller or trainee that doesn't want to plug-in, do the best they can, and get airplanes safely from point A to point B," Apone said. "We do have a very safe operation and we are able to communicate with each other."
Barrett explained that leaders invoke the sense of the safety at a facility. He said that when everyone at the facility feels safe, they do not compete with each other, making it easier to collaborate.
"They can reserve all of their energy to make sure the group is successful and not just the individual," Barrett said. "Everyone out there can collaborate and create a safe profile at your facility."
At every highly collaborative facility that Wallace and Huffman have visited, one thing is always evident from the moment they walk into the building.
"They have a facility standard of excellence or a commonly understood motto that everything else is built around," said Wallace. "We intend to spread the message that this is something that is facility-specific and derived by the workforce. It's not something that one person says everyone will do or how he or she will act. It's something that everyone plays a part in."