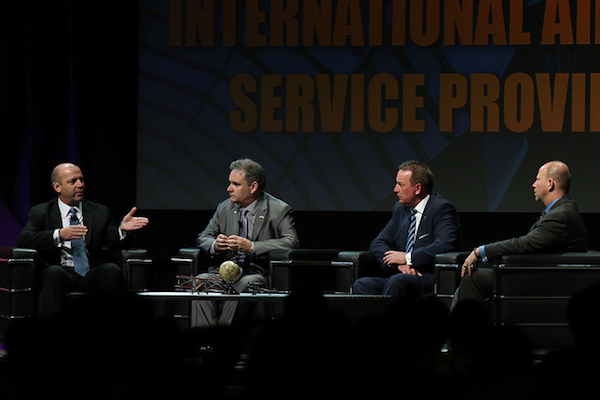 July 8, 2016 // Communicating For Safety 2016 Panel: International ANSPs Fireside Chat
Moderator:
Paul Rinaldi, President, NATCA
Panelists:
Peter Duffey, President, Canadian Air Traffic Control Association
Paul Winstanley, Chair, Prospect ATCOs Branch, UK
Daryl Hickey, President, Civil Air Australia
Overview:
Across the modern world, Air Navigation Service Providers (ANSPs) in different countries have taken different approaches to governing their air traffic operations and safety regulators. The United States has a fully government-owned, operated, and regulated system, but in most countries that is not the case.
Rinaldi sat down with union leaders from Canada, Great Britain, and Australia to discuss the pros and cons of each country's operations. Rinaldi said that no matter what happens, it is important to learn from other countries' transitions and to move forward with that knowledge, because reform is coming.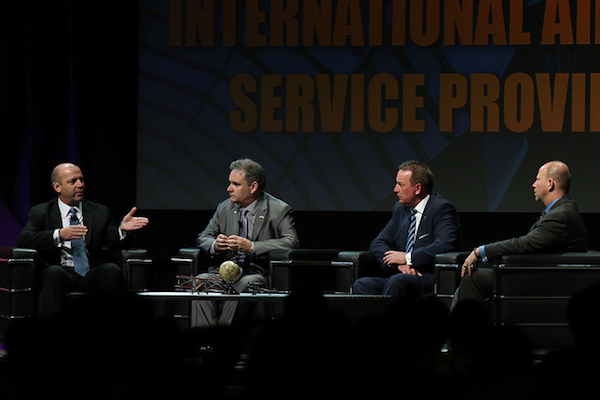 From left to right: Hickey, Duffey, Winstanley, and Rinaldi.
Each country has a different model for governing its air traffic control organizations and keeping its airspace safe. A government chartered not-for-profit in Canada, a quasi-government corporation in the UK, and a government owned corporation in Australia were the ANSPs represented during the discussion.
Winstanley said that in the U.K., they initially fought reform until the political will to maintain the status quo ran out. He explained that they then had to scramble to be a part of the process.
"We decided to shape our own future," said Winstanley. "It's much better to shape your own future than let someone else do it for you."
However, Winstanley did note that because they had not been at the table to begin with, it was too late to get everything they wanted into the new system that would have benefited air traffic controllers.
Duffey said that the main driver for change in Canada was the idea that there had to be a better way to run the system. Now, the profit generated from the NAV CANADA system is reinvested into technology development and maintenance.
"20 years later, anybody that you talk to will say our system has worked," said Duffey. "The not-for-profit component is the key to this success. Globally, I think everyone looks at NAV CANADA and says this seems to work."
Duffey explained that when building a system, finding a way to get funding back into the infrastructure of that system is critically important.
"We need stable, predictable funding, then we can figure out everything else," Rinaldi added. He said that because funding is reinvested into new technology in Canada, they are far ahead of the U.S. in their ability to maintain and modernize the air traffic control system.
"To make this more universal, the first thing everyone needs from an air traffic control trainee is acknowledgement that they are not doing it right," said Hickey. "Looking from the outside in, the U.S. system is broken. It needs fixing."
Hickey said that when Australia embarked on reform, they had to acknowledge that there was a problem and that they needed a solution. He encouraged air traffic controllers in the United States to adopt the same mentality and find a solution.
"We have the advantage of learning from what these systems have gone through and the mistakes that they have made," said Rinaldi. "As these leaders have shared with us, if change is coming, you better find a way to get on the train to steer it or they will leave you behind."
Because change will come, Rinaldi emphasized that NATCA must get in there, shape it, and protect the membership.
With both the House and Senate discussing FAA Reauthorization, NATCA has thoroughly studied these international organizations and the lessons learned during their transitions to ensure that any change that were to occur in the U.S. would implement these organizations' best aspects.
Any change NATCA could support would have to ensure:
1. Safety and efficiency remain the top priorities. This means that maintenance cannot be allowed to lag and poor staffing must not be allowed to reduce capacity of the NAS.
2. A stable, predictable funding stream that adequately supports air traffic control services, staffing, hiring and training, long-term technological modernization projects, preventative maintenance, and ongoing modernization to the physical infrastructure.
3. A dynamic aviation system that continues to provide services to all segments of the aviation community, from commercial passenger carriers and cargo haulers, to business jets, to general aviation, from the major airports to those in small communities and rural America. NATCA cannot emphasize enough how important it is that a new system continues providing services to the diverse users of today. The United States has a vibrant general aviation community that relies on air traffic control services. Rural America's economic success is connected to the access created with a comprehensive airspace system that serves even the most remote areas.
4. Lastly, the workforce must be fully protected in their employment relationship.