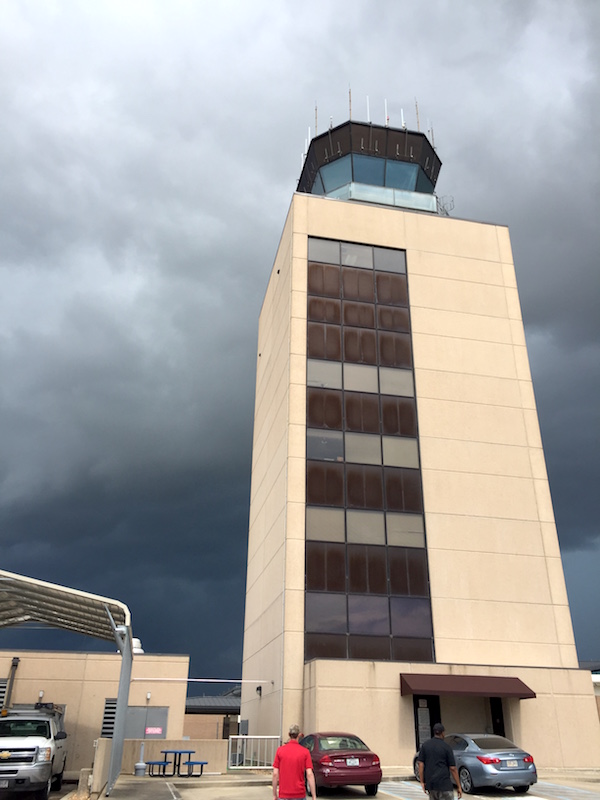 July 8, 2016 // Facility Spotlight: Monroe ATCT/TRACON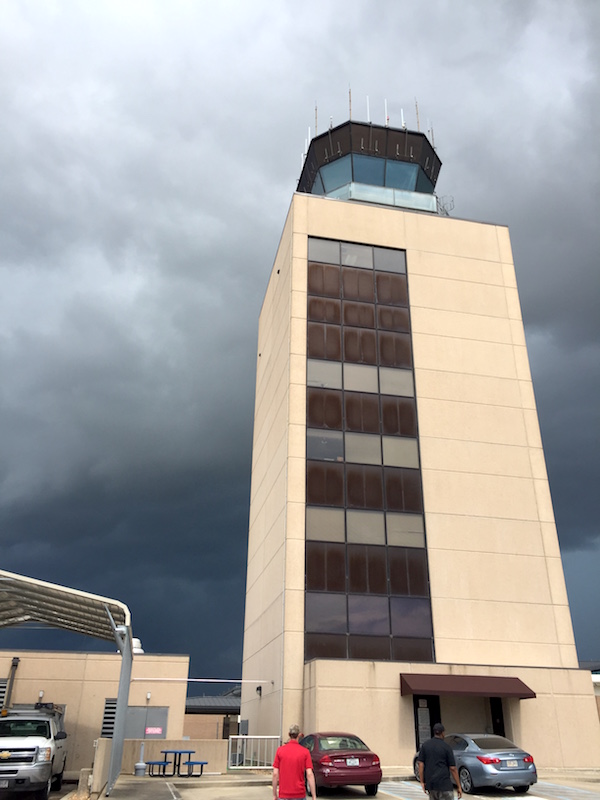 Every air traffic controller at Monroe ATCT (MLU) is a proud NATCA member, meaning 20 out of the 21 total bargaining unit employees (the staff support specialist is not a member) are NATCA strong!
MLU is a level 5 up/down tower commissioned in November 1994. The approach control is responsible for a 30 to 40 mile radius surrounding Monroe Airport up to 12,000 feet. Within the airspace are 13 uncontrolled satellite airports — three with instrument approaches. Monroe Tower is located in the center of the approach control's airspace and controls the Class D surface area at Monroe Regional Airport, which includes three crossing runways.
Controllers at MLU often work with controllers at Fort Worth Center (ZFW), Memphis Center (ZME), Houston Center (ZHU), Shreveport ATCT (SHV), and Polk Army Airfield (POE).
MLU sees a wide range of aircraft including crop dusters, Gulfstreams, and a variety of military training aircraft.
"We don't always have a constant stream of traffic, but with only one radar controller and a diverse mix of aircraft, the workload can sometimes become complex," explains FacRep Trevor Barry. "There are lots of student pilots from Louisiana Tech as well as numerous military aircraft including T1s, T6s, and C130s."
Barry says that MLU has a TRACON on the sixth floor of the tower, but routinely controllers work aircraft in the tower cab in order to facilitate more training.
"Although the University of Louisiana at Monroe is a smaller school, they still fit into the requirements to have temporary flight restrictions (TFR) during home football games," says Barry. "The TFR in addition to parachute jump operations sometimes increase the workload of the tower because of the close proximity to the airport."
Barry says that while MLU hasn't yet hosted an official NATCA solidarity event, they are planning one for the fall. He says that most of the controllers at MLU find time to hang out with each other outside of work on the golf course or at cookouts.
"We recently worked with a volunteer pilot organization here called Pilots for Patients and hosted a fly-in to help build the working relationships between pilots and controllers," says Barry. "We had a great turn out and even our local Representative (Congressman Ralph Abraham, R-La.) attended."
Barry describes MLU as a very young facility with several new controllers. He says that even as they are working hard to train and certify, they are already showing an interest to get more involved with NATCA.
"One of the challenges we have is the fairly high turnover here, so when a newer member gets interested, it gets me excited that they may eventually be the future leaders at our facility," Barry says. "Overall the atmosphere is very positive and I think members here are able to see the positive impact NATCA has."
Barry says it is impressive for new hires to see the amount of support NATCA receives regionally and nationally, even as a smaller facility.
"I'm a new FacRep and without the support of Southwest Regional Vice President Andrew LeBovidge, ZHU FacRep Chris Parris, ZFW FacRep Nick Daniels, Lafayette ATCT FacRep Corey Soignet, and many others, I'd be lost," says Barry. "I had no idea how much time and effort this was going to take, but that one sincere 'thank you' from a member you helped makes it all worth it."