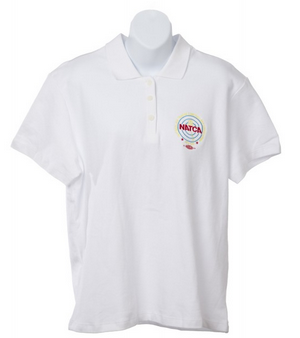 July 8, 2016 // This Week's Notebook: Update Contact Information, Confidential Medical Advice and Counseling, Tax Refunds, Seminar Dates, and Much More!
NATCA Store Item of the Week: Lady Sport Shirt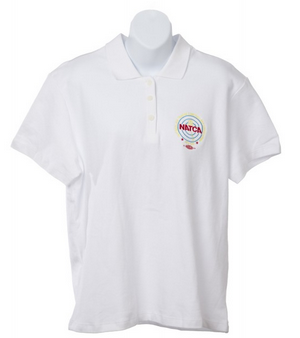 Features: The Lady Sport Shirt is a 100 percent pre-washed, short sleeve, cotton pique polo with open cuffs and solid matching knit collar.
Available sizes: S-to-3XL
Made in USA.
Price: $30 to $33
To see the item and how to order: Select USPS or UPS as your shipping preference on your orders. Reminder: Apparel items take three to four weeks to deliver from date of order. If you need items by a certain date, please contact NATCA Store customer service for arrangements. Expedited shipping charges may apply.
To check on stock availability or for further assistance, call 800.266.0895 or email natcastore@natcadc.org.
---
Member Portal: You Can Update Your Own Information!
Have you moved recently and need to update your mailing address? No problem! Simply log in to the Member Portal and update your contact information. Those registering for the first time must have your NATCA member number ready as it is needed when you register. If you don't know your member number, please click here.
For further assistance, contact Customer Service at 800-266-0895 or email uwadmin@natca.net.
---
Benefits Spotlight: Why Go It Alone?
Support. It's what being in a union is all about. Many of us face problems with our medical certificates throughout our career. Have you ever wanted to just get some straight answers from a doctor about your case BEFORE making that terrible call to the Regional Flight Surgeon? You can!
NATCA has created an opportunity for its members to obtain 100-percent CONFIDENTIAL medical advice and counseling from the Aviation Medical Advisory Service (AMAS). Before you gasp at the thought of yet another medical expense, it is absolutely free to you! If you are currently going through a situation with your medical, don't go it alone.
Go to www.aviationmedicine.com for more information and to begin the process.
---
Cambridge Corner: Think Big
Getting a tax refund? Put it to good use. Using your refund to improve your financial situation can offer long-term benefits. Here are several ways that "extra" money can help you become more financially secure.
Boost your emergency fund: Having cash for unexpected expenses can keep you from charging repairs and other costs on a high-interest credit card. Don't have an emergency fund? Use your refund to start one.
Reduce your debt: Paying off loans or credit card balances will cut your interest expense and leave you with more money for other things. Eliminating debt should be a priority.
Invest more: Adding to your retirement portfolio can help you get to your goal. Look for asset classes that may be underrepresented to round out your holdings.
Pump up the college coffers: Putting extra cash in your child's college savings account can help you prepare for future higher education expenses.
Call 888-900-4690 or click here for more information on how Cambridge Financial Partners can help you.
---
Upcoming Retirement Seminars Provided By 4 Square: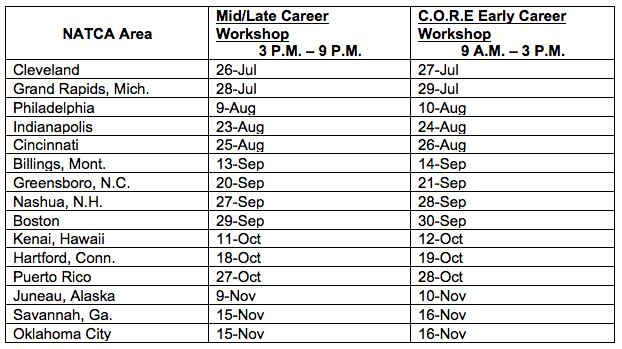 Standard seminar for members with more than 15 years of service held from 3 to 9 p.m. local time.
Register by signing on to the NATCA Portal. Please verify the personal information listed for you including email and cell phone number. If any information is incorrect or missing, please correct or add it under the "My Profile" tab.
To register for a seminar, click the "Events" tab, followed by "2016 Retirement Seminars". Complete the requested information and click "Next". When you come to the screen listing the seminars, select the one you wish to attend, hit "Next", verify your requested seminar information and then click "Done". You will receive a confirmation email that your registration was complete.
A second email will be sent two to three weeks prior to the seminar giving you the logistical information for the seminar. Also included in this email will be instructions on how to obtain a benefits estimate at the seminar.
Spouses and significant others are also invited to attend. Please ensure that you add them to the registration when asked if you will be bringing a guest. Please try to register three weeks prior to the seminar. Walk-ins are permitted to attend as long as they can provide their membership ID number. However, you will be unable to obtain a benefits estimate at the seminar.
For any questions or problems with registration, please contact Grace Colby, NATCA Executive Administrative Assistant: (202) 220-9829, gcolby@natcadc.org.
---
We are now offering Career Optimization and Retirement Education (C.O.R.E.) Seminars in many cities! These seminars are geared towards employees with zero to 15 years of service who want to maximize their retirement benefits and plan for financial stability in retirement. Log in to the Portal today to see which cities are offering this great new program.
---
NATCA EDGE – Designed exclusively for NATCA members!
Can't get to an in-person retirement seminar? We'll bring the seminar to you!
Presenting an all-new, flexible access, web-based session of our popular retirement benefits seminar:

To register for a session, visit the NATCA Portal. Click "Events" on the menu bar on the home page, then select the "2016 NATCA Edge Online Retirement Webinar" link. Follow the questions and directions from there.
Personalized benefit estimate for participants paid for as an exclusive benefit for NATCA members. You will never be solicited or sold anything, ever!
For any questions or problems with registration, please contact Grace Colby, NATCA Executive Administrative Assistant: (202) 220-9829, gcolby@natcadc.org.