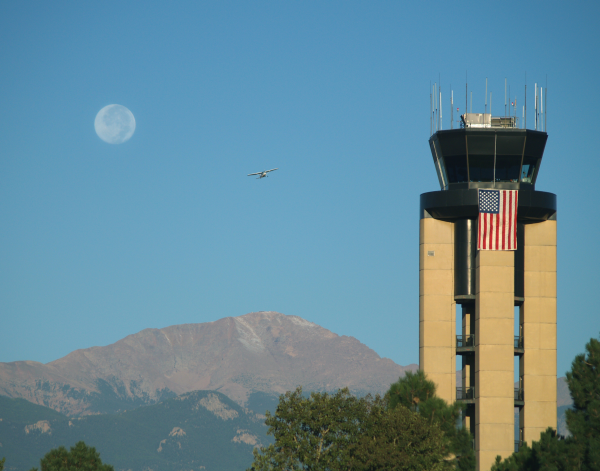 July 15, 2016 // Facility Spotlight: Colorado Springs ATCT/TRACON
COS FacRep Jamie Sanders would like to thank COS VP Angela Wheatley for her outstanding efforts and contributions to this facility spotlight.
Colorado Springs (COS) is a level 8 Air Traffic Control Tower/TRACON with 100-percent NATCA membership among its 29 controllers.
The airport was commissioned in 1927 as two gravel runways that serviced the local area. In the 1940's, the first municipal terminal was constructed, and almost immediately went into use for military operations during World War II. After the end of the war, the airport was returned to civilian use except for the land north of the airfield, which became Peterson Air Force Base in 1948. The airport has grown many times over the years, and remains a joint-use airfield today.
COS is situated 70 miles south of Denver International Airport, with several small uncontrolled airports within the confines of their Class C airspace. Controllers at COS work regularly with Denver TRACON and Denver Center. COS also works closely with the Air Force Academy and Fort Carson, with a substantial amount of military aircraft conducting everything from training to operational missions.
According to FacRep Jamie Sanders, COS has a number of challenges to work with on a daily basis.
"As a joint-use field, controllers can work C-172s and UH-60s to the same runway as F-22s and C-17s within moments of each other," says Sanders. "Training is a constant for both general and military aircraft, with multiple flight schools operating in the area. Jump/parachute operations and hot-air balloons are also daily occurrences."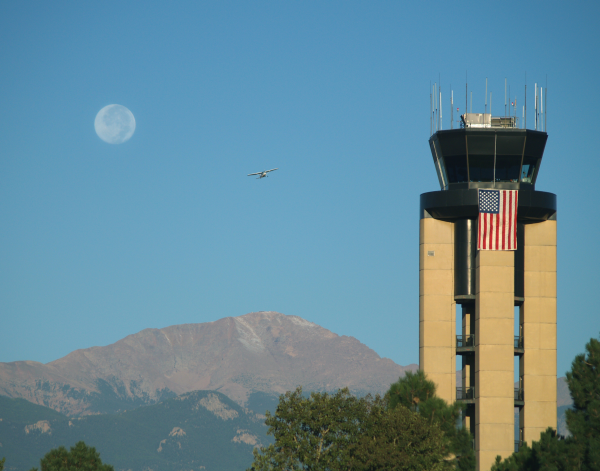 During certain times of the year controllers may be called out for fire-tower assignments — expediting the handling of firefighting aircraft stationed at COS or transitioning them through the airspace. COS is also accustomed to a high volume of military traffic for Air Force Academy events including Air Force One for special occasions.
"COS Airport recently hosted its third Pikes Peak Airstrip Attack, where air traffic operations continued amidst drag races on one of the airport's runways and taxiways," says Sanders. "This airfield is also a favorite for experimental test flights due to its long runways at high altitude—such as the Boeing 787 before it went operational."
Due to this wide variety of aircraft and their respective needs, Sanders says controllers find COS traffic to be especially challenging — yet very rewarding.
In terms of solidarity events, COS NATCA proudly boasts its annual golf tournament, with current and retired controllers playing with (and against) management and controllers from other facilities. This camaraderie is felt both at these special events, and on the job.
"The facility transitioned to STARS (Standard Terminal Automation Replacement System) in June 2016, with several NATCA members working with TechOps and management to make the changeover a success," says Sanders. "It has been a busy year for our facility, with many changes implemented."
Sanders says that this group of controllers have remained positive and taken these changes in stride.
"The best part of being FacRep is that I represent such a dedicated and hardworking group of people," he explains. "The majority of the members volunteer their time and efforts on multiple workgroups and projects. On a daily basis they work hard to get training done when we are short staffed, and have stepped up time and time again to help one another out when traffic gets busy."