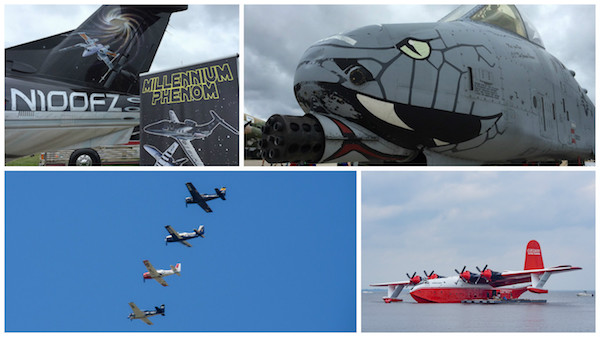 July 29, 2016 // NATCA at EAA AirVenture 2016!
Every year, air traffic controllers from across the country work traffic at the Experimental Aircraft Association's (EAA) AirVenture Oshkosh. The events this year began on July 25 and will continue through the weekend, ending on July 31.
Attendees of the event see every type of aircraft imaginable. The EAA AirVenture website boasts that, "If it flies, you'll see it at Oshkosh." During the event, Oshkosh Tower (OSH) is the busiest in the world, handling incredible amounts of air traffic throughout aviation-related events and demonstrations.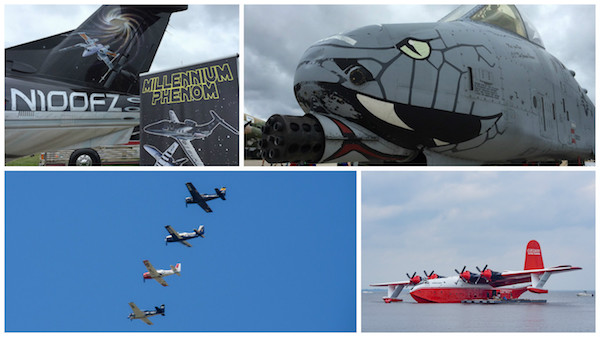 A variety of aircraft arrive at Oshkosh 2016.
Photos courtesy of Micah Maziar.
Each year, NATCA members and National Office staff attend to show support for general aviation, talk with pilots about key air traffic control and safety issues, meet other NATCA members and air traffic controllers, and enjoy the camaraderie among all the aviators who attend the event. This year, NATCA again had a booth and took part in numerous events on topics ranging from communications to weather to Automatic Dependent Surveillance Broadcast (ADS-B) technology.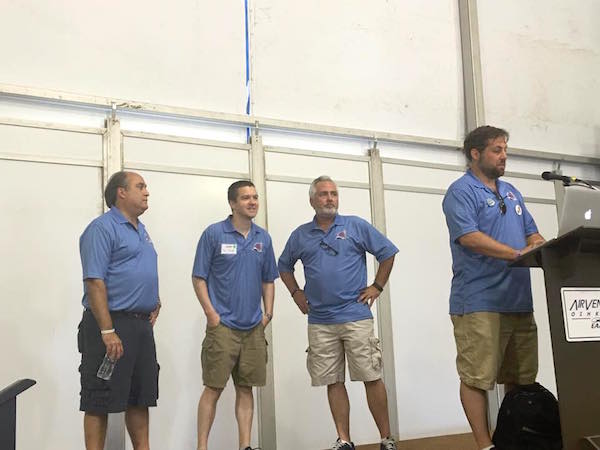 NATCA staff give a presentation on ADS-B during Oshkosh 2016.
From left to right: Ron Shusterman (A90), Paul Konosky (BGM), Jim Ullmann (Director of Safety and Technology), and Bob Obma (ZID).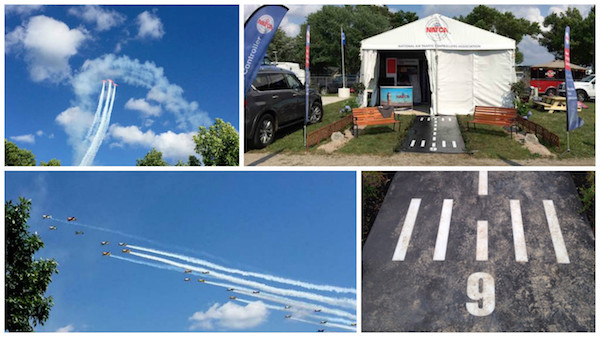 Central Regional Vice President Kevin Peterson snapped these great shots from the NATCA booth at Oshkosh 2016.
Once there, air traffic controllers are divided into teams of four persons including two veteran controllers, one to serve as the team leader, but each having three or more years of OshKosh air traffic experience; a third "limited" controller with one to two years of experience working traffic at the event; and a "rookie" controller who is working traffic at the event for the first time.
Micah Maziar of Toledo ATCT is one of the rookies this year and is incredibly excited to take part in an event he has heard about from the sidelines for years.
"My first year at Oshkosh has been a lot of fun," he says. "As a rookie, it was hard to imagine the unreal amount of traffic that we work this week. This event wouldn't be possible without teamwork."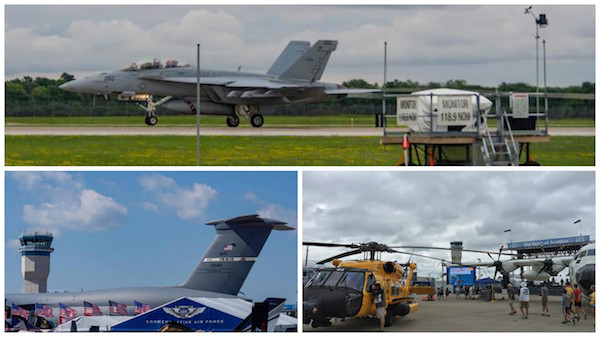 Top photo: An F18 arrives in front of a MOOCOW at EAA AirVenture 2016.
Bottom left: A C5 photographed in front of OSH Tower.
Bottom right: More aircraft featured at EAA AirVenture 2016.
Photos Courtesy of Micah Maziar.
Maziar explains the air traffic control teams are very tight-knit because when you are on position, you must trust your teammates completely.
"To look in the direction of the VFR (visual flight rules) arrival string for the first time and see an aircraft every half-mile for as far as you can see is intimidating, but you and your team just take a deep breath and go to work," he says.
Air traffic controllers representing 50 towers from 19 states attended an air traffic procedures briefing at the EAA museum that covers the FAA NOTAM (notice to airmen), signals, taxiways, restricted areas, hotspots, and flight line operations. Additionally, EAA volunteers conducted safety briefings.
Throughout the briefings, the presenters stress that "coordination is key" to maintaining a safe operation. Air traffic controllers are stationed at six locations around the Oshkosh area: Fond du Lac airport (FLD), Fisk, OSH, and two mobile locations on the OSH runways, nicknamed MOOCOWs (short for Mobile Operating and Communications Workstations).
Meeting and working with experienced controllers from all over the country is some of the best on-the-job training controllers can experience and NATCA encourages anyone who is interested in working at AirVenture to try for a place on the team.
While the festivities are still underway, FAA Administrator Michael Huerta already presented NATCA's Manager of Outreach and Special Events Kelly Richardson with an award in recognition of his outstanding support to aviation and space education programs and furthering aviation education opportunities for America's youth. Richardson was also awarded the New England Regional Administrator's award for his work on STEM-AVSED (Science, Technology, Engineering, and Math-Aviation and Space Education).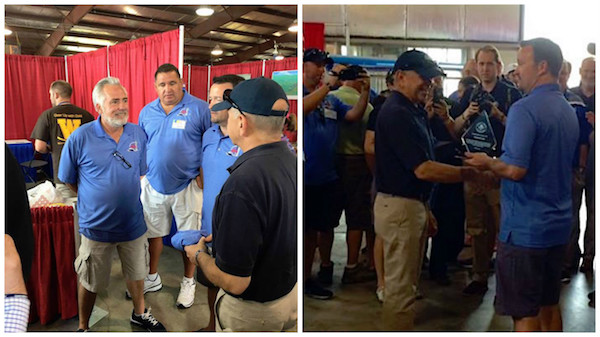 Left photo: NATCA Director of Safety and Technology Jim Ullmann and Richardson at EAA's KidVenture teaching kids pre-flight checks, weight and balance checks, and air traffic control on simulators.
Right photo: FAA Administrator Michael Huerta giving an award to Richardson for his dedication and hard work taking air traffic controller involvement at EAA AirVenture from good to great!
Ullmann and NATCA Executive Vice President Trish Gilbert each conducted radio interviews with Squawk 1200. Gilbert, on July 25, discussed several topics including the need for stable funding of the NAS, and Ullmann, on July 28, discussed the air traffic controller staffing shortage nationwide.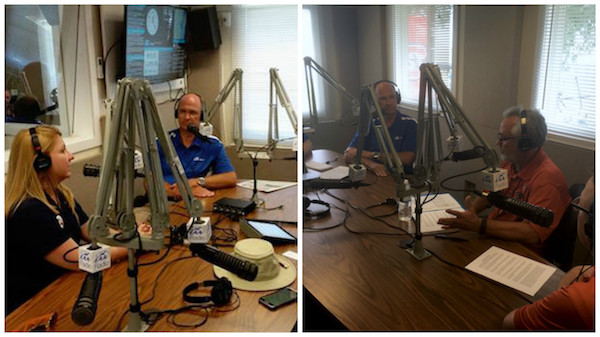 Left photo: Gilbert with the Squawk 1200 radio announcers.
Right photo: Ullmann with the Squawk 1200 radio announcers.
With more aviation events and the awards ceremony still to come, check back in the August 19 edition of the NATCA Insider for more coverage of EAA Oshkosh AirVenture 2016!