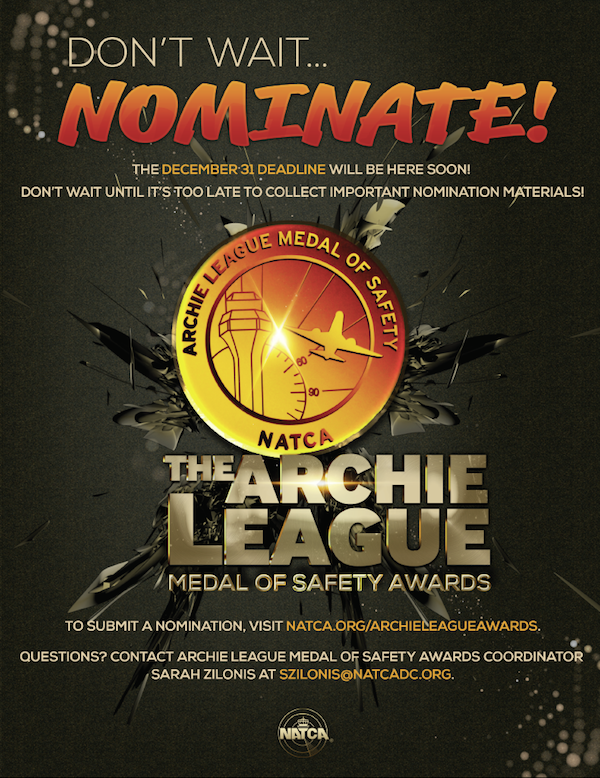 Aug. 12, 2016 // This Week's Notebook: ALMOSA Nomination Form, Insurance Options, FEGLI Open Season, and Much More!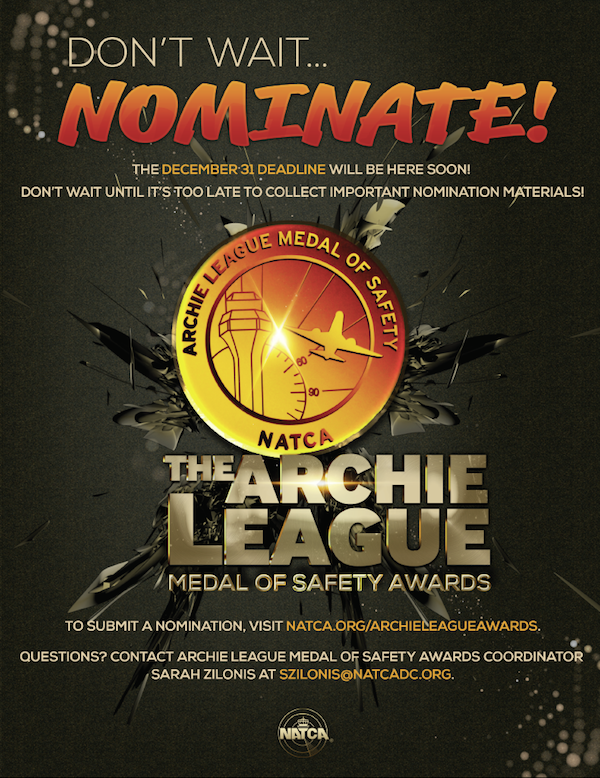 Dec. 31, 2016, is the deadline for the 13th Annual Archie League Medal of Safety Awards!
Remember — any member can nominate another member. All events since Jan. 1, 2016, are eligible for nomination. All winners will be honored during Communicating For Safety 2017 at Bally's in Las Vegas.
Download the flyer to place in your facility or send to members!
To submit nominations:
NATCA is proud to introduce the new Archie League Medal of Safety Awards Nomination form.
Please be as detailed as possible in your submissions and include all relevant materials. Nominations will be considered during the annual Archie League Medal of Safety Awards judges meeting that will take place in January 2017.
You can also mail nomination submissions (postmarked on or before Dec. 31, 2016) to the NATCA National Office at:
National Air Traffic Controllers Association
Attn: Sarah Zilonis
1325 Massachusetts Avenue, N.W.
Washington, D.C. 20005
The NATCA Communications Department is here to assist you. Direct all questions and requests for additional information to Archie League Medal of Safety Awards Coordinator Sarah Zilonis at szilonis@natcadc.org. Please do not hesitate to contact her if you have any questions, concerns, or issues in submitting the nominations.
---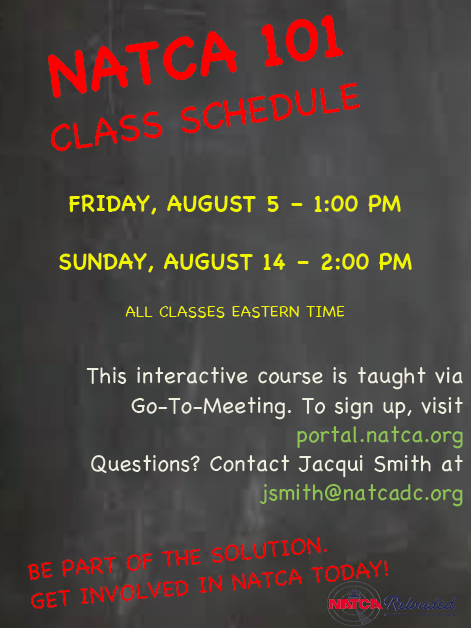 ---
NATCA Store Item of the Week: Camp Shirt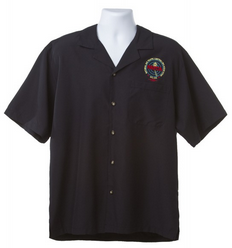 Features: The classic NATCA camp shirt is made of a comfortable and cool fabric. It is 100 percent polyester fabric with peached finish and water repellent. The shirt has buttons, short sleeves, a left chest pocket, and side vents at the bottom.
Available sizes: S-4XL.
Price: $37-$41 (Add additional $10 for each embroidery option on sleeve.)
Made in USA.
To see the item and how to order: Select USPS or UPS as your shipping preference on your orders. To check on stock availability or for further assistance, call 800-266-0895 or email natcastore@natcadc.org.
---
Member Portal
Have you moved recently and need to update your mailing address? No problem! Simply log in at the Member Portal and update your contact information. Those registering for the first time must have your NATCA member number ready as it is needed when you register. For further assistance, contact customer service at 800-266-0895 or email them at uwadmin@natca.net.
---
Benefits Spotlight: Southern Insurance Group
It's no secret that your Federal Employee Group Life Insurance (FEGLI) costs increase as you age, but did you know that there are alternatives to FEGLI that are much more affordable? Regardless of age, you owe it to yourself to shop competitively for life insurance. Often times there are better options than FEGLI. To better understand your life insurance benefits and to discuss alternatives to FEGLI contact the Southern Insurance Group at 800-467-8571.
---
Cambridge Corner: 2016 FEGLI Open Season
The Office of Personnel Management (OPM) will hold the 2016 FEGLI open season from Sept. 1, 2016 through Sept. 30, 2016. During this time, federal employees who are eligible can elect or increase their FEGLI life insurance by submitting an election to their human resources office. Eligible employees may elect changes by electronic means where this option is available through their employing agency.
OPM noted that subject to FEGLI law and regulation, including applicable pay and duty status requirements, the effective date for changes to FEGLI coverage under an open season election will be delayed one full year to the beginning of the first full pay period on or after Oct. 1, 2017.
Outside of an open season, eligible employees can enroll or increase their coverage by taking a physical exam or with a Qualifying Life Event (retirees can never increase their FEGLI coverage, even during a FEGLI open season). FEGLI life events are marriage, divorce, death of spouse, or acquisition of an eligible child. With a life event, employees can enroll or increase coverage in Basic, Option A, up to five multiples of Option B, and/or up to five multiples of Option C. Employees must submit form SF 2817 to the human resources office within 60 days after the life event.
OPM reminds participants that federal employees and federal retirees can reduce or cancel FEGLI at any time. Enrollees who are satisfied with their current FEGLI coverage do not need to make any elections during the 2016 FEGLI open season.
Call 888-900-4690 or click here for more information on how Cambridge Financial Partners can help you.
---
Upcoming Retirement Seminars Provided By 4 Square: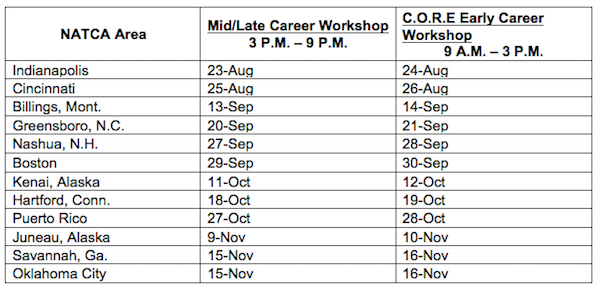 Standard seminar for members with more than 15 years of service held from 3 to 9 p.m. local time.
Register by signing on to the NATCA Portal. Please verify the personal information listed for you including email and cell phone number. If any information is incorrect or missing, please correct or add it under the "My Profile" tab.
To register for a seminar, click the "Events" tab, followed by "2016 Retirement Seminars". Complete the requested information and click "Next". When you come to the screen listing the seminars, select the one you wish to attend, hit "Next", verify your requested seminar information and then click "Done". You will receive a confirmation email that your registration was complete.
A second email will be sent two to three weeks prior to the seminar giving you the logistical information for the seminar. Also included in this email will be instructions on how to obtain a benefits estimate at the seminar.
Spouses and significant others are also invited to attend. Please ensure that you add them to the registration when asked if you will be bringing a guest. Please try to register three weeks prior to the seminar. Walk-ins are permitted to attend as long as they can provide their membership ID number. However, you will be unable to obtain a benefits estimate at the seminar.
For any questions or problems with registration, please contact Grace Colby, NATCA Executive Administrative Assistant: (202) 220-9829, gcolby@natcadc.org.
Upcoming Seminars: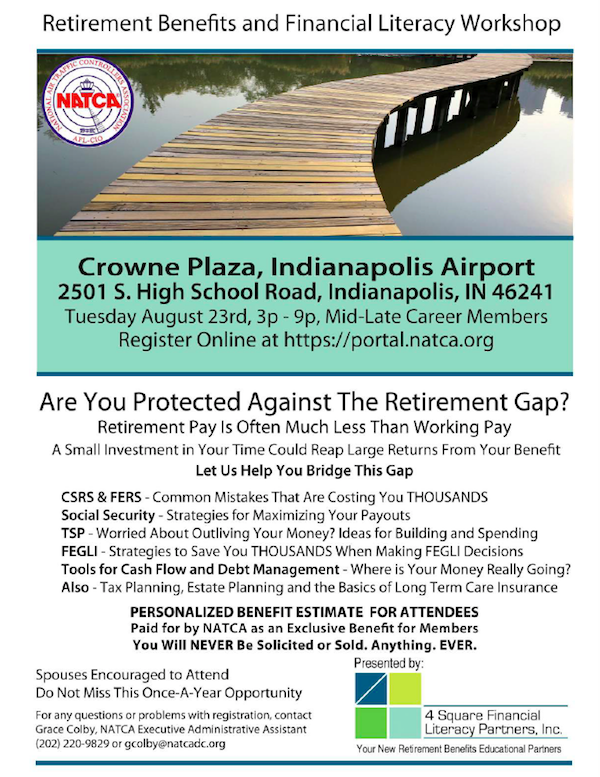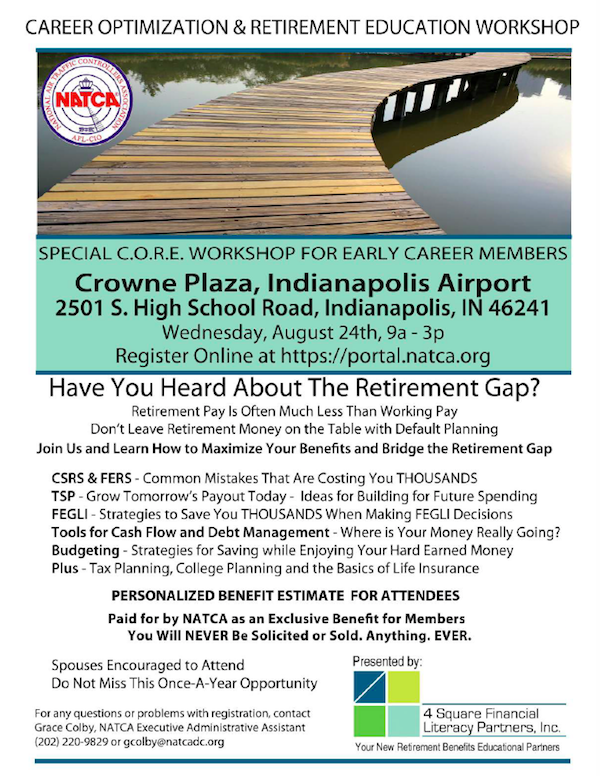 ---
We are now offering Career Optimization and Retirement Education (C.O.R.E.) Seminars in many cities! These seminars are geared towards employees with zero to 15 years of service who want to maximize their retirement benefits and plan for financial stability in retirement. Log in to the Portal today to see which cities are offering this great new program.
---
NATCA EDGE – Designed exclusively for NATCA members!

Can't get to an in-person retirement seminar? We'll bring the seminar to you!
Presenting an all-new, flexible access, web-based session of our popular retirement benefits seminar:

To register for a session, visit the NATCA Portal. Click "Events" on the menu bar on the home page, then select the "2016 NATCA Edge Online Retirement Webinar" link. Follow the questions and directions from there.
Personalized benefit estimate for participants paid for as an exclusive benefit for NATCA members. You will never be solicited or sold anything, ever!
For any questions or problems with registration, please contact Grace Colby, NATCA Executive Administrative Assistant: (202) 220-9829, gcolby@natcadc.org.