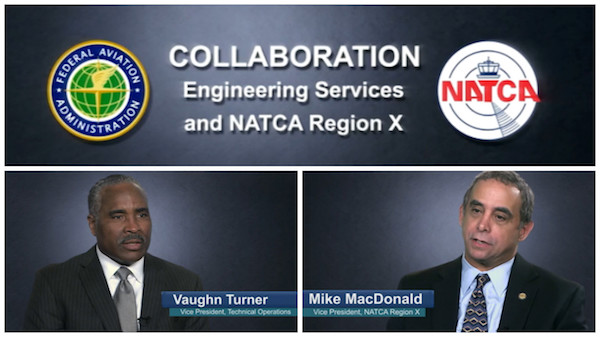 Aug. 26, 2016 // Collaboration: Engineering Services and NATCA Region X
As part of an effort to highlight collaboration, NATCA and the Federal Aviation Administration (FAA) teamed up to create a video series on this crucial subject. The fifth and final installment of the series, Collaboration: Engineering Services and NATCA Region X, features NATCA Region X Vice President Mike MacDonald and FAA Technical Operations Vice President Vaughn Turner.
Ingraining collaboration into the fabric of the work environment at all levels has been a major goal of NATCA and FAA leadership. Four years ago, FAA engineering services began to develop a strategic plan that was truly collaborative with NATCA Region X. Turner explains that instead of going back and forth between management and NATCA in a typical negotiation process, managers and employees instead decided to employ collaboration and joined together to develop a workable document.
"We put everything out on the table," explains MacDonald. "It was honest, respectful communication and in the end, we got a document that we are all very proud of."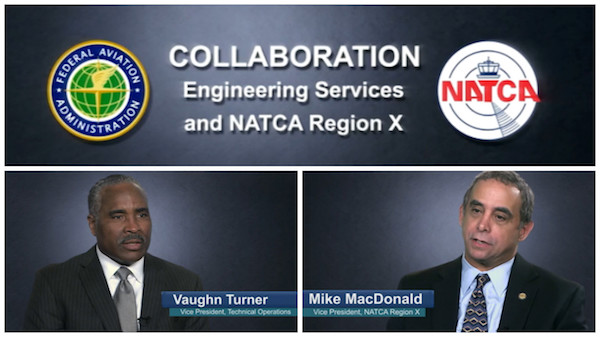 Turner and MacDonald discuss collaboration between Engineering Services and NATCA Region X.
Turner believes the collaborative process helped both sides build trust and that from that point on, collaboration has become the way they work together. Both Turner and MacDonald believe that it has been a benefit to their respective groups.
"I believe collaboration drives innovation," says MacDonald. "I think you're going to get the best solution you can possibly get when you involve all the parties."
"Once you get to know the other person and you start working things and you get some wins under your belt, you'll start asking yourself, 'how did I ever work without using collaboration?'" Turner adds.
By working together from the beginning, both the FAA and NATCA get to express their concerns. While it may sometimes be a difficult process, a better solution is almost always reached than if they had negotiated traditionally.
The video series' fundamental message is clear: It is important to learn and memorialize the principles of collaboration now and begin building the strongest foundation possible. A strong foundation will pave the way for interest-based bargaining to succeed in a collaborative work environment. NATCA and FAA leadership strongly believe that collaboration works and is the only way forward.
Watch the fifth video today and review the series in its entirety to begin memorializing collaboration at your facility.
Watch the first video: Introduction to Collaboration

Watch the second video: Making It Work
Watch the third video: Misconceptions About Collaboration
Watch the fourth video: Sustaining Collaboration