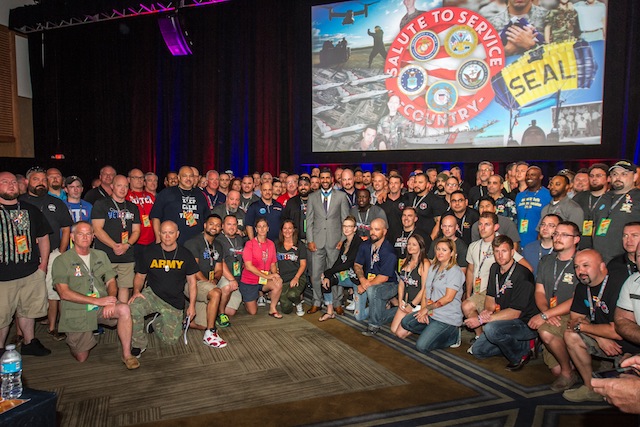 Sept. 9, 2016 // Convention: Congressional Medal of Honor Recipient Florent Groberg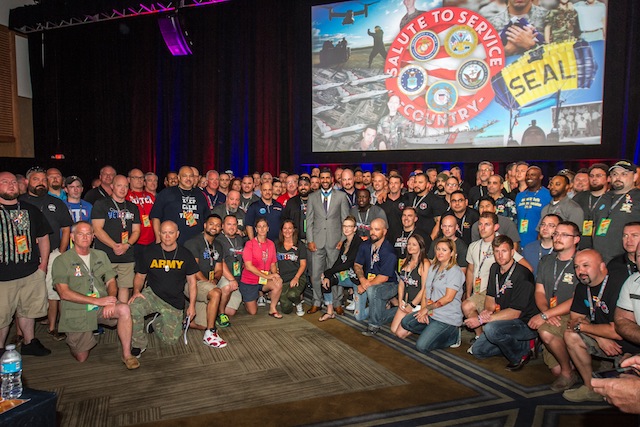 NATCA members who have served – or are currently serving – in the military joined Congressional Medal of Honor recipient Florent Groberg for a photo after Groberg's remarks on Aug. 31.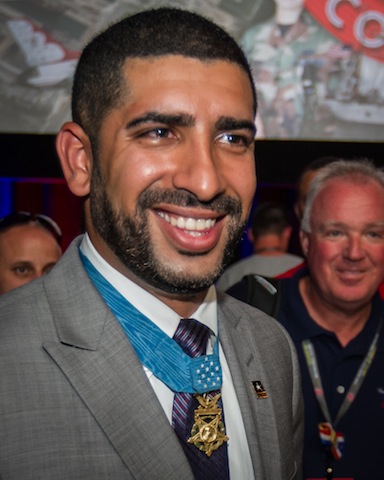 Retired U.S. Army Captain Florent "Flo" Groberg shared his remarkable story of bravery with the convention body to close the first day of business on Wednesday, Aug. 31.
Groberg described his upbringing as a French immigrant who moved to Gary, Ind., as a child. In 1996, he got the first piece of news that shaped his future military involvement.
"My mom came into my room and told me that my uncle, my favorite person in the world at the time, had been killed," he said. "She said, 'your uncle was in Algeria in the army and his patrol was attacked. He was shot, beheaded, and dismembered.'"
Groberg was horrified that there were people in the world who could do that. In that moment, he decided that he would stop playing soldier and that he would soon don a uniform to find and destroy the individuals who took his uncle.
While military hopes never left him, another event solidified in his mind what he must do. On Sept. 11, 2001, extremists attacked the United States — his country. That same year, Groberg had become a naturalized U.S. citizen.
He called his father saying, "Dad they killed my uncle and now they come into my new country and kill 3,000 more of my brothers and sisters. They're in our home, I have to go do something."
His dad told him that when he starts something, he has to finish it because if you quit every time something happens in your life, you'll never accomplish anything. After graduating from college, he immediately went to the Army recruitment office.
Groberg went on to deploy to Afghanistan twice, overcoming a complicated process lasting 18 months to renounce his French citizenship, saying, "I was finally given the opportunity to follow my dream to go serve my country."
During his second deployment as a Personal Security Detachment Commander for Task Force Mountain Warrior in Afghanistan, an extremist wearing a suicide vest attacked his unit.
His six-man unit was on a routine patrol when a man walked towards them. Groberg immediately knew something was wrong. He hit the man in the chest and realized he was wearing the vest.
"Here I am holding a human being that wants to blow himself up and the only thing I can think of is throwing him as far away as possible as quickly as possible," he said.
When Groberg threw the man, the bomb detonated, which set off a second, unseen bomb in the process. While Groberg lived, three men in his unit, and a USAID foreign service officer traveling with his patrol, died.
Groberg described the demons in his head that immediately emerged as he suffered through survivor's guilt in addition to his severe injuries. He wondered why he lived and what he brought to the world. After another soldier visited him, he resolved that every single day he wakes up, he would try to be better and make a difference in other people's lives.
"When President Obama put the medal on my neck, I didn't know how to feel," he said. "This medal does not represent me. No one can wear this and say this is mine. This is our nation's. It's the millions of people who protect our country and our flag. The people who make this ultimate sacrifice and the families who have to live with their actions for the rest of their lives."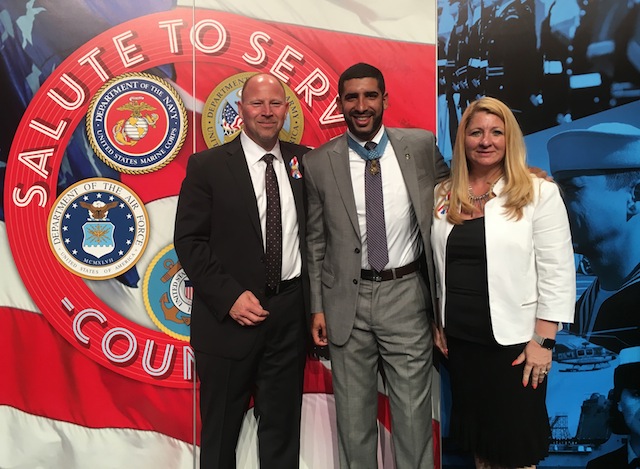 NATCA President Paul Rinaldi (left) and Executive Vice President Trish Gilbert join Groberg on stage after his inspirational remarks on Aug. 31.