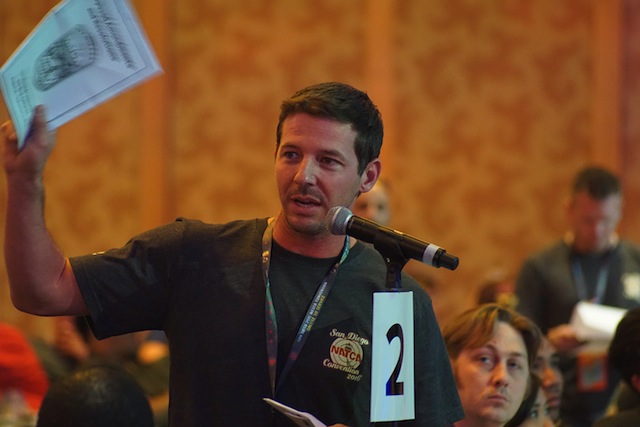 Sept. 9, 2016 // Convention: Delegates Keep NATCA at Table for Reform Discussions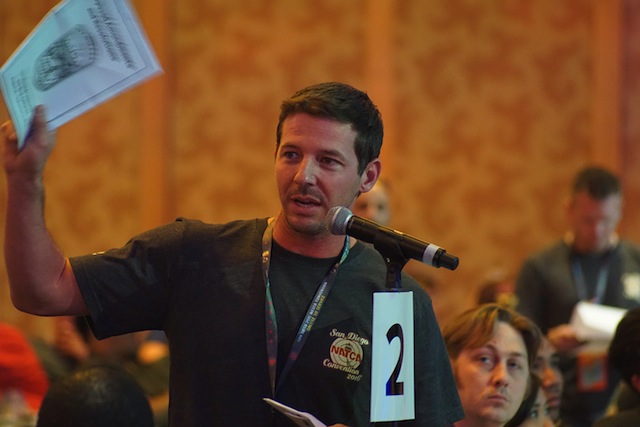 Los Angeles Center (ZLA) FacRep Nate Pair makes a point during convention business.

On day two of NATCA's 16th Biennial Convention, the convention body stood in solidarity and unity. The body resoundingly struck down several resolutions that would have tied the hands of NATCA's leadership to advocate for Union members and protect the workforce on issues related to air traffic control reform.
The body held extensive debate on resolutions R16-12, R16-06, R16-08, and R16-11. During debate, many members took to the microphones to lend their voices to the strong opposition to the resolutions. Houston Center FacRep Chris Parris argued that he would rather "our leaders be in the room to have this discussion" than be precluded from participation.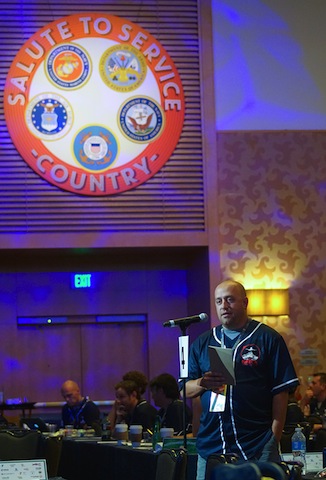 Ty Howard (MWH) speaks before the Convention body.

Los Angeles Center (ZLA) FacRep Nate Pair also stood in opposition and stated that all of ZLA's more than 250 members and its four delegates in attendance "oppose anything that would restrict the NEB (National Executive Board) and our leadership from doing what they need to do to protect our members' rights." In the end, all of these resolutions were defeated, as the collective voice of NATCA's supreme body was heard loud and clear.
Also heard on the second day were resolutions R16-09 and R16-16 related to ensuring that NATCA leadership advocates for indemnification for employees from individual tort liability for acts within the scope of their employment. Executive Vice President Trish Gilbert stood in support and NATCA Special Counsel to the President Eugene Freedman explained the legal intricacies between private sector indemnification and Federal Tort Claims Act protections for federal employees. R16-16 passed with resounding support.
The body also held spirited debates on R16-03 (which would have limited a local's ability to use bank cards) and R16-14 (which was aimed at making all reasonable efforts for contract teams to obtain seniority provisions in each CBA including for Federal Contract Towers). These resolutions were defeated by two-thirds voice vote.
The following uncontroversial resolutions passed by voice vote: R16-01; R16-02; R16-05; R16-07. The following resolutions were withdrawn, were deemed out of order, or received no support from the convention body: R16-04; R16-10; R16-13; R16-15.
On Wednesday, the convention body considered the package of 34 timely proposed amendments to the NATCA Constitution. These proposals included several uncontroversial amendments, some that merely clarified language in the constitution, as well as a variety of hotly contested seniority amendments.
The first order of business was a National Safety Committee (NSC)-sponsored amendment, A16-01, to restructure NSC membership positions by subject matter expertise rather than by facility type. Debate centered on whether the language was flawed because it could result in a committee that was comprised entirely of En Route or Terminal representatives. However, NSC Chairman Steve Hansen explained that was not the intent and was unlikely to happen. Following debate, the amendment passed by two-thirds voice vote.
The National Constitution Committee sponsored A16-02 and proposed to add a new Section 11 to Article V of the Constitution to allow for flexibility to attend national committee meetings via electronic means. This uncontroversial amendment passed by two-thirds voice vote.
A16-04 proposed to amend Article VII, Section 2, and was the first highly-debated amendment of the day. It would have required all candidates running for Regional Vice President (RVP) to be assigned to a facility of record within the region for which he or she is running. A point of information was asked and clarified that this amendment would not affect the President's ability to appoint replacements for RVPs who leave the position mid-term. The rigorous debate then centered on how this amendment was unnecessary since each member's vote in an RVP election was his or her opportunity to voice their opposition to such a situation. The amendment was defeated by two-thirds voice vote.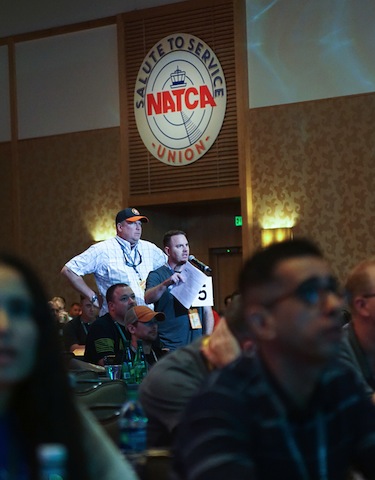 Fort Worth Center FacRep Nick Daniels at the microphone, with Houston Center FacRep Chris Parris waiting behind him.
A16-06 was proposed to amend Article VII, Section 6, to limit all national officers to a maximum of three (3) terms in office. The limited debate on this topic was highlighted by former NATCA President John Carr, who explained that "national elections are your term limits," and if members are not satisfied with the performance of national officers, they have an opportunity every three years to do something about it. The amendment was defeated by two-thirds voice vote.
The National Election Committee sponsored A16-07 to amend Article VII, Section 10, in order to clarify that local elections may be determined by a plurality of eligible votes unless expressly precluded by the local constitution. This amendment easily passed by two-thirds voice vote.
Amendment A16-09, proposed to amend Article X, Section 8, would have required locals to have a minimum of one (1) membership meeting per quarter, as opposed to the current two (2) meetings per year. Numerous members stood in opposition, explaining that local meeting frequency should not be micromanaged at the national level, and that if you are not satisfied you should vote out your FacRep. Another opposing position highlighted use of electronic communication as an alternative to additional membership meetings. Those who supported it argued that it is the FacRep's job to stand in front of the members and listen to their ideas and opinions. Ultimately, the amendment was defeated by two-thirds voice vote.
A16-11 was aimed at cleaning up some redundant loophole language in Article XIV, Section 6. This amendment passed by two-thirds standing vote.
A16-14, proposed to amend Article XV, Section 1, and was the first significantly debated seniority provision. Western Pacific RVP Ham Ghaffari, himself a retired United States Marine, stood in opposition, stating that he "did not serve" his country in order to "gain from that service." Many other veterans – who would have benefited from this provision – stood in opposition and echoed Ham's sentiment and added that such a provision would divide the union and threaten solidarity. This amendment was defeated by two-thirds voice vote. For similar reasons, A16-19 (on seniority for veterans) was also defeated by two-thirds voice vote.
A16-17 and A16-20, which were also proposals to amend seniority, were minimally debated and were soundly defeated by two-thirds voice vote.
The most hotly contested and spirited debate centered on A16-23, which proposed to amend Article XV, Section 3, on seniority. In particular, it would have narrowed the number of supervisors and managers who have their seniority reduced to zero after leaving the bargaining unit to take management positions to only those who left between Sept. 12, 2008, and Sept. 30, 2009. The intent was to continue to punish supervisors who left the unit during the "White Book" years and to not punish anyone who takes a management position for a limited time, which is more common in Region X.
On Friday, Sept. 2 the convention body began by adopting in-full the five NEB Resolutions. The resolutions consisted of the Standing Rules and Policy/Position Statements that the NEB had enacted since the close of business at the 15th Biennial Convention, in Minneapolis. The convention body then adopted in-full the remaining package of Resolutions that the NEB recommended to change regarding the Standing Rules and Policy/Position Statements. Both resolution packages passed without debate or substantive discussion.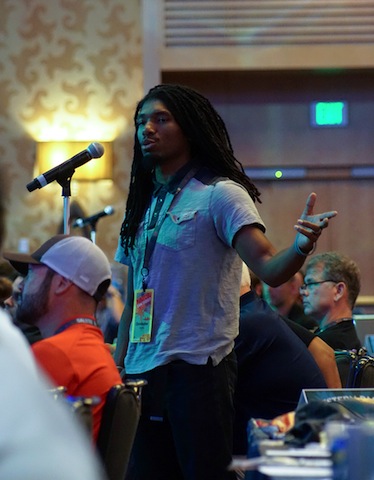 Christopher Adams (Burbank ATCT) addresses the Convention body.
The convention body then considered a number of untimely amendments and resolutions. First was R16-17, a resolution to make retired United States Army Captain Florent "Flo" Groberg an Honorary NATCA Member. Captain Groberg, who received the Congressional Medal of Honor for his heroic actions in Afghanistan on Nov.12, 2015, addressed the convention body on day one. His speech captivated and inspired the audience. Therefore, in acknowledgement of his unwavering commitment and immeasurable sacrifice to his country, the convention body adopted the resolution by unanimous consent.
Similarly, R16-21 proposed to honor NATCA member Richard "Rick" Young. Young is a retired controller from Indianapolis Center, who served over 45 years as a controller represented by both NATCA and PATCO, and had steadfast commitment to professionalism and his country. R16-21 passed with resounding support.
R16-18 was sponsored by the NEB. It was proposed to clean up the language governing the selection/appointment of liaisons, technical representatives, and workgroup members. The resolution passed by two-thirds voice vote.
The body then heard extensive debate on R16-19, which proposed to rebate dues for smaller facilities in order to close the funding gap between the larger and smaller facilities. This resolution increased the minimum amount of dues rebated from $550 to at least $750 quarterly. It also increased the total rebate for locals paying less than $3,000 per year, up from $2,200 annually. Approximately 230 facilities would benefit from this and the Finance Committee estimated that the National Office budget can afford to cover the approximately $150,000 cost. Supporters of this resolution explained how this will particularly help the smaller facilities send several additional members to convention, Communicating For Safety, and training each year. R16-19 passed with resounding support.
R16-20, another proposal focused on dues rebate, was subsequently defeated by two-thirds voice vote, while UA16-37 (seniority) was withdrawn by the authors.
Finally, the convention body considered the presentations of the three convention Committees vying to host the 2020 convention: Providence; Orlando; and Houston. It was clear from the professional-grade presentations that these committee members poured countless hours of work into them. Each of the committees' members did an outstanding job of highlighting why their city would have been a great location to host a NATCA Biennial Convention. In the end, the convention body voted Houston as the site of NATCA's 2020 Biennial Convention.