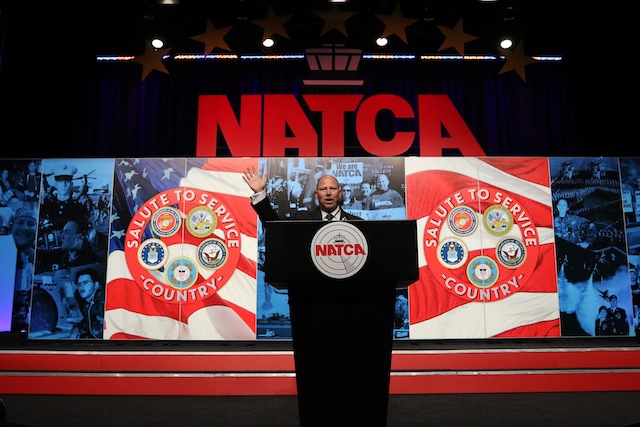 Sept. 9, 2016 // Convention: NATCA President Paul Rinaldi's Opening Remarks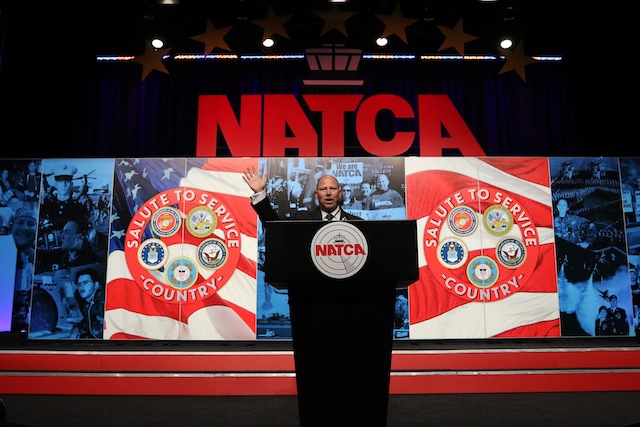 Addressing NATCA's supreme convention body for an unprecedented fourth time as its president, Paul Rinaldi took convention attendees on a compelling and educational tour of the Union's first 30 years and 15 conventions. He started at the birth of the Union in Chicago in 1986 and brought attendees through the challenges and triumphs that have shaped the course of both the past and the present.
As for the future, Rinaldi had a special message for the packed room in San Diego as it prepared to begin its work at NATCA's 16th Biennial Convention.
"I believe that you will move us from good to great," he said. "This is our time to rise above the 'me, my, and I.' You need to say what you need to say. You need to lead this Union into the future. You can't sit this one out. This is serious stuff, I promise you that."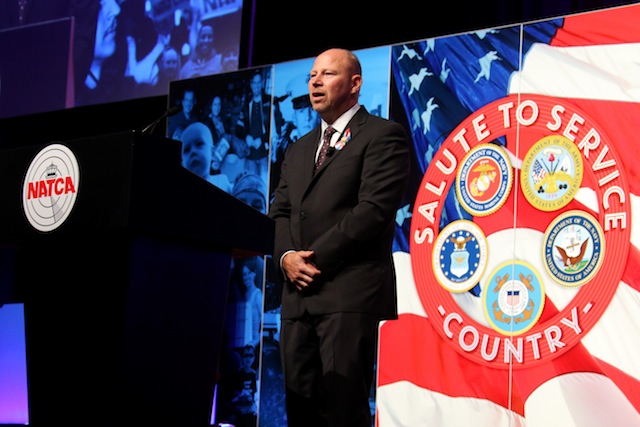 Using videos and photos, along with a review of major issues of the times, Rinaldi provided history and perspective in discussing previous conventions, particularly for the benefit of younger members – and the 60 percent of delegates attending Convention for the first time – who will take the Union forward. Of notable importance was the rise of the Union to its current state after the return of fair collective bargaining, and collaboration with the Federal Aviation Administration replacing the imposed work rules of a decade ago.
He asked the convention body, "So why did I just spend the time going over our past? Because this week, you are going to make the determination if this Union has reached the finish line, or if we are going to position ourselves for greatness. We have learned to fly together and have soared to remarkable heights over the last 29 years, especially over the last seven years!"
Rinaldi cautioned, however, for the first time in his 26 years in the Union, that the proposal book was "full of amendments that will weaken our Union and some that are downright dangerous."
He cited amendments that would "limit our elected officials' ability to lead and limit our Union's ability to have a say on legislation." Of particular alarm, he said, are amendments that would undo the work of the 15th Biennial Convention body. The work of that body ensured NATCA could be engaged in discussions to shape its future, specifically regarding any proposed model of air traffic control reform.
"The amendments will not give us the flexibility to protect ourselves; they truly weaken our ability to do so," he said. "We will be in 100 percent fight mode if these pass. We can fight and we can fight well. But if your position is all or nothing, more often than not, you get nothing. Our current system is unsustainable as it stands today."
Rinaldi asked delegates to make their decisions and cast their votes based on facts, logic, and reason, and what is best for the organization and their professions.
"Regardless of your decisions this week, we will leave San Diego just as we have left every other convention: as one united force to protect the best workforce in the world," he said. "I thank you for your unity and your solidarity and I thank God we have NATCA."
Watch Rinaldi's opening remarks, including the videos he played.