Sept. 16, 2016 // Success of TAMR Program Highlighted at FAA Event
Five years ago, NATCA President Paul Rinaldi met with Mitch Herrick, then the Union's Terminal Automation Modernization and Replacement (TAMR) program National Rep. His message to Herrick was clear regarding NATCA's involvement: we're going to be on time, and we want to find solutions to any problems and make TAMR successful.
On Thursday, Sept. 15, Rinaldi recounted that early meeting when he joined Federal Aviation Administration (FAA) Air Traffic Organization (ATO) and TechOps leadership, TAMR representatives, subject matter experts, and Professional Aviation Safety Specialists (PASS) and Raytheon officials at a special national recognition event at FAA headquarters. The event marked the successful completion of Phase 3 Segment 1, the installation of Standard Terminal Automation Replacement System (STARS) at the 11 busiest TRACONs in the National Airspace System (NAS). Each of the TRACONs were represented and received an award.
Rinaldi said NATCA wanted to be a part of the reason why TAMR is successful, implementing strong collaboration while learning a key lesson from another large-scale modernization project – En Route Automation Modernization (ERAM) – that struggled early on without NATCA involvement.
"The lesson from ERAM is that we weren't there on Day 1. With TAMR, we were there on Day 1 and we had one goal: successful modernization," Rinaldi said. "The lesson learned is let's all be there on Day 1. Through collaboration, no one will ever be able to knock the FAA."
FAA ATO Chief Operating Officer (COO) Teri Bristol noted the role of collaboration in the $2 billion effort (total cost of the TAMR program) to move facilities away from ARTS (Automated Radar Terminal System) IIE. "The work that you've done is tremendous," she said. "We worked collaboratively with our labor partners and did a tremendous job. This was a complete team effort and it took a lot of folks to move this machine."
Added ATO Deputy COO Randy Park: "The collaboration with our labor partners has been absolutely critical and we appreciate that. It's the absolute epitome of collaboration."
Other officials who spoke at the event included Professional Aviation Safety Specialists President Mike Perrone, FAA Technical Operations Director of Flight Inspection Services Dave Boulter, and Raytheon Vice President of Transportation and Support Services Bob Delorge.
Herrick, who retired earlier this summer, attended the ceremony and said he felt a deep sense of pride and accomplishment. He fondly recalled the early meeting with Rinaldi, after which he eagerly took the responsibility of building a NATCA team of local reps for the program and implemented Rinaldi's sentiment of "empower others and they will do great work."
"It was a very clear mandate from Paul to make NATCA part of the solution and not part of the problem," Herrick said. "The program grew from me to more than 80 people and every one of them were given that direct mandate. It was textbook leadership: Paul empowered me, said 'you own it,' and trusted that I would empower our team and build it in a way in which we would be successful."
That team included Aaron Rose from Northern California TRACON (NCT), who led the local effort to successfully install STARS in early 2015 and eventually was named to succeed Herrick this year as the National Rep. He was also at the event on Thursday.
"Today's event highlights the collaborative approach and friendships which were fostered in the deployment of and transition to STARS," Rose said.
Before the celebration, Rose said a "lessons learned" meeting was held to bring TAMR Segment 1 closer to conclusion. "It was enjoyable to witness TechOps and air traffic from each of the 11 TRACONs in the same room," he said. "Discussions included the entire timeline from planning through Operational Readiness Decision (ORD). The ideas fostered during the meeting will help ensure the continued deployment of STARS will be successful."
Rose credited NATCA's local TAMR reps with contributing greatly to the success of Segment 1, beginning with Doug Peterson (Dallas-Fort Worth TRACON, D10) at the first site in the 11-facility deployment. The other site reps in addition to Rose and Tim Samsel at NCT and Peterson at D10 were:
Brian Reddy at Denver TRACON;
Kyle Ness at Minneapolis TRACON;
Kevin McLaughlin, Matt Morter, and Rob LeGrys at Southern California TRACON;
Steve Kelley and Joe Mash at Potomac TRACON;
Norval Holcolm at Chicago TRACON;
Mike Stone at New York TRACON;
Kerry Bowden and Scott Young at Louisville Tower and TRACON;
Dan Ellenberger and Jon Bealles at Atlanta TRACON; and
Steve Hartsoe at St. Louis TRACON.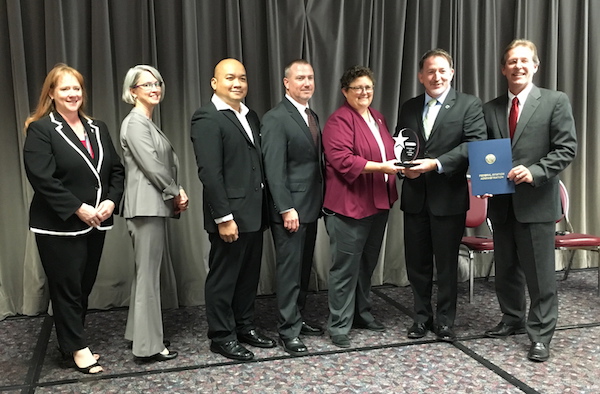 The Northern California TRACON team with NATCA National TAMR Rep Aaron Rose (center) being presented with an award for their successful transition to STARS.
Reddy attended Thursday's ceremony to represent the NATCA members at D01 and said the feeling about the success of STARS back home at the facility was "all positive."
"For us, the process was pretty smooth," Reddy said. "The buy-in was huge."
D01 went second in the 11-TRACON deployment waterfall. After they implemented, Reddy and others on the team went to Louisville Standiford ATCT (SDF) to help with their process, putting into motion a "pay it forward" approach that all TAMR reps say paid tremendous dividends. Learning from what worked at previous facilities so that the road to success afterwards would be smoother was critical to the operation. When STARS was implemented at one facility, representatives from the next facility were on hand, carefully noting what was working, and how to follow a blueprint for success.
Rose also made a special mention of NATCA's Operational Support Facility specialists and what he called, "the importance of this group of folks to the overall success of the program."
"TAMR on the local level would never have happened without their hard work and determination," Rose said. "I want to thank Candy Barr, Randy Garcia, Richard Lau, Steve Sims, Scott Kendrick, and Kent Petersen."
TAMR BY THE NUMBERS: An update on the program.
Phase 1 (Legacy STARS to G4 or ELITE): 48 total tech refresh systems, 8 completed thus far;
Segment 1 (ARTS IIE to STARS): 11 total systems (large TRACONs), 11 completed;
Segment 2 (ARTS IIE to STARS ELITE): 99 total systems, 34 completed thus far.
MORE GOOD NEWS FOR TAMR: Portland, Maine (PWM) declared IOC on its STARS ELITE system on Wednesday, Sept. 14 at 5:59 a.m. EDT. Says Rose, "I think the facility already had the ARTS IIE in the parking lot when we showed up to install. They're up and running."