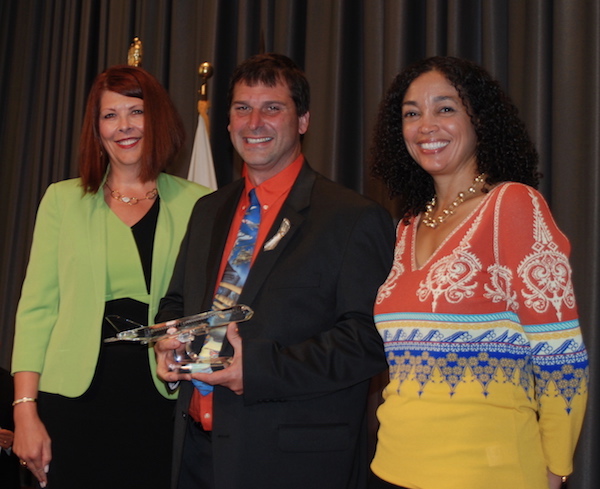 Oct. 7, 2016 // NATCA Members Honored at FAA and DOT Awards
NATCA members were among the honorees Thursday, Oct. 6, as both the Federal Aviation Administration (FAA) and the Department of Transportation (DOT) held their annual award ceremonies at their respective headquarters in Washington, D.C.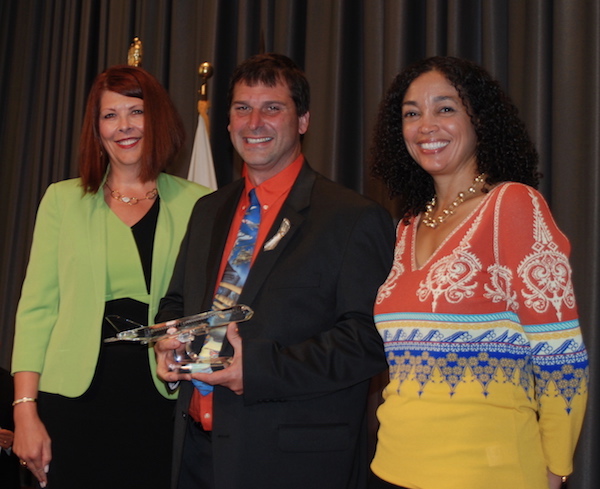 From left to right: FAA ATO COO Teri Bristol, Glenn Garasic, and FAA acting Deputy Administrator Victoria B. Wassmer.
Potomac TRACON (PCT) member Glenn Garasic was presented with the FAA Aviation Save Award for helping to ensure the safe landing of a Cessna 182 in August 2015. FAA Air Traffic Organization Chief Operating Officer Teri Bristol introduced Garasic and described the flight assist.
"With rain moving into the area, Garasic provided the Cessna's pilot a picture of the weather, and after some discussion the pilot requested an alternate approach to avoid the rain," Bristol said. "All seemed fine, until the pilot encountered low visibility and began to panic as he lost sight of the ground. Glenn kept his cool. Keeping it conversational, he and the pilot discussed the Cessna's fuel status and Glenn calmly painted a picture of the airports in the area. With a steady voice and laser focus, Glenn helped the pilot exit the low visibility area, gain control of his aircraft, and fly straight and level to a safe landing at Manassas airport. Glenn's ultimate professionalism — his composure and quick thinking — made the difference between a tragedy and a safe landing."
Garasic, who is a pilot, said he credited that experience and his 21 years as a controller, including the past nine years at PCT, for being able to help the pilot in need.
"This is quite an honor," said Garasic, who also received honorable mention for the flight assist in the NATCA Archie League Medal of Safety Awards program last spring. "In my 21 years, it's the first time something major like that situation happened like that."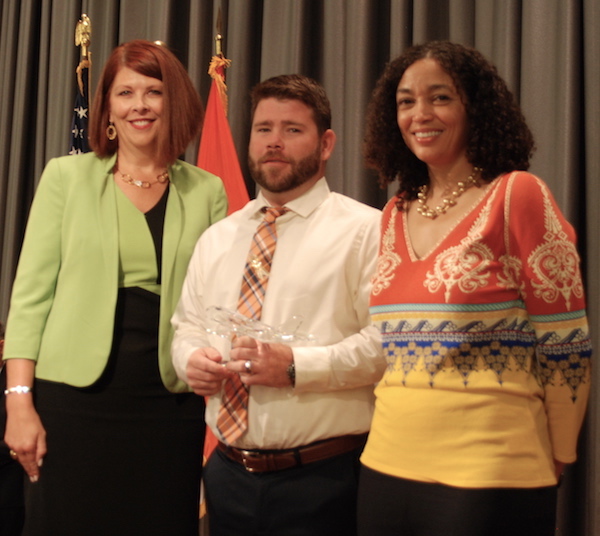 From left to right: FAA ATO COO Teri Bristol, Jason Thompson, and FAA acting Deputy Administrator Victoria B. Wassmer.
Wilmington, N.C. (ILM) member Jason Thompson also received the Aviation Save Award for his outstanding guidance to a troubled pilot who encountered a sudden change in weather while flying VFR last year.
"To complicate things, the pilot was flying a newly-purchased airplane and was unfamiliar with its instrumentation," Bristol said in introducing Thompson. "Jason responded quickly, thinking through the needs of the disoriented pilot as well as safety within the airspace. With a calming voice and expert guidance, Jason gave the pilot weather updates from a nearby satellite airport and relayed reports from other aircraft in the area. At the same time, he communicated with an adjacent facility, allowing it to clear its airspace to provide the distressed pilot room to maneuver. Jason's efforts were successful. He assisted the pilot through the weather to gain visual contact with the ground, and ultimately to a safe landing at Wilmington International Airport."
Thompson credited his fellow controllers. "We were just doing our job," he said.
He noted the importance of relying on training and experience, and always being ready to help when needed.
"You just never know — 20 to 30 years of doing the job and it could be one hour that makes the difference for someone," he said.
The FAA also recognized its recipients of the DOT Secretary's 49th annual awards, which were presented later in the day on Oct. 6. Among them were the D.C. Optimization of Airspace and Procedures in the Metroplex (OAPM) team. The team includes members from both PCT and Washington Center (ZDC).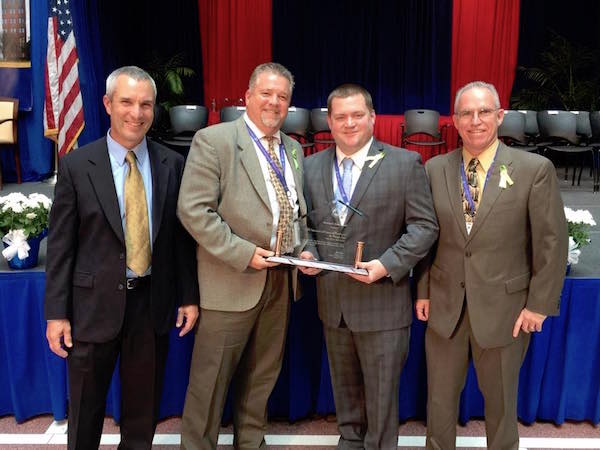 From left to right: PCT OAPM co-lead Bryan Lehman, and PCT NATCA members Mike Grammo, Matt Fisher, and Paul Carroll.
Honored controllers from PCT were Deborah Cabral, Paul Carroll, Matt Fisher, Michael Grammo, Bennie Hutto, and Patrick Sartori. Honored controllers from ZDC were Curtis Johnson, Richard Carter, Dale Cossette, Ronald Myers, Daniel Redding, Paul Hesse, Elijah Tompkins, and Todd Hyland.
Now-retired controllers Kevin McCarthy (PCT) and Thaddeus Habuda (ZDC) were also on the team and were recognized Thursday.
PCT co-lead on the project, temporary Operations Manager Bryan Lehman, joined the PCT members at both awards ceremonies. The award recognizes the DC OAPM team and support staff from both PCT and ZDC "For leadership and commitment to bringing NextGen ideas to the National Airspace System while collaborating with Industry, NATCA, and FAA." PCT Air Traffic Manager Steve Smith also joined the team at the ceremony.