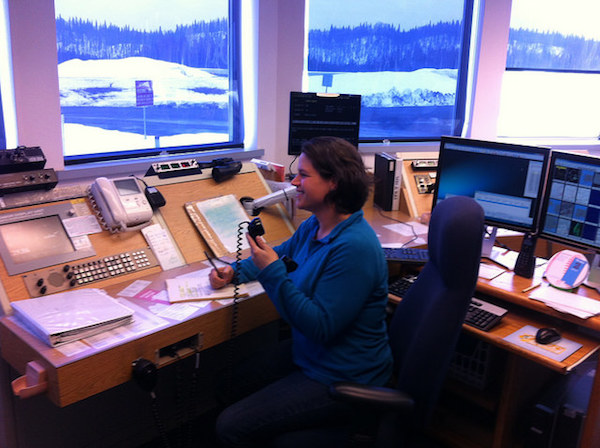 Oct. 14, 2016 // Alaskan Flight Service Stations: Who They Are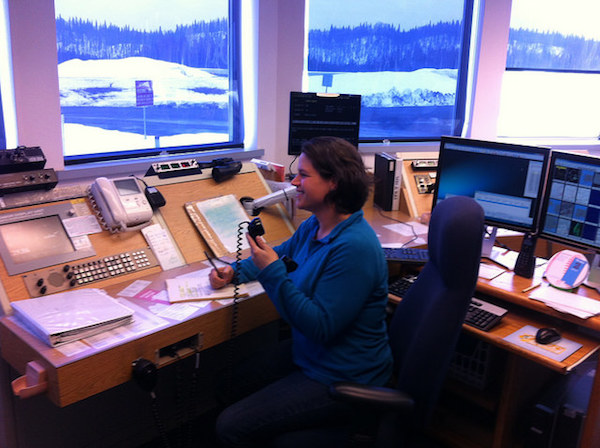 Talkeetna FSS controller Laurie Smith.
The new Slate Book collective bargaining agreement covers NATCA-represented FAA air traffic control specialists, traffic management coordinators/specialists, Notice to Airmen (NOTAM) specialists, and also air traffic controllers assigned to the flight service station (FSS) option in Alaska. Here is some information about our FSS bargaining unit, which is coming off yet another very busy and successful spring and summer travel season of providing key aviation services.
WHO NATCA REPRESENTS: NATCA represents 114 flight service specialists within the total of approximately 150 FAA employees in Alaska's three FSS locations (Fairbanks, Juneau, and Kenai), one rotational facility (Palmer), and 14 satellite field FSS locations. Within NATCA, these 114 specialists are grouped into one of four union locals: Fairbanks (FAI), Juneau (JNU), Kenai (ENA), and Palmer (PAQ).
NATCA NATIONAL FSS REP: Lawrence Trottini.
NATCA LOCAL FSS REPS: ENA (FS1) — William Straube; FAI (FS2) — Troy Hall; JNU (FS3) — Douglas Rice; PAQ (FS4) — Paul Krueger.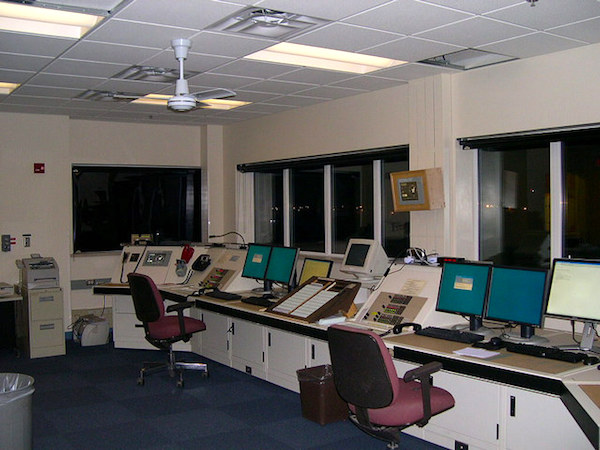 Operations room at Nome FSS.
FSS FACILITIES: The three parent facilities provide 24/7 coverage and administrative functions. The rotational facility has staffing and management responsibility for five remote stations. There are 11 year-round, part-time facilities. There are also three seasonal facilities in the summer months only.
FSS DUTIES AND RESPONSIBILITIES: FSS specialists share Class E airspace with Anchorage Center (ZAN) controllers and issue Special VFR (SVFR) clearances. They assume responsibility for separation among multiple SVFR aircraft in the Class E airspace by assuring visual separation between them. They also deliver hundreds of clearances each day for ZAN. They also provide pre-flight briefings such as weather conditions, manage flight plans, offer traffic advisories, provide emergency assistance, and initiate search and rescue missions. FSS specialists also process NOTAMs.
AIRSPACE: FSS specialists in Alaska are responsible for a land area about the size of Mexico or Mongolia.
TOTAL FLIGHT SERVICES PROVIDED LAST YEAR: 1,584,509.
MORE 2015 NUMBERS:
Total Aircraft Contacted: 480,567 (IFR-132,065; VFR-348,502)
Pilot Weather Briefs: 104,794
Airport Advisories: 296,496
Flight Plans Filed: 199,149
NOTAMs: 170,652
IFR Clearances Relayed: 58,698
PIREPs: 24,009
FSS PROCEDURES: While the procedures provided at FSS facilities are generally standard across the country, there can be great diversity between stations due to geography, airspace and types of aircraft movements. A typical example of an FSS is a station in Class E airspace surrounded by uncontrolled airspace with a mix of commercial and general aviation traffic. The FSS coordinates with ATC regarding IFR operations.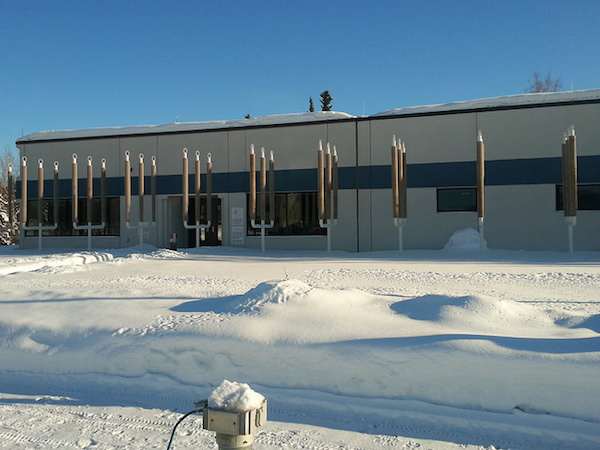 Fairbanks FSS.
FSS AREAS: Areas surrounding some Flight Service Stations are more complex due to geographical location and a more diverse airspace structure. In Alaska, there are coordination calls between ZAN and Alaskan FSS. There are letters of agreement that allow continuous use until the center needs the airspace. Also, FSS can have multiple aircraft on visual separation.
RECENT INTERNATIONAL RECOGNITION FOR NATCA: Trottini recently traveled to the U.K. for an international flight service conference where he gave a presentation about FSS in the U.S. and the Alaskan FSS in particular.
"This organization was made up of 20 countries including all of the European Union and limited to 70 attendees," Trottini said. "My 15-minute presentation turned into a 45-minute question and answer session. Every break, I was cornered by each nation and was asked questions on how we do business."
He continued, "I also spent quality time with the CAA (UK), EASA, NAV CANADA, CATCA, GATCO, and many other governmental, private, and union organization representatives. We also had breakout sessions on phraseology, training requirements, and certifications. NATCA and NAV CANADA were seen as the major resources for the EU in helping to set up the way they will be doing business at the seminar."
To view more photos of FSS operations out of Alaska, visit NATCA's Flickr Album.