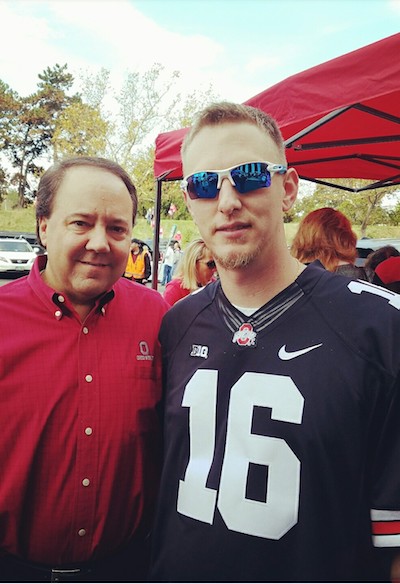 Oct. 14, 2016 // Local Legislative Efforts Continue at Home
Congressman Pat Tiberi, R-OH-12, hosted his 15th annual Ohio State game pre-dinner at Black Point restaurant in downtown Columbus on Oct. 7. The Congressman, his wife, and Chief of Staff were all in attendance. National Organizing Committee member and Port Columbus Tower (CMH) controller Mike Weekley and CMH FacRep Phil Carpino were in attendance to speak with the Congressman on issues important to NATCA.
"As I introduced myself and mentioned I was with NATCA, I immediately gained the attention of several guests in the room," Weekley said. "Through conversations, I had several people telling me how well NATCA is represented on the Hill and what great leadership we have."
NATCA President Paul Rinaldi and Executive Vice President Trish Gilbert, along with Director of Government Affairs Jose Ceballos and Deputy Director of Government Affairs John Bressler, were highly praised.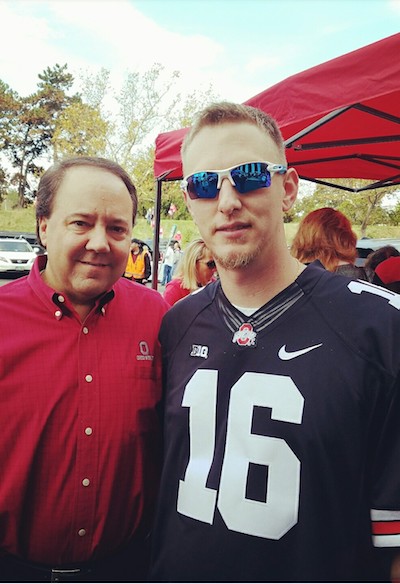 Congressman Tiberi (left) and Mike Weekley.
On Oct. 8, Weekley and Carpino met at Ohio Stadium for a Tailgate gathering hosted by Congressman Tiberi. While many of the same guests were in attendance, Congresswoman Joyce Beatty, D-OH-3, made an appearance.
Everyone enjoyed lunch and small talk leading up to the Ohio State game where Weekley and Carpino were able to join Congressman Tiberi in the Huntington suite for the game. Weekley spoke with the Congressman and thanked him for the support he has shown NATCA. The Congressman asked several questions about staffing, training, equipment, even telling his Chief of Staff to "Put me down for a tour. I want to go see their facility."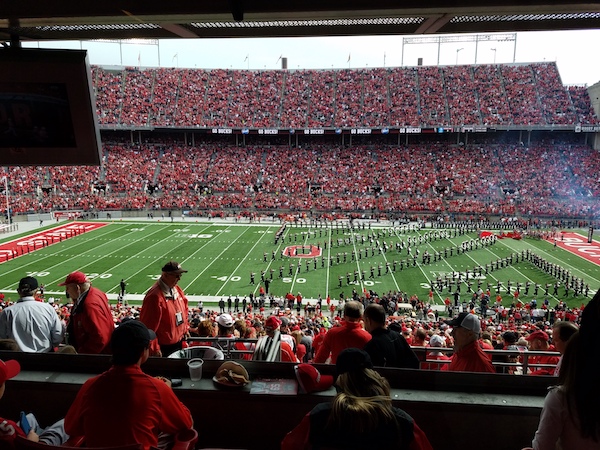 View of the game from the Huntington suite.
Two days after the Ohio State game, they received a call from Campaign Manager Tod Bowen, inviting them to the 19th annual Vila Milano Italian dinner with Congressman Tiberi. Carpino and Weekley accepted the invitation and attended the event on Columbus Day. They were able to again thank the Congressman for his support and get a picture. The event offered yet another terrific opportunity to socialize and talk with guests about NATCA. Many guests were interested in air traffic control and how NATCA helps run the safest, most efficient airspace in the world.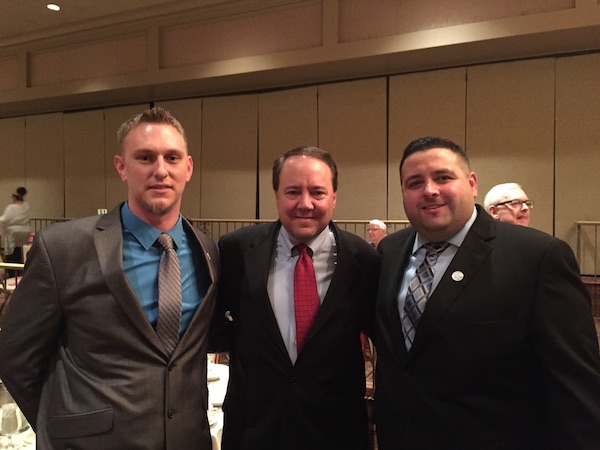 Mike Weekley, Congressman Tiberi, and Phil Carpino.
To view more photos from local Legislative efforts, visit NATCA's Flickr Album.