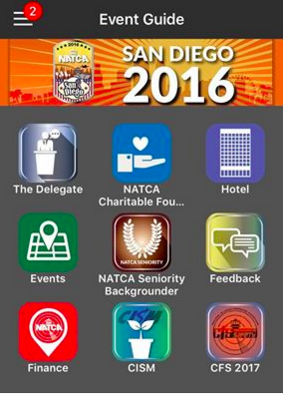 Oct. 14, 2016 // This Week's Notebook: Convention Feedback, Update Your Contact Information, Pocket Calendars, and Much More!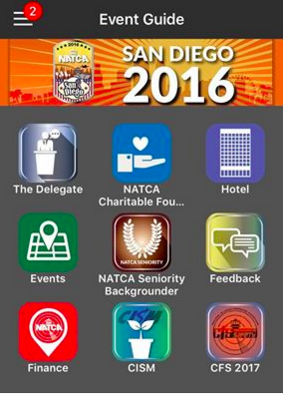 Attention — NATCA Members Who Attended the Convention
We would love to get your feedback about the NATCA San Diego 2016 Convention. If you have the app, you can use the "Feedback" button on the right side of the second page. Or you can leave feedback via our Google Form.
---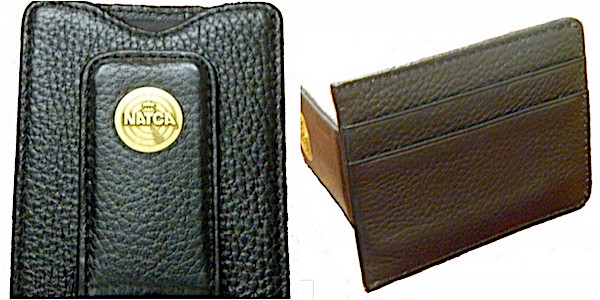 Natcastore.com Item of the Week: Money Clip Wallet
Features of this product: Black leather credit card money clip wallet with insert and die-struck brass with NATCA logo etched into the magnetic clip. Easily fits in front or back pocket. Soft, 100 percent cowhide leather.
Price: $39
Made in USA.
To see the item and how to order: Select USPS or UPS as your shipping preference on your orders. To check on stock availability or for further assistance, call 800.266.0895 or email natcastore@natcadc.org.
---
Member Portal
Have you moved recently and need to update your mailing address? No problem! Simply log in at the Member Portal and update your contact information. Those registering for the first time must have your NATCA member number ready, as it is needed when you register. For further assistance, contact Customer Service at 800-266-0895 or email uwadmin@natca.net.
---
2017 Pocket Calendars
Log in to the NATCA Portal for one free copy of the 2017 NATCA Pocket calendar. Please ensure that your mailing information under "My Profile" is correct. Once you have verified the information, click the "Events" tab and make your request under "Request for 2017 Pocket Calendar." Please make your request no later than Nov. 11. The pocket calendars will be mailed to your residence by mid-December. Bulk orders can be purchased later through the NATCA Store.
---
Benefits Spotlight: Why Go It Alone? Use AMAS
Support: it's what being in a union is all about. Many of us face problems with our medical certificates throughout our career. Have you ever wanted to just get some straight answers from a doctor about your case, BEFORE making that terrible call to the Regional Flight Surgeon? You can! NATCA has created an opportunity for its members to obtain 100 percent CONFIDENTIAL medical advice and counseling from the Aviation Medical Advisory Service (AMAS). Before you gasp at the thought of yet another medical expense, it is absolutely free to you! If you are currently going through a situation with your medical don't go it alone.
Go to aviationmedicine.com to find out more information and begin the process.
---
Cambridge Corner: Thrift Savings Plan
Before employees decide how to receive the money in their Thrift Savings Plan (TSP) accounts, they are encouraged to understand how TSP withdrawals are taxed. While the TSP Service Office can assist TSP participants with withdrawals from their accounts, they cannot provide tax advice. TSP participants are therefore encouraged to speak with a tax professional before making any withdrawal decisions.
In general, the tax treatment of a TSP participant's payment from their TSP account depends on the type in one's TSP account — traditional, Roth, or both.
A participant's traditional (non-Roth) balance is made up of all employee contributions that have been designated as traditional when the participant made his or her election, as well as the earnings on those contributions. For those employees covered by the Federal Employees Retirement System (FERS) it also includes the employee's agency automatic (one percent) contributions, as well as any matching contributions made to the employee's account. Earnings on agency automatic and matching contributions are also part of a traditional (non-Roth) balance.
A participant's Roth balance is made up of all employee contributions that were designated as Roth when the participant made the election and earnings on those contributions. Earnings on all Roth contributions are tax-free when withdrawn provided certain Internal Revenue Service (IRS) rules are met.
Call 888-900-4690 or click here for more information on how Cambridge Financial Partners can help you.
---
Upcoming Retirement Seminars Provided By 4 Square:

Standard seminar for members with more than 15 years of service held from 3 to 9 p.m. local time.
Register by signing on to the NATCA Portal. Please verify the personal information listed for you including email and cell phone number. If any information is incorrect or missing, please correct or add it under the "My Profile" tab.
To register for a seminar, click the "Events" tab, followed by "2016 Retirement Seminars". Complete the requested information and click "Next". When you come to the screen listing the seminars, select the one you wish to attend, hit "Next", verify your requested seminar information and then click "Done". You will receive a confirmation email that your registration was complete.
A second email will be sent two to three weeks prior to the seminar giving you the logistical information for the seminar. Also included in this email will be instructions on how to obtain a benefits estimate at the seminar.
Spouses and significant others are also invited to attend. Please ensure that you add them to the registration when asked if you will be bringing a guest. Please try to register three weeks prior to the seminar. Walk-ins are permitted to attend as long as they can provide their membership ID number. However, you will be unable to obtain a benefits estimate at the seminar.
For any questions or problems with registration, please contact Grace Colby, NATCA Executive Administrative Assistant: (202) 220-9829, gcolby@natcadc.org.
Upcoming Seminars: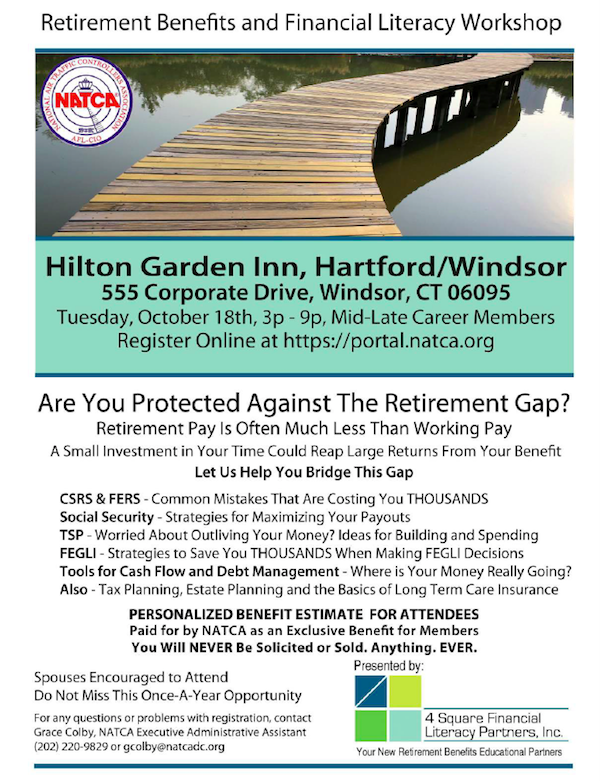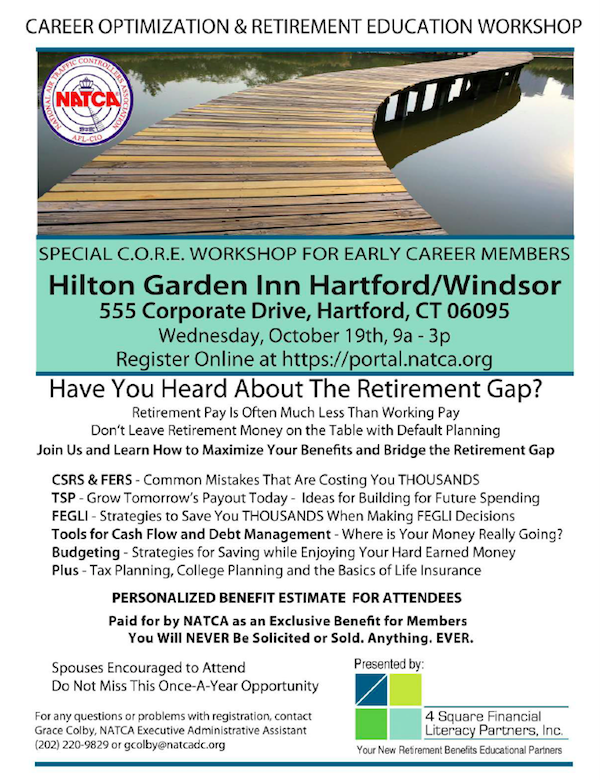 ---
We are now offering Career Optimization and Retirement Education (C.O.R.E.) Seminars in many cities! These seminars are geared towards employees with zero to 15 years of service who want to maximize their retirement benefits and plan for financial stability in retirement. Log in to the Portal today to see which cities are offering this great new program.
---
NATCA EDGE – Designed exclusively for NATCA members!
Can't get to an in-person retirement seminar? We'll bring the seminar to you!
Presenting an all-new, flexible access, web-based session of our popular retirement benefits seminar:

To register for a session, visit the NATCA Portal. Click "Events" on the menu bar on the home page, then select the "2016 NATCA Edge Online Retirement Webinar" link. Follow the questions and directions from there.
Personalized benefit estimate for participants paid for is an exclusive benefit for NATCA members. You will never be solicited or sold anything, ever!
For any questions or problems with registration, please contact Grace Colby, NATCA Executive Administrative Assistant: (202) 220-9829, gcolby@natcadc.org.