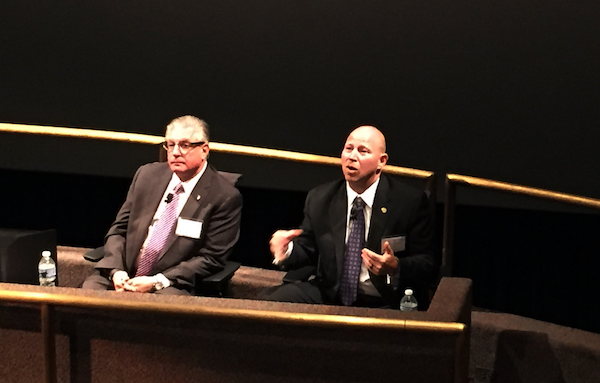 Oct. 20, 2016 // Rinaldi Joins Celebration of Towers and ATC Profession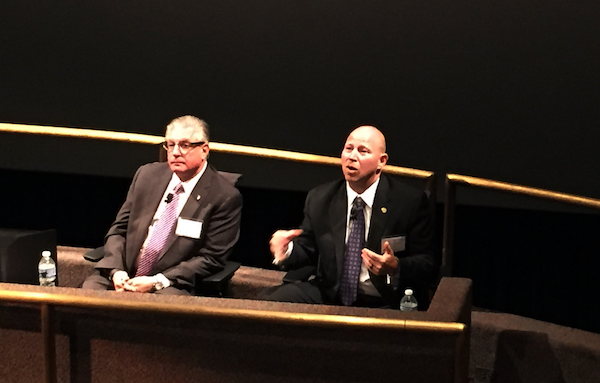 Left photo: Pete Dumont (left) and Paul Rinaldi.
On Oct. 20, NATCA President Paul Rinaldi participated in a panel discussion at the Smithsonian National Air and Space Museum in Washington, D.C., titled "Control: Inside and Outside of the Airport Tower."
Rinaldi was joined by fellow experts from the air traffic control community: Peter F. Dumont, President & CEO of the Air Traffic Control Association (ATCA), and Stephen Wakeman, AIA, Design Principal and Director of Architecture at Jacobs Engineering. Jane Garvey, Chairman of Meridiam North America and former Administrator of the Federal Aviation Administration, moderated the panel.
Panelists discussed tower history, technological advancements, and the design of airport towers to fit safety standards, in addition to sharing remarkable stories from inside the tower. The event was timed to both mark the International Day of the Air Traffic Controller and celebrate Smithsonian author and photographer Carolyn Russo's book, Art of the Airport Tower, whose companion exhibition at the National Air and Space Museum closes on Nov. 1 after one year and many millions of visitors.
Rinaldi opened the discussion by describing the diverse membership of aviation safety professionals from across the country which NATCA represents and the quick-thinking and problem-solving skills that make them successful. He said that an average, good day for a controller is when you plug in, go home, and don't have to worry about anything that happened on position. He explained that controllers typically say that their job is routine for seven hours and 30 minutes a day, with half an hour of "helter skelter" during busy pushes, but that there is intensity because at any given moment, something could go wrong.
Rinaldi went on to describe the prevalence of Type A personalities in controllers and their ability to adjust at a moment's notice.
"You have to pre-plan everything but even if you think everything will go in sequence A, you need to have planned to fall back on sequence B, C, D, and adapt as you think through the process," he said. "It's the ultimate team profession and we rely on each other."
That reliance was tested on Sept. 11, 2001, when the unthinkable happened. Garvey was the FAA Administrator at the time and made the difficult decision to shut down the National Airspace System (NAS). Rinaldi said that while pilots were confused at first, once they realized the magnitude of what was happening, the cooperation between them and controllers, including across international borders, to get airplanes on the ground as quickly and safely as possible was inspiring.
Directing his comments toward Garvey, Rinaldi said, "That was a time of such collaboration and I credit you, your leadership, and your team for working through some dark woods that I hope we never see anything like again."
Garvey added, "That was a time when the professionalism of the organization really came through. The air traffic controllers seemed to instinctively know what to do even before senior leadership took control."
The panel discussed the first air traffic controller, Archie League who, with a lawn chair and some flags, began giving runway clearance guidance to pilots nearly a century ago at an airfield in St. Louis. Out of League's dedication, Rinaldi said, the entire ATC industry was born.
"It's the best job in the whole world," said Rinaldi. "Aviation is as economic engine to this country and around the world and that's in large part due to air traffic controllers around the world ensuring a high standard of safety."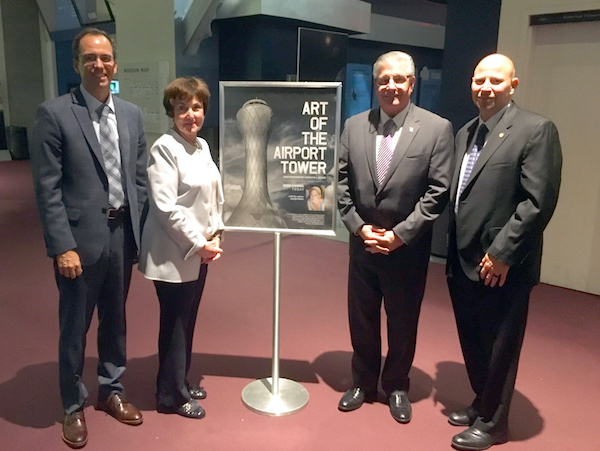 From left to right: Stephen Wakeman, Jane Garvey, Pete Dumont, and Paul Rinaldi.
Transitioning to modern technology is a major step towards achieving a high safety standard. Rinaldi and Dumont credited advancements within the NAS to a culture shift. They said that moving to a non-punitive working environment has been a major step in the evolution of air traffic control.
"It's not punitive to say something went wrong," said Rinaldi. "It's not the pilot world, or the technician world, or the mechanic world. This information is coming in and it has evolved into our tremendous safety record. We know the problems that are happening — we're finding them on the front end and using corrective action to ensure that safety is never broken."
Garvey then asked where the human component of air traffic controllers stands as the NAS adapts to new technology. Both Dumont and Rinaldi strongly believe that there will always be a human interface. Rinaldi highlighted that as NextGen is implemented, pilots and controllers will have better tools to enhance safety.
"If you take the human out of the loop, you lose efficiency and you certainly won't be able to maximize airspace and your runway," he said. "In the words of Jane Garvey (used during her term as Administrator), as we start to evolve, 'we have to build a little, we have to test a little, and we have to implement a little.'"
Rinaldi went on to highlight NATCA's Archie League Medal of Safety Awards held every year at the industry's premier safety event, Communicating For Safety. He described a 2013 save involving NATCA member Nunzio DiMillo alertly instructing a Cirrus pilot to go-around after the pilot mistakenly lined up to land on a taxiway adjacent to the intended runway at Boston's Logan Airport. The panel's live and webcast audiences viewed the ground radar replay and listened to JetBlue pilot T.R. Wood from the 2014 Archie League Awards banquet in which he thanked DiMillo for saving the lives of him, his girlfriend who was on board, and the other passengers and crew onboard.
"When you're working 92 planes an hour and you're going and going and going, sometimes you get that tingle on the back of your neck that something's not right," said Rinaldi of the event. "Nunzio DiMillo felt that and knew something wasn't right and acted quickly. That's the true professionalism of an air traffic controller and that's why equipment will never take our jobs."