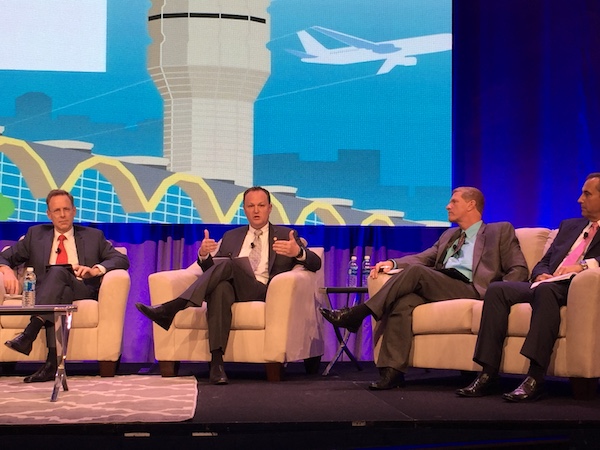 Oct. 21, 2016 // ATCA 2016 Panel: FAA PBN Strategy — Now That It's Official, What Can We Expect?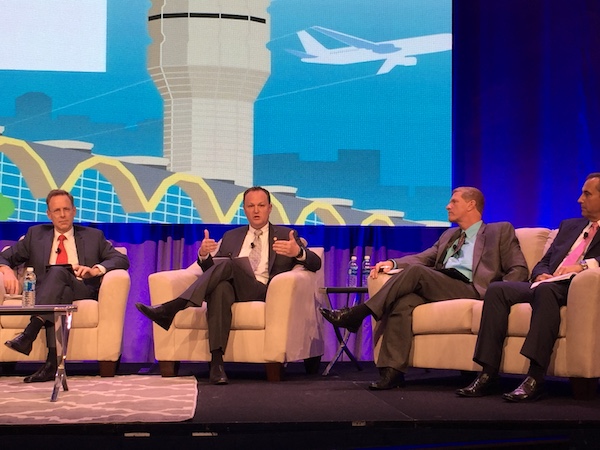 From left to right: Lassooij, Woods, McCoy, and Townsend.
Moderator:
Ken Speir, Delta

Panelists:

Jeff Woods, NATCA
Dr. Donna Creasap, FAA

Erwin Lassooij, ICAO
Deborah Lawrence, PMO, FAA

Jeff McCoy, FAA Tech Ops
Brian Townsend, American Airlines
Overview:
On Oct. 18, Project Management Organization (PMO) Rep Jeff Woods spoke on a Performance Based Navigation (PBN) Panel at ATCA's 61st Annual Conference at National Harbor, Md.
The panel opened with Dr. Donna Creasap, who was the major contributor to the FAA Roadmap for PBN, providing an overview of the plan and goals for the future as NextGen program leads continue to work with operators to implement new technology.
PBN is a NextGen program that aims to streamline flights and conserve fuel within the National Airspace System (NAS). PBN is composed of Area Navigation (RNAV) and Required Navigation Performance (RNP) and describes an aircraft's ability to navigate using performance standards. RNAV enables aircraft to fly on any desired flight path within the coverage of ground or space-based navigation aids, within the limits of the capability of the self-contained systems, or a combination of both capabilities.
PBN has been implemented across the country according to the roadmap to facilitate long-term planning for a complete transition to new technology. The plan is a 15-year strategy divided into five-year terms that outline infrastructure, equipage updates, and the need for Decision Support Tools (DST) to increase the utilization of PBN.
Woods explained that collaboration has been key to the success of PBN initiatives. The "all-in" mentality of every stakeholder involved from the ground up has set a high standard for operators within the system but there are still challenges when implementing a program of large scale.
"The key aspect to PBN is collaboration," said Woods. "Not just between the FAA and NATCA, but between all facets in what we're doing within the NAS. When everyone is in the same room and has a seat at the table, we walk out with a way forward."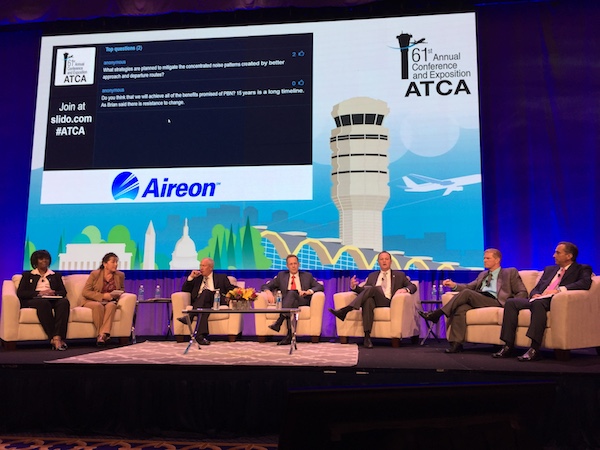 From left to right: Lawrence, Creasap, Speir, Lassooij, Woods, McCoy, and Townsend.
Several panelists highlighted the need for an infrastructure within the NAS that would allow users to implement new technology and programs without disruption, but stakeholders continue to face the constraints and limited resources of the FAA.
When looking at any change to the aviation system, safety is always the biggest concern, panelists explained. With the many challenges facing the NAS, including unpredictable funding, it's more difficult to roll out new, increasingly automated programs like PBN, but that hasn't stopped the demand for capabilities that improve procedures and programs for the workforce.
"Change is always met with some resistance but once you give the tools to the controllers, they own it and you can't take it away from them," said Woods. "But first, we need the tools to work."
One of those tools is time-based metering, which is currently being studied extensively. Woods explained that shifting from a hybrid to time-based system without affecting capacity would be a challenge. He explained that controllers want to maintain pressure on runways without losing capacity but in a time-based system, they may have to trade-off a higher capacity to fit within the new system.
Global integration of PBN technology was also explored during discussion. Lassooij explained that operational knowledge of pilots and air traffic controllers will require a lot of training so the global strategy is twofold: Not only to look at the future of what technology is possible, but also consolidating what is available so processes can be streamlined as much as possible.
NATCA has known from the beginning that there must be a combination of equipage in the aircraft and air traffic controller access to the best technology available in order to make NextGen programs like PBN successful. Controllers and pilots will be able to work together more effectively when they both have the best technology available to them.
In addition to equipage, training is an issue because as new technology is implemented, airspace is compressed. Having a just culture and the ability to share safety-related information both nationally and abroad, without fear, becomes more important than ever — something that can only be accomplished through a predictable funding stream.
For more information on PBN, read this NATCA Insider article.