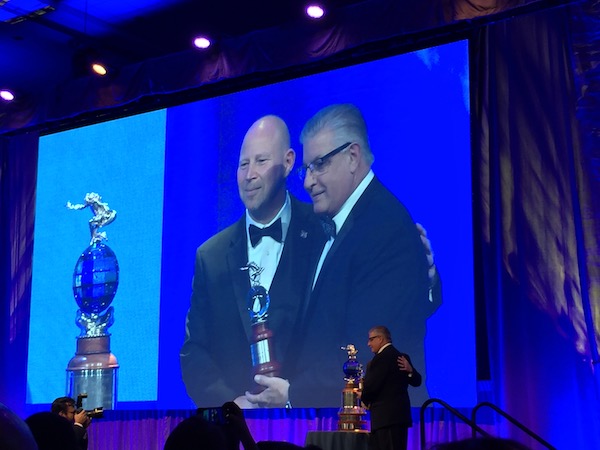 Oct. 21, 2016 // Paul Rinaldi Honored with Glen A. Gilbert Memorial Award
The Air Traffic Control Association (ATCA) presented NATCA President Paul Rinaldi with its highest honor, the Glen A. Gilbert Memorial Award, during a sparkling and uplifting banquet celebration to close its 61st Annual Conference in National Harbor, Md., on Wednesday, Oct. 19. Rinaldi is the first union leader to receive the award and now has his name inscribed alongside some of the most influential pioneers, visionaries, and leaders in aviation history.
ATCA also used one of the most prestigious and expansive stages in the aviation community to affirm the important role that Rinaldi and NATCA have played in building and growing the success of what Federal Aviation Administration (FAA) Air Traffic Organization Chief Operating Officer Teri Bristol called "a culture of collaboration."
Before a crowd of 500, including Rinaldi's family and more than 70 NATCA members, staff, and friends, he humbly and graciously accepted the award but emphatically shared the credit for how NATCA has strived to be great and, more importantly, displayed the will to be great.
"Tonight, the focus is on me, and I am deeply honored," Rinaldi said. "But it's not me. Honestly, it's not me. I did not get here alone. So many people work hard every day to make NATCA great."
Rinaldi said the award is "really an acknowledgement of the work of the NATCA members and the staff as a whole, and a validation of the great work they do every day to make our airspace system the best it can possibly be. They work tirelessly to protect and modernize our system and ensure that the people who are working on the front line are taken care of. I call them the true champions of the National Airspace System (NAS)."
The Glen A. Gilbert Memorial Award is one of the most prominent honors in aviation. It is dedicated to the memory of one of the "Fathers of Air Traffic Control" and honors the lifelong achievements of an individual in the field of aviation. Gilbert was a visionary who, along with Earl Ward, founded the U.S. air traffic system and dedicated his professional career to its improvement.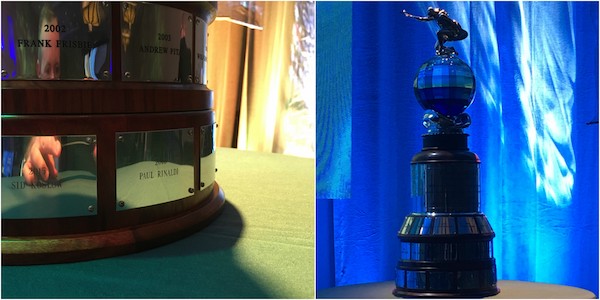 The ATCA Board of Directors voted unanimously for Rinaldi to receive the award due to his exemplary career-long commitment to the betterment of the NAS. The design of the trophy includes the Roman God Jupiter, deity of weather, sky, and light, and a depiction of the earth and its atmosphere. It is on permanent display in the Smithsonian's National Air & Space Museum in Washington, D.C.
Looking to his left from the podium toward the trophy sitting on a table across the stage, Rinaldi said, "To see my name included on that award alongside aviation greats such as the Honorable Jane Garvey (former FAA Administrator), the Honorable Norm Mineta (former Congressman and Transportation Secretary), and, God rest his soul, my dear friend Chairman Oberstar, is surreal."
NATCA Executive Vice President Trish Gilbert followed Bristol in delivering introductory remarks and spoke warmly, and with touches of humor and perspective about her working relationship with Rinaldi, his devotion to both the Union and its many community and military charitable efforts including the NATCA Charitable Foundation, and the achievements for which Rinaldi was chosen for the award. She referenced another prestigious award Rinaldi received earlier this year, the Sons of Italy Foundation Humanitarian Award.
"The definition of humanitarian is a person who works to make other people's lives better," she said. "That is Paul. He's selfless. He's served others for more than three decades now. He not only works to make the lives of our members better, but also works to enhance safety in the United States airspace system and works to make it better for the future."
Gilbert talked about the work she and Rinaldi began in 2009 to repair relationships in the FAA, the DOT, the National Transportation Safety Board, other government agencies, on Capitol Hill, and throughout the aviation community.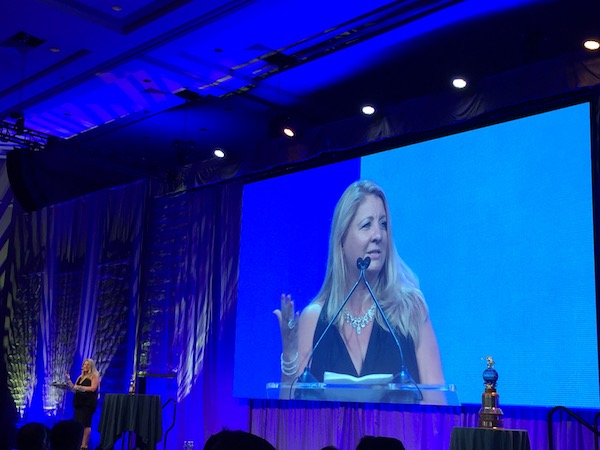 "In addition to repairing those relationships, we also needed to create and cultivate new relationships, and we also had to repair a divided union while educating and hopefully motivating a new generation that had been recently hired and those yet to be hired," she said.
Rinaldi said it became clear in 2006 and 2008, after 20-plus years of FAA labor and management fighting, that the system was losing its competitive edge and "we needed to do something different." Both Rinaldi, and Gilbert in her remarks, detailed the decision the two made to run as a team in 2009 for president and executive vice president, respectively.
"We decided to run with a different philosophy," Rinaldi said. "To build a collaborative relationship with the FAA and all of the industry stakeholders; to become the answer to the problems in the aviation industry, not the problem of the aviation industry. We focused on a paradigm shift, changing the value of NATCA, changing the way people think about us externally and internally, taking on the conventional wisdom and challenging the dominant group think culture in this country of what they think about unions."
Bristol said she was honored to be a part of the celebration and honoring Rinaldi and his career.
"Like Glen Gilbert, Paul is a visionary," she said. "Labor relations at the FAA have been referred to as both storied and complex. But I will tell you I am very proud of where we stand today and the accomplishments that we've made."
To say it was a difficult time when Rinaldi became president of NATCA, Bristol said, "would be an understatement. Labor-management relations were extremely strained. Third party arbitrators had just ruled on a new collective bargaining agreement and labor involvement in new technologies was scarce at best. Paul had a vision and he's got a passion for safety. With safety always at the forefront, his passion focused on enhancing the aviation system. And he genuinely believed that there were no limits to what could be achieved if we work together and if we collaborate with all stakeholders both inside and outside of the FAA. Paul believed collaboration was key and he was right."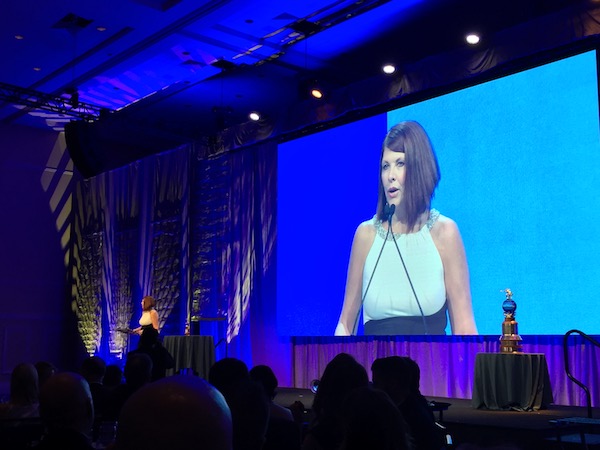 FAA ATO Teri Bristol.
ATCA Board Chairman Neil Planzer, the 2010 winner of the Glen A. Gilbert Award, served as the master of ceremonies and described the magnitude of the award and its prestigious home in the Air & Space Museum.
Directing his comments at Rinaldi, Planzer said of the award trophy, "It's something I believe that when your children have a chance to go see it with their friends, and your grandchildren, they'll say, 'That was my dad.'" The award, he added, "honors a lifelong achievement of an individual in the field of aviation. And as Trish said, you might not think you earned it, but 500 people in this room think you did. We know you are of strong voice for your union. That's expected of you and you do that wonderfully. The award is multi-dimensioned. When we see you, we see multiple dimensions. First and foremost, we see a warm heart dedicated to his family, a moral compass that is critical for all of us as we move through life, and we're lucky to have someone of that character receive this award."
Rinaldi spoke at length about what he called NATCA's will to be great. Quoting the late, Muhammad Ali, he said, 'champions are not made in the gym. Champions are made from something deep inside them. They have a desire, a dream, a vision. They have the skills and they have the will to be great. But the will must always be greater than the skill. Will beats skill every time.'"
"That describes the organization that I have been so fortunate to be a member of, an activist in, and actually be the president of," Rinaldi said. "The no-quit will that our members and our staff give to you, the aviation system and the flying public every day, after 5 p.m., on the weekends, on holidays, 24 hours a day, seven days a week, 365 days a year. Our talent, although they are very, very talented, will only get us so far. But our talent, with the will to be great, is what makes NATCA successful."
Rinaldi said the NAS, with more than 8,000 aircraft airborne at any given time and functioning as the world's safest and most complex, is "rarely a thought in the minds of the millions of passengers who rely on it day in and day out." He added, speaking about the controllers, "and that's exactly how they want it."
"Commercial aviation has never been safer," he said. "The professionals at NATCA have to be perfect 100 percent of the time. And as the president of the National Air Traffic Controllers Association, I have the great fortune to work with these great champions every day. All of the members and staff of NATCA go above and beyond to make my organization the greatest it can possibly be."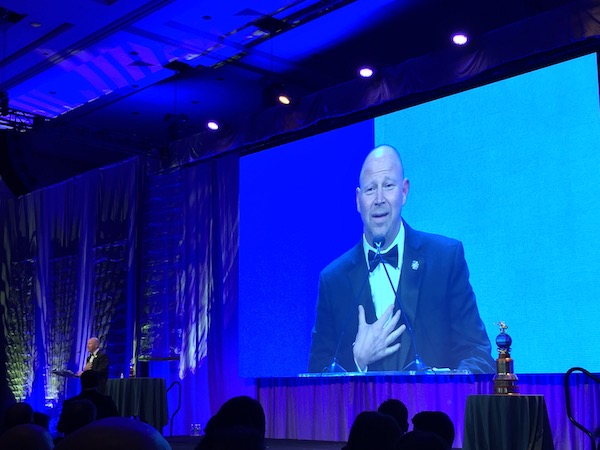 Rinaldi described sitting at the ATCA awards luncheon on Oct. 17 and listening as Fort Worth Center (ZFW) Manager Tommy Graham, in accepting the Chairman's Citation of Merit award, thanked NATCA and ZFW FacRep Nick Daniels – who was present at Wednesday's Glen A. Gilbert Memorial Award banquet – for believing strongly in collaboration.
"Tommy described that while the FAA gives him the power to lead, the people gave Nick the authority to lead," Rinaldi said. "So when you put those two together, we have a powerful ability to influence the people to get the best results for the aviation system and the flying public. That is the true spirit of collaboration."
At ZFW, Graham and Daniels instituted a peer-based leadership model as the foundation of collaboration at the facility. Their story was part of a panel discussion on improving safety through collaboration at NATCA's Communicating For Safety conference last March.
Rinaldi's emphasis on collaboration as a theme for the evening was well-timed, as NATCA and the FAA prepare to meet next week in Seattle for the latest in a series of collaboration meetings.
Gilbert spoke with deep pride about the many successes born from the now more than seven-year-old collaborative partnership NATCA enjoys with the FAA, including the working through of more than half a million grievances down to a current list of less than 30. She credited Rinaldi with the vision and leadership that was needed at precisely the right time in the Union's history to meet the challenges presented by issues such as fatigue mitigation, sequestration budget cuts, government shutdowns, and the lack of stable funding for the system.
"In NATCA we like to say it really doesn't matter who gets the credit; it's about the results," Gilbert said. "And that is why Paul is averse to getting this type of recognition tonight. He's worthy of it even if he doesn't believe so. Paul was the one who led us through it all. He held us together during the difficult times, he has compelled many inside and outside the FAA to work together, and he continues to be an advocate for a better system."
Recipients of the Glen A. Gilbert Memorial Award:
2016
Paul Rinaldi, President, NATCA
2015
Sid Koslow, Vice President and Chief Technology Officer, NAV CANADA
2014
Monte Belger, Acting FAA Deputy Administrator; President, Metron Aviation
2013
Patrick Ky, Executive Director, European Aviation Safety Agency (EASA)
2012
Peter Challan, Vice President of Industry Relations, Harris Corporation
2011
Jane Garvey, Administrator, Federal Aviation Administration; Chairman, Meridiam
2010
Neil R. Planzer, Vice President, The Boeing Company
2009
Allan McArtor, Chairman, Airbus Americas, Inc.
2008
John Crichton, President, CEO, NAV CANADA
2007
Gerald L. Thompson, Chairman, Jerry Thompson and Associates
2006
Garland "Cas" Castleberry, FAA Associate Administrator, President of ATCA
2005
James L. Oberstar, Congressman, U.S. House of Representatives
2004
Wolfgang Philipp, Senior Director, EUROCONTROL
2003
Andy Pitas, Founder of ATCA, Professional Air Traffic Controller
2002
Frank Frisbie, Northrup Grumman, FAA Deputy Associate Administrator
2001
William Pollard, CEO, Air Services Australia, Professional Air Traffic Controller
2000
Gabriel A. Hartl, Colonel USAF Retired, President of ATCA
1999
Langhorne Bond, FAA Administrator
1998
Stanley Seltzer, V.P., American Airlines, Professional Air Traffic Controller
1997
Yves Lambert, Director General of EUROCONTROL
1996
Norman Mineta, Secretary of Transportation, U.S. Congressman
1995
Captain Elrey B. Jeppesen, Airline Captain, Founder, Jeppesen & Co.
1994
Tirey Vickers, Editor of ATCA Journal, Professional Air Traffic Controller
1993
Joseph Del Balzo, Deputy FAA Administrator, Electrical Engineer
1991
John Winant, President, National Business Aircraft Association
1990
A. Scott Crossfield, Aircraft Test Pilot
1989
J. Lynn Helms, FAA Administrator, President, Piper Aircraft Co.
1988
Najeeb Halaby, FAA Administrator, President, Pan Am Airways
1986
David Thomas, Deputy FAA Administrator, Professional Air Traffic ControllerTo read coverage of the Glen A. Gilbert Award from the ATCA quarterly magazine, please click here.