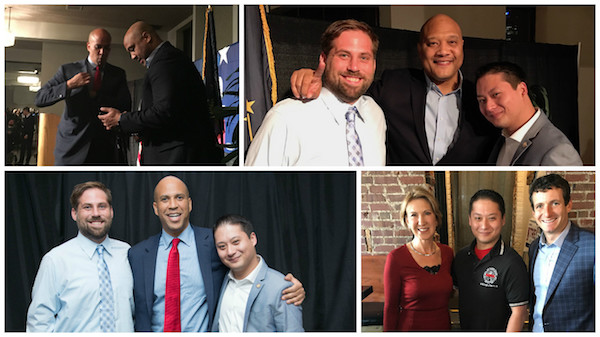 Oct. 28, 2016 // Local Legislative Efforts
To keep up with all local legislative efforts, visit NATCA's Flickr Album.
On Tuesday, Oct 25, Indianapolis Center member Bob Obma and National Legislative Committee (NLC) Great Lakes Region mentee Mike Orr attended an event held for the former junior Senator from Indiana, Evan Bayh featuring remarks from Senator Cory Booker, D-N.J. Senator Booker is a member of the Senate Transportation Committee and was joined by House Transportation and Infrastructure Committee member, Representative Andre Carson, D-Ind
While Bayh was unable to attend the event himself, Obma and Orr were able to coordinate with Eastern Region NLC Rep Kristena "Jonesie" Jones and New Jersey State Coordinator Louis Caggiano on talking points for the members of Congress in attendance.
Obma and Orr spoke with Rep. Carson and Senator Booker about several issues facing NATCA and the National Airspace System (NAS). They also went to an event for candidate Trey Hollingsworth who is running to represent Indiana's 9th district. Carly Fiorina, former CEO of Hewlett-Packard and a Republican presidential candidate this year, was also in attendance. The trio chatted about air traffic control reform and how the ineffective nature of Congressional gridlock negatively impacts the NAS.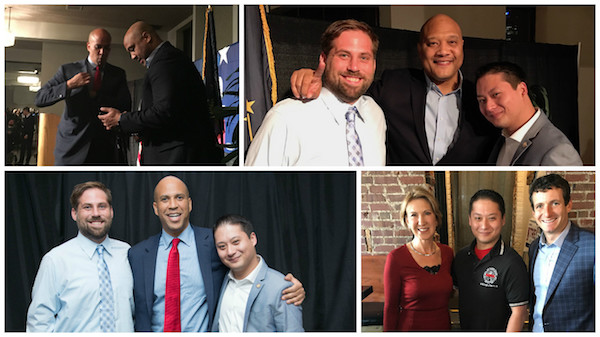 Top left: Senator Booker (left) and Representative Carson.
Top right: Bob Obma, Representative Carson, and Mike Orr.
Bottom left: Bob Obma, Senator Booker, and Mike Orr.
Bottom right: Carly Fiorina, Mike Orr, and Trey Hollingsworth.
---
NATCA Southern Regional Vice President Jim Marinitti and Miami (MIA) FacRep Bill Kisseadoo joined local MIA and West Palm Beach members at a grand opening event at the new West Palm Beach Tower and TRACON (PBI) last week that featured an appearance by Congressman Alcee Hastings, D-Fla. Kisseadoo said the Congressman was very impressed to see the culmination of a decade of work that he and his staff put in to make the facility's opening finally come to fruition.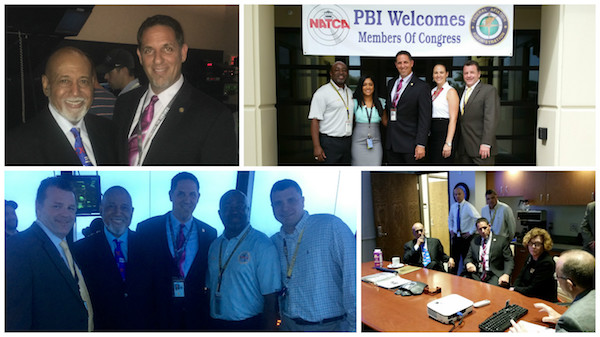 Top left: Representative Hastings and Jim Marinitti.
Top right: Billy Kisseadoo, PBI controller Kerrie Sooklal, Jim Marinitti, PBI controller Elizabeth Plummer, and retired NATCA TAMR Rep Mitch Herrick (right).
Bottom left: Mitch Herrick, Representative Hastings, Jim Marinitti, Billy Kisseadoo, and PBI FLM Shane Ahern.
Bottom right: Seated are Congressman Hastings, Jim Marinitti, Constituent Services for Congressman Ted Deutch Darcy Robinson, and PBI ATM Bob Berlucchi. Standing are PBI VP Mike Clark and Shane Ahern.

---
NATCA members in the New England Region have joined NLC member Andre Jean to attend a few local legislative events this October. On Oct. 9, NATCAvists saw Senator Bernie Sanders, I-Vt., speak at Nashua Community College. Before Senator Sanders spoke, the interim Chair for the Democratic National Committee, Donna Brazile, and New Hampshire Governor Maggie Hassan also gave insight into the current political climate.
On Oct. 10, local members participated in an event in Derry, N.H. where Congresswoman Katherine Clark, D-Conn., 6th, visited to say a few words and inspire the volunteers.
Jean and the NATCAvists were also able to meet Vice President Joe Biden at an event in Nashua, N.H., this week.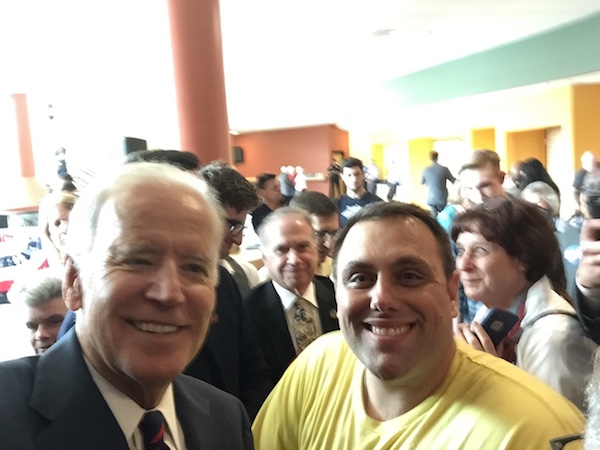 Vice President Joe Biden and Andre Jean.