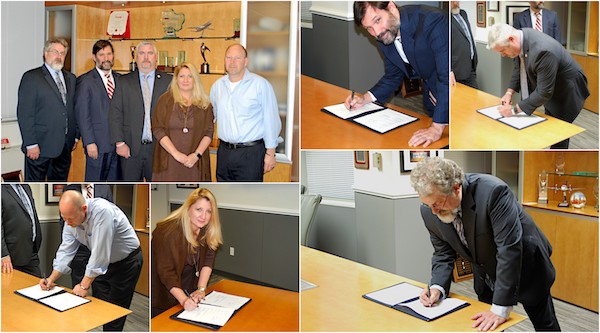 Nov. 11, 2016 // Midwest Air Traffic Control Service, Inc. CBA Signing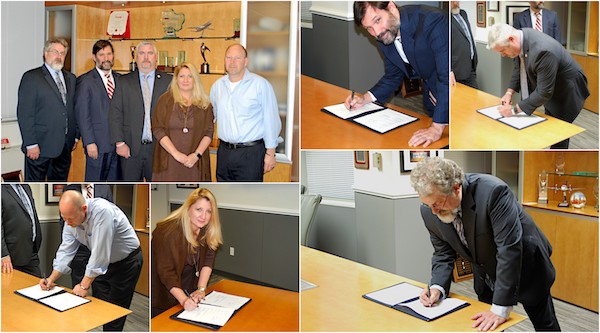 Top left photo from left to right: Tim Smith, Chris Gant, John Bratcher, Trish Gilbert, and Paul Rinaldi.
On Nov. 9, NATCA's Contract Team signed the Midwest Air Traffic Control Service, Inc. Collective Bargaining Agreement (CBA) at NATCA's National Office in Washington, D.C. Former Southern Regional Vice President Victor Santore, former Southwest Regional Vice President Tim Smith, Organizing Committee Chairman John Bratcher, and Senior Labor Relations Attorney Chris Gant headed the efforts. NATCA President Paul Rinaldi and Executive Vice President Trish Gilbert were also there to sign the agreement and celebrate this great milestone.
"We are so pleased that the proud professionals we represent at Midwest ratified this collective bargaining agreement," Rinaldi and Gilbert said. "They deserve the improvements gained in this agreement. Thank you to our dedicated negotiating team for their expertise and hard work throughout the process."
The new CBA, which took effect on Oct. 14, 2016, is a four-year agreement between NATCA and Midwest Air Traffic Control Service, Inc. A tentative agreement was reached in September and members had until Oct. 14 to cast their ratification ballot. The new CBA was ratified by 87.5 percent of those who voted.
"This is a great contract with several significant improvements, including the first ever guaranteed wage increases and an extra week of paid vacation after 20 years of service," explained Gant. "This contract puts NATCA members at Midwest in a good position going forward."
The new CBA contains several improvements over the previous agreement, including mandatory pay increases and greater leave provisions. It is the result of tremendous effort from the negotiating team over the course of 18 months. Official contract books are being printed and mailed to the membership in the coming weeks.
"After over 18 months of negotiations it is great to have an amazing collective bargaining agreement for our members in the Midwest Federal Contract Tower bargaining unit," said Bratcher. "It was a privilege and an honor to work with the amazing activist that were on the negotiating team. The results of this great agreement can be directly attributed to the passion, dedication, and professionalism of each member of the contract team. This Agreement sets a path forward to a better and more collaborative relationship between NATCA and Midwest, improve the lives of our members, and enhance the profession of Air Traffic Control."
NATCA's members in this bargaining unit work at these Federal Contract Tower facilities run by Midwest ATC:
Eastern Region
ITH – Ithaca, Tompkins Regional, N.Y.
MTN – Martin State (Baltimore), Md.
SWF – Stewart International, N.Y.
Great Lakes Region
ENW – Kenosha Municipal, Wisc.
LSE – La Crosse, Wisc.
MWA – Williamson County (Marion), Ill.
New England Region
HYA – Hyannis, Mass.
ORH – Worcester, Mass.
Southern Region
OWB – Owensboro / Daviess Co., Ky.
Western Pacific Region
MKK – Molokai, Hawaii