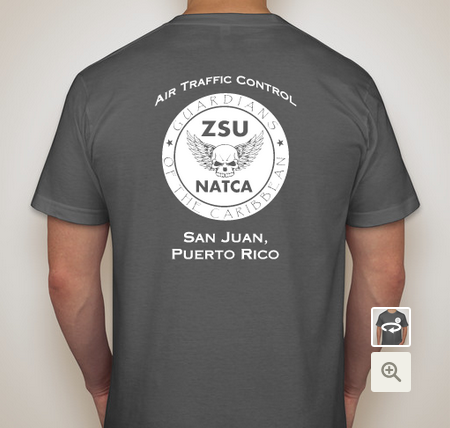 Nov. 11, 2016 // This Week's Notebook: Fundraisers, NATCA Metallic Mug, Last Day to Order 2017 Pocket Calendars, and Much More!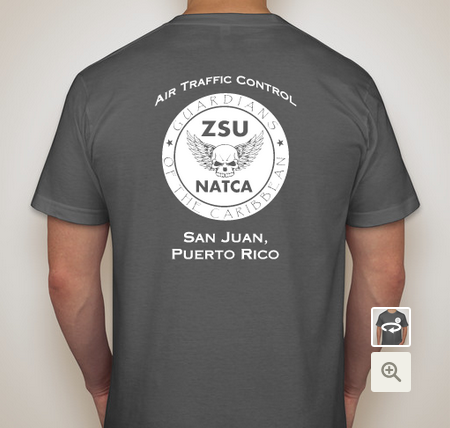 ZSU Supports Local Orphanage-Last Day to Order!
The local membership at San Juan CERAP (ZSU) have a long-standing relationship with the Hogar Cuna San Cristobal Orphanage in Caguas, Puerto Rico. The charity houses local children in need, many of whom suffer from physical and mental disabilities. Throughout the year, members from ZSU donate their time and love to comfort the children by reading to them, playing games, and keeping them engaged with the world around them. Consider supporting their cause by buying a shirt.
---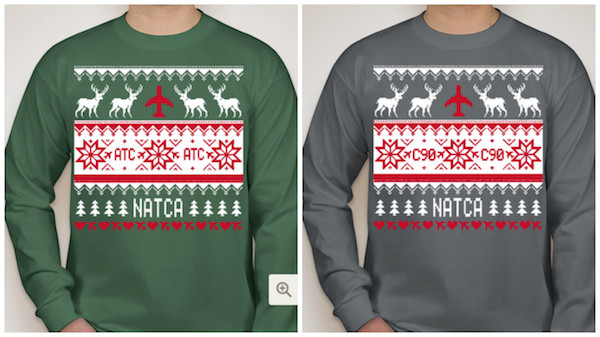 Chicago TRACON (C90) Supports Toys for Tots
C90 is holding a fundraiser to benefit the U.S. Marine Corps Reserve Toys for Tots Program with an ugly Christmas sweater t-shirt drive for the next month. 
Please help less fortunate children throughout the United States experience the joy of Christmas.
Mission: The mission of the U. S. Marine Corps Reserve Toys for Tots Program is to collect new, unwrapped toys during October, November, and December each year, and distribute those toys as Christmas gifts to less fortunate children in the community in which the campaign is conducted. There are two shirt designs. One featuring C90 and one featuring ATC. Thank you for your support! Order here.
---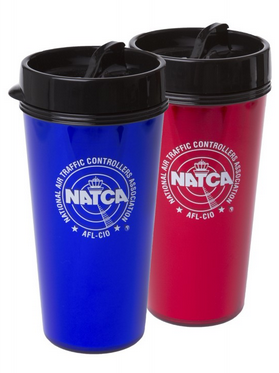 NATCA Store Item of the Week: Metallic Mug
Features: NATCA 16 oz. thermal travel mug is available in two colors: royal blue and ruby red. It is metallic foiled, double-wall insulated and break resistant plastic with a mechanical open/close lid. The NATCA logo is imprinted on the front. It easily fits in automobile beverage wells and is top rack dishwasher safe.
Price: $6
Made in USA.
To see the item and how to order: Select USPS or UPS as your shipping preference on your orders. To check on stock availability or for further assistance, call 800-266-0895 or email natcastore@natcadc.org.
---
2017 Pocket Calendars
Log in to the NATCA Portal for one free copy of the 2017 NATCA Pocket calendar. Please insure that your mailing information under "My Profile" is correct. Once you have verified the information, click the "Event" tab and make your request under "Request for 2017 Pocket Calendar". Please make your request no later than November 11th. The pocket calendars will be mailed to your residence by mid-December. Bulk orders can be purchased later through the NATCA Store.
---
Member Portal
Have you moved recently and need to update your mailing address? No problem! Simply log in at the Member Portal and update your contact information. Those registering for the first time must have your NATCA member number ready as it is needed when you register. For further assistance, contact Customer Service at 800-266-0895 or email uwadmin@natca.net.
---
Benefits Spotlight: Show Your Unionism!
Chances are pretty good that if you're reading this, you're a union member. Chances are pretty good that if you are reading this, you are doing so on some kind of a device that you used a credit card to buy, but did you use the Union Plus credit card? If you did, you may take the next few sentences off (but only if you promise to go and tell your friend about your card). If you didn't and would like to learn how you can show your unionism through which credit card you choose to use then click here.
---
Upcoming Retirement Seminars Provided By 4 Square:


Standard seminar for members with more than 15 years of service held from 3 to 9 p.m. local time.
Register by signing on to the NATCA Portal. Please verify the personal information listed for you including email and cell phone number. If any information is incorrect or missing, please correct or add it under the "My Profile" tab.
To register for a seminar, click the "Events" tab, followed by "2016 Retirement Seminars." Complete the requested information and click "Next." When you come to the screen listing the seminars, select the one you wish to attend, hit "Next," verify your requested seminar information and then click "Done." You will receive a confirmation email that your registration was complete.
A second email will be sent two to three weeks prior to the seminar giving you the logistical information for the seminar. Also included in this email will be instructions on how to obtain a benefits estimate at the seminar.
Spouses and significant others are also invited to attend. Please ensure that you add them to the registration when asked if you will be bringing a guest. Please try to register three weeks prior to the seminar. Walk-ins are permitted to attend as long as they can provide their membership ID number. However, you will be unable to obtain a benefits estimate at the seminar.
For any questions or problems with registration, please contact Grace Colby, NATCA Executive Administrative Assistant: (202) 220-9829, gcolby@natcadc.org.
---
We are now offering Career Optimization and Retirement Education (C.O.R.E.) Seminars in many cities! These seminars are geared towards employees with zero to 15 years of service who want to maximize their retirement benefits and plan for financial stability in retirement. Log in to the Portal today to see which cities are offering this great new program.
---
NATCA EDGE – Designed exclusively for NATCA members!

Can't get to an in-person retirement seminar? We'll bring the seminar to you!
Presenting an all-new, flexible access, web-based session of our popular retirement benefits seminar:

To register for a session, visit the NATCA Portal. Click "Events" on the menu bar on the home page, then select the "2016 NATCA Edge Online Retirement Webinar" link. Follow the questions and directions from there.
Personalized benefit estimate for participants paid for is an exclusive benefit for NATCA members. You will never be solicited or sold anything, ever!
For any questions or problems with registration, please contact Grace Colby, NATCA Executive Administrative Assistant: (202) 220-9829, gcolby@natcadc.org.