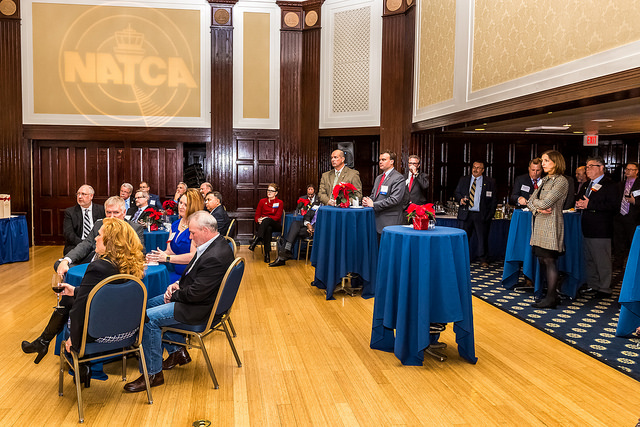 Dec. 9, 2016 // NATCA Holds Third Annual Corporate Partnership Reception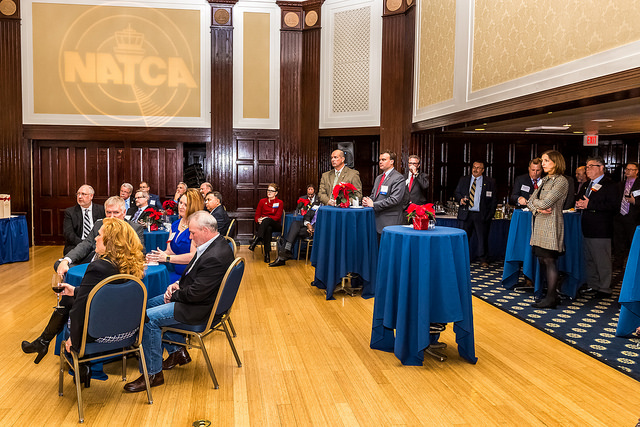 Corporate members listen to a presentation at NATCA's third annual Corporate Partnership Reception.
On Monday, Dec. 5, NATCA held its third annual Corporate Partnership Reception at the National Press Club in Washington, D.C. NATCA President Paul Rinaldi, Executive Vice President Trish Gilbert, National Organizing Committee Chairman John Bratcher, and corporate member Lillian Ryals, of MITRE Corporation, spoke at the reception celebrating NATCA's strong collaborative relationships with aviation industry partners and leaders. Attendees included representatives from many of NATCA's 35 corporate partners as well as NATCA members and National Office staff.
Bratcher opened the event by explaining that a profession is only as good as the people in it. He said the aviation safety professionals that NATCA represents are some of the best in the world. He said they've set the gold standard from airport-to-airport and from coast-to-coast with the world's largest, most complex, and most importantly, safest aviation system in the world.
"Your partnership with NATCA is a symbol of how together, we can make the system great," Bratcher said.
NATCA always seeks to grow relationships that truly reflect NATCA's partnership with industry, Bratcher said. NATCA's Corporate partnership program began in 1990 and has since evolved. For the past three years, NATCA has celebrated this partnership through the Corporate Partnership Reception. Today, there are 21 premium members and 14 standard members that stand in solidarity with NATCA's vision of partnership and collaboration within the aviation industry.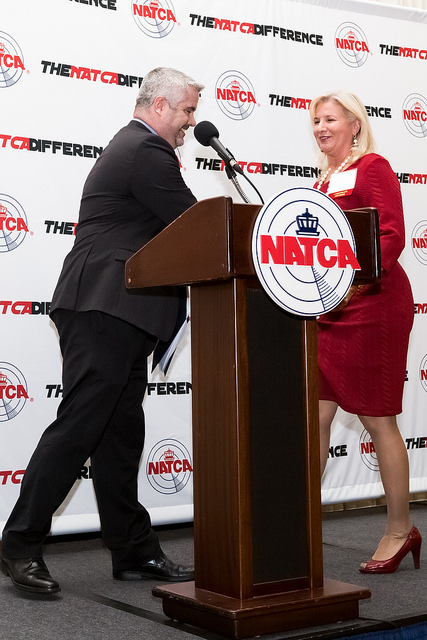 John Bratcher introduces Lillian Ryals at NATCA's third annual Corporate Partnership Reception.
Bratcher then introduced Lillian Ryals, Senior Vice President and General Manager, Center for Advanced Aviation System Development at the MITRE Corporation. As lead of corporate activities associated with NextGen, Ryals has worked with NATCA, the FAA, Department of Defense, Homeland Security, and other aviation industry partners. She is also on the NextGen Advisory Committee.
"I have to say, it's a pleasure, in part because I really didn't have to prepare," Ryals said as she shared her experience as a partner with NATCA. "This is something I think I can speak to among friends and with NATCA partnership, just from the heart."
Ryals explained that MITRE has been working with the FAA since 1959 in a partnership role and recognized that there is no way to succeed in evolving the NAS unless there is a strong and deep partnership with NATCA.
She also said that when she first met NATCA President Paul Rinaldi, he and many air traffic controllers did not know what MITRE was doing behind closed doors. When Ryals became General Manager, it was imperative to her to ensure that that gap was bridged.
"This is all about partnership and collaboration," she said. "I've been in the aviation industry for 47 years and most of us would agree there's never been the partnership and collaboration we have now. That's in part because of the people in this room and because of Paul and Trish."
Ryals said that they have both committed themselves and their organization to partnership and collaboration. It is imperative to have everybody in the aviation industry committed to working in a way that establishes trust and that brings the best of people forward, solving problems. She explained that MITRE now has 300-400 subject matter experts in the corporation's laboratories who go there to understand what it takes to ensure technical and operational feasibility. A significant number of those experts are NATCA members.
"We learned bringing people in once the concept is pretty well hatched is not the way to do it," Ryals said "We need partnership with NATCA to get feedback early, understand the needs, and ensure industry research is going to be meeting those needs so we have a better chance on the back end that something will work efficiently."
The concept of being involved in all aspects of the industry from the ground up is something that Rinaldi and Gilbert have advocated for passionately in order to maintain and improve the NAS. Ryals said she feels privileged coming in when there was such strong leadership from Rinaldi and Gilbert, leadership at the FAA that was equally as invested in collaboration, and that all industry partners have been able to pull together.
"Not just at headquarters, not just in terms of the programs that industry is supporting, but at the service delivery point we now know what we're going to get," Ryals said. "When it's delivered, we now understand the benefits that will be acquired by the entire aviation industry."
She closed her comments by sharing that the industry is at a tipping point because of collaboration, saying it was great to see everyone in the room acknowledge all the work NATCA has done and is doing. NATCA's vision to challenge the norm has given professionals in the field a strong voice in the aviation system.
NATCA President Paul Rinaldi told the guests that while NATCA sees them throughout the aviation industry and at events like Communicating For Safety, "all too often, everybody is too busy to stop and say thank you. That's why we invite you here, to thank you for being partners."
Rinaldi said that when he and Executive Vice President Trish Gilbert took office in 2009, many in the industry told them that they thought NATCA was the problem.
"We looked at each other and thought, 'how could that possibly be,'" Rinaldi said. "The air traffic controllers and safety professionals in this country do an amazing job, day in and day out. How could we be the problem?"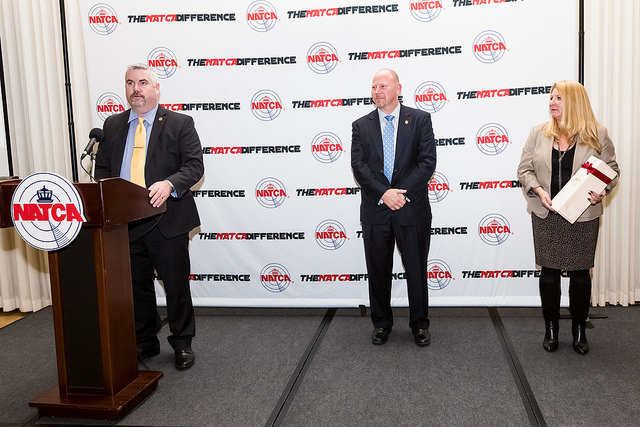 John Bratcher, Paul Rinaldi, and Trish Gilbert at NATCA's third annual Corporate Membership Reception.
NATCA started seven years ago to build a collaborative relationship with all the stakeholders, Rinaldi said, with the goal of moving the system forward and being a part of what works best.
"All too often, when you say stakeholders, people think airlines, GA, and business aviation," he said. "And that's the furthest thing from the truth because everyone in this room plays a vital role in continuing to run the safest, most efficient, most diverse, most complex system in the world. So we really wanted to reach out to all the stakeholders and build a collaborative relationship to get together and continue to grow aviation in this country and, at the same time, work on putting out the best product out there for the flying public and the American communities. And we've done that. You've opened your arms and said, 'yes, let's do this together.'"
"Collaboratively," Rinaldi added, "we're going to get the best result. Individually, we all may think we have the answers. But really, when we get in the room and collaborate and work together, you get the best result. It's about everyone being part of this great system."
Gilbert announced to the corporate partner guests that as part of a gift bag for each of them, NATCA is donating $25 to the NATCA Charitable Foundation (NCF) in the name of each corporate partner that attended the reception.
"NATCA Charitable was created by NATCA members in my home region, Southwest, in a living room when it was decided, 'what better way to give back to our communities than in the name of our Union and the name of our profession,'" Gilbert said. "NCF is doing amazing work and has grown to levels we could never imagine. It is a 100 percent volunteer organization which means that all of the funds for the most part go back to those that need help in our communities."
Gilbert told the guests about her trip last week to meet with San Juan NATCA members, which included a visit to a local orphanage to deliver $2,000 raised with the help of NATCA members through NCF. The orphanage relies on donated funds, and this donation enables them to continue the important work of caring for children and helping to give them love and opportunity.
"We could not do that without the work of the NATCA Charitable Foundation," she said. "That is one of hundreds of charities we give to."
NATCA's collaborative spirit with all aviation stakeholders and the communities in which they operate shined throughout the evening. After the speakers finished their presentations, NATCA leadership and staff were able to speak with everyone in attendance about the future of the NAS and the collaborative relationships that will shape it.
To view more photos from the event, visit NATCA's Flickr album.