Dec. 9, 2016 // Paul Rinaldi Honored by National Capital Area Boy Scouts of America
The National Capital Area Boy Scouts of America (BSA) on Wednesday, Dec. 7, honored NATCA President Paul Rinaldi as one of several transportation industry leaders during a "People Who Move America" luncheon to benefit the BSA.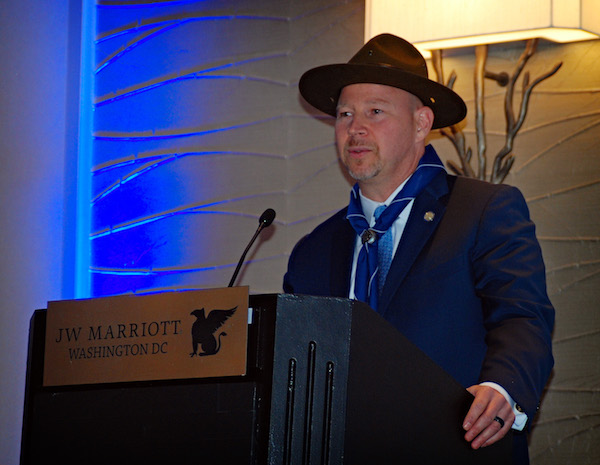 Rinaldi, along with Secretary of Transportation Anthony Foxx, former Kansas Governor and American Trucking Association President and CEO Bill Graves, and Airlines for America President and CEO Nicholas Calio, were recognized for their significant impact on the transportation industry, which moves people and goods safely and securely throughout the United States and the world. NATCA represents nearly 20,000 highly skilled air traffic controllers and other aviation safety professionals who ensure the safety of nearly 900 million passengers and over 35 billion revenue ton miles of cargo per year.
"It's an honor to be recognized by the Boy Scouts of America," said Rinaldi. "Aviation is part of our national fabric and is critical to our nation's economy. I consider it part of my daily work to grow our nation's aviation system and at the same time, foster the growth of the next generation of transportation workers and leaders. I am proud to work with other aviation stakeholders to make sure the future of aviation is even brighter than the present."
The National Capital Area Council serves more than 70,000 active youth and adult members each year and is one of the largest Boy Scout Councils in the country. Since 1910, Scouting has been unparalleled in teaching youths the values of teamwork, leadership, and service to others. The lessons of the council's programs have an impact not only in the lives of young people, but in communities as well, and all funds raised from the event will help ensure that every young person that wants to be a part of Scouting has the opportunity to do so.
BSA National Capital Area Council President Bob Wood cited the leadership the four honorees have shown in the biggest sectors of the transportation industry, saying that is part of the key values that the organization tries to instill in its scouts.
"It is an honor to show our scouts that they can grow and develop to become leaders in such important industries like transportation," Wood said. "The strength of transportation is the backbone of America and it is our pleasure to recognize these leaders who can be models to our younger generations."
Southwest Airlines Senior Vice President and former FAA Administrator Randy Babbitt, who serves as a co-chair for the "People Who Move America" awards program, introduced Rinaldi and spoke with great admiration for the collaboration that NATCA and the FAA have built to improve the National Airspace System and labor relations, a partnership that began under Babbitt's tenure as Administrator.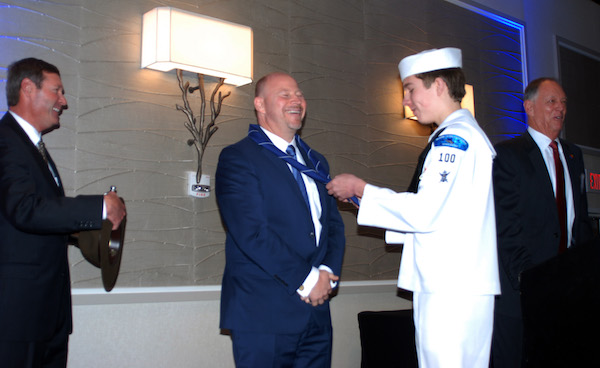 "Since taking office in 2009, he has helped elevate NATCA to new levels of success," Babbitt said. "NATCA's team is committed and focused on improving the working relationship with the FAA and I can tell you on a personal basis just what that means. I think today, the union and the FAA's relationship with the controllers sets a high benchmark that is unequaled in the federal sector and I would go so far as to say it's unequaled anywhere in labor relations due to Paul's leadership."
Rinaldi, in accepting the award, praised the work of all professionals that NATCA represents and said the system has never been safer. "I'm grateful for their strength and their courage," he said.
"The members of NATCA choreograph roughly 8,000 flights at any given moment in the nation's skies, and rarely do the 900 million annual passengers even give it a thought as they fly town–to-town, business-to-business, and on their vacations," Rinaldi said. "And that's the way we want it."
Rinaldi said in addition to running the safest, most efficient, and most complex aviation system, NATCA's members and staff help run the NATCA Charitable Foundation (NCF) and the NATCA Disaster Relief Fund "in true Scout spirit."
"This foundation helps people in need around the country and around the world, from holidays and giving gifts, meals, clothing, school supplies, helping children in inner cities with everything they could possibly need," he said. "We also provide assistance to military programs and those who protect our way of life. I have never been more proud to be part of an organization that puts other people first every day of their lives. They help other people around the world and they never even think twice about it."
Earlier this year, NCF donated sleeping bags, folding chairs, first aid kits, outdoor showers, towels, and camping gear left over from NATCA's 2014 Race Across America bicycle team to a Boy Scout chapter in the Sarasota/Bradenton, Fla., area for underprivileged kids.