Dec. 16, 2016 // Providing a Safety Net for Climb and Jump Zones
Parachuters performing a jump with Skydive Arizona.
This article was originally published by the Federal Aviation Administration.
Parachute operations and air traffic do not always mix well. Yet, the controllers and supervisors at Albuquerque Center (ZAB) demonstrated exceptional teamwork to maintain the safety of the National Airspace System (NAS) during recent parachute operations in Arizona.
In October, Skydive Arizona hosted the 2016 U.S. National Skydiving Championships in Eloy, Ariz. At the peak of the 11-day competition, the event included approximately 150 flights per day. Meanwhile, Phoenix Sky Harbor International Airport (PHX) had closed one of its three runways due to runway construction. This reduced the airport's usual arrival acceptance rate from more than 74 aircraft per hour to just 40 and increased the number of aircraft holdings.
Although the climb and jump zones for the parachute operations are designed to provide separation from the PHX arrival and departure routings, any holding patterns southeast of Phoenix would put the parachute operations and the arrival traffic in potential conflict. Skydive Arizona was naturally concerned about the impact to their business during this competition as controllers at ZAB – particularly those working in Sector 46 – have been trained to ensure positive control between all forms of flight with a heavy emphasis on separating non-participants from skydive activity.
"Sector 46 is extremely dynamic, fast paced, highly unpredictable, very congested, has an extremely disparate operational mix of aircraft, and entails very high workload levels," said ZAB NATCA Vice President Dr. David Bricker, who added that the aircraft mix includes airlines in and out of both Tucson and Phoenix, general aviation, business jets, parachute aircraft, military fighters, helicopters, and practice approaches.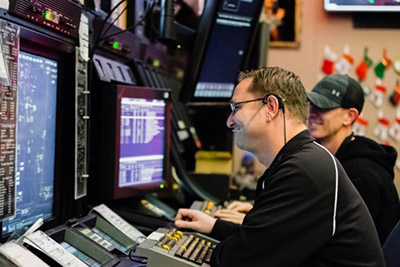 Pictured Dr. David Bricker, ZAB, NATCA Vice-President (left) and Ben Foutz, ZAB Southwest Specialty NATCA Representative, providing air traffic services to those flying in ZAB Sector 46. Sector 46 is bordered to the north by Phoenix TRACON and to the south by Tucson TRACON. The largest parachute operations in the world take place in this sector.
In preparation for the runway closure and possible impacts to the stakeholders, the ZAB Airspace and Procedures Event, managed by Craig York, had multiple conversations with Skydive Arizona. The area specialist Doug Hughes communicated daily to help prepare the stakeholder for possible scenarios in case holdings took place and explained "the why" regarding possible restrictions to the jump aircraft. The ZAB Traffic Management Unit also spoke daily with the FAA Command Center and stakeholders to ensure safety and efficiency was optimized despite PHX's reduced arrival rate.
Reaching the point of substantive systemic change, Bricker stated, has required a concerted and sustained effort on the part of NATCA ZAB, the Central Service Event Review Committee, NATCA Phoenix TRACON (P50), and NATCA Tucson TRACON (U90).
"Through multiple ATSAP reports and a collaborative workgroup between NATCA and the Agency, we are finally able to move on a sector redesign that will better distribute the workload of a single controller between two sectors," Bricker said. "This effort could only have been accomplished through the hard work of many NATCA reps and through collaboration with management."
The performance and professionalism shown by the controllers and supervisors in the southwest area was evident throughout the competition. They continually engaged with the operators and provided exemplary services in the name of safety. As ZAB Air Traffic Manager Franklin McIntosh noted of the Center's achievement, "It was everyone's commitment to organizational excellence and safety that made this possible. The work done was above reproach, and I'd like to recognize everyone who did a phenomenal job on pulling this off."