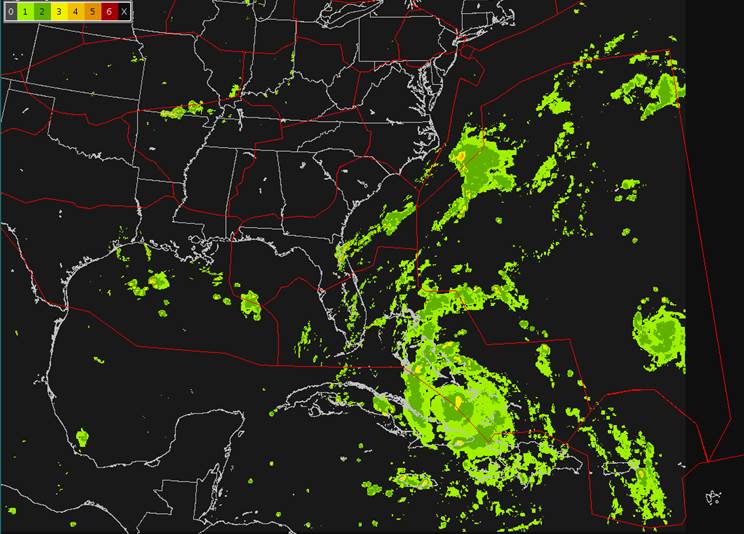 Jan. 6, 2017 // Offshore Weather Data on the Horizon
This article was originally published by the FAA.
En route air traffic controllers in offshore airspace recently got a preview of a strategic weather planning tool to be available at their facilities in the future – thanks to a team of technical experts at the MIT Lincoln Laboratory who designed a cutting-edge radar simulator known as the Offshore Precipitation Capability (OPC).
The weather situational awareness tool creates a radar-like picture of precipitation intensity in airspace where radar coverage is not available. It will initially be available at Miami Center (ZMA), Houston Center (ZHU) and the Command Center, and will cover the Gulf of Mexico, Caribbean Sea, and U.S. Atlantic Coast.
How? By merging information from various non-radar data sources – lightning detection, data from satellites, and outputs from numerical weather prediction models – OPC creates a picture that looks much like weather radar over land. It will provide controllers with weather situational awareness when advising pilots of weather hazards. The capability will also enable planning of offshore flight routes more safely and efficiently than ever before.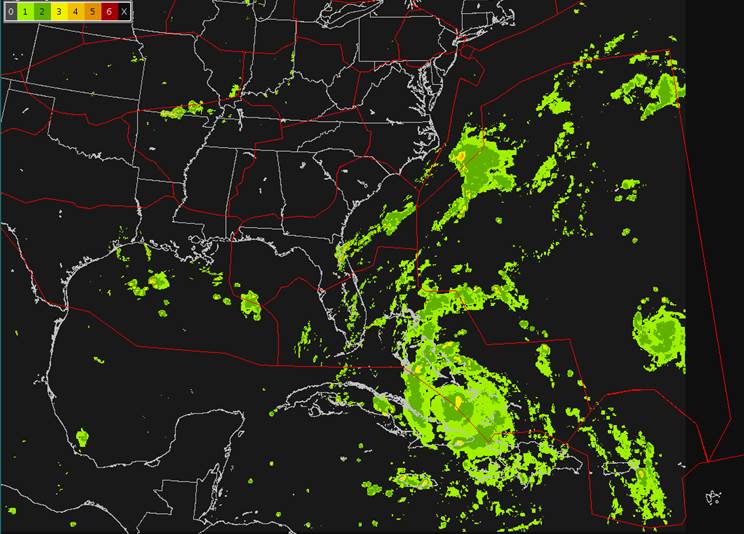 R&D Magazine recognized the innovation as one of the top 100 most significant new technological developments of 2016.
"We want to make the best use of this data as we can, so we're leveraging a lot of techniques," said Mark Veillette, a lead researcher on Lincoln Lab's development team. "Our backgrounds here are not just in meteorology. We have mathematicians, computer scientists and data scientists. We're putting all those skills to use here."
Veillette's group has been working with the FAA on this project for about three years. The initial concept spurred from ZMA controllers who, through the Air Traffic Safety Action Program, identified an operational need regarding a lack of weather information over the Caribbean was a huge workload and weather situational awareness issue for them.
In December 2011, ATSAP issued a Corrective Action Request to address this lack of coverage in ZMA airspace, and the request was later expanded to include ZHU and New York Center. The FAA originally signed off on the risk and installation of weather radars, but later reassessed it and pursued OPC.
After about a year of concept development and feasibility assessments, led jointly by the FAA's Operational Concepts, Validation and Requirements Group and the Aviation Weather Research Program, the FAA approved development of the system.
The FAA and MIT/LL, which have been partners for more than 20 years, reached their short-term goal for OPC last summer by completing 60-day evaluations at ZMA, ZHU, and the Command Center, where it was broadcast on LED panels in the control rooms. The FAA's long-term goal is to integrate the radar simulator into controller scopes via the NextGen Weather Processor, as known as NWP, which is scheduled to be operational in 2020.
"We received really good feedback from the evaluations," said Randy Bass, the agency's Convective Weather Research Program lead. "The data is updated near real time. Controllers can see the data within a minute or two of the time it's processed and visualized."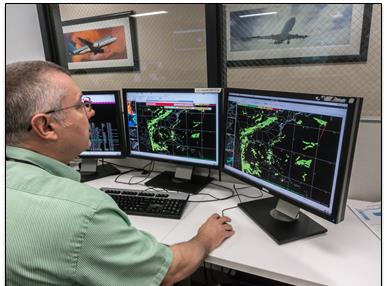 A controller works at the OPC testbed.
OPC will allow controllers to better plan offshore flight routes in advance, which provides the double benefit of reducing controller workload and increasing efficiency for commercial and general aviation flights. Airlines potentially will cut fuel costs by flying more direct routes, and the technology likely will eliminate the need for pathfinder planes to observe weather in order for controllers to reopen closed routes – another money saver and efficiency gain.
And the algorithm which generates the weather data is only getting better, as the Lincoln Lab team will continue to refine it up to the point when it's deployed. Enhancing the algorithm, with Geostationary Operational Environmental Satellite-R data launched in November as an example, could make for even faster refresh rates and even more accurate depictions of weather outside of radar range.
"The long-term approach is to work with the FAA's Weather Program Office developing NWP, so that hopefully we can integrate this technology when it's mature enough to be provided to controllers at the scope," said Sean Bodkin, who is leading the implementation plan from the ATO's Operational Concepts, Validation & Requirements division.
General aviation pilots using ZMA's airspace rely heavily on controllers for weather information while, in ZHU's airspace, helicopter pilots flying to and from the oil platforms in the Gulf seek guidance from controllers every day.
Controllers at ZMA saw the benefits of OPC during significant weather events that occurred on three days during the first week of evaluations last May.
"We'd like to get it up on the large displays in the centers before convective season begins next year," said NATCA's Weather Article 48 representative, Matthew Tucker, who visited ZMA during evaluations. "But to have a true impact on safety and efficiency we need to get it onto controllers' displays."
Tucker said one of the biggest growth areas in air traffic is from the tropics to South America. OPC could allow for efficient routing in this area. It also has potential use for areas of low and blocked radar coverage over land west of the Mississippi River, he said.
OPC supports the ATO's goal to improve weather dissemination from controllers to pilots, one of the organization's Top 5 items for 2015, and a focus for the Take a Stand for Safety campaign. And the technology is generating interest beyond the aviation sector on a global scale. The Department of Defense, U.S. Coast Guard, National Weather Service, and some private companies hope that it can improve their operations as well.
"It's kind of been the flagship for our organization of how to get together and work with the other divisions in the FAA," Bass said, "to take a basic weather research project and get it all the way through and into operations."
The FAA's OPC team would like to recognize former employee and the recently deceased Leonard Story, who was a driving force to get the OPC program underway. Story served in the military and worked for the FAA both in the field as a controller and at headquarters, tallying 34 years of federal service. He was always looking for ways to make things better for en route controllers.