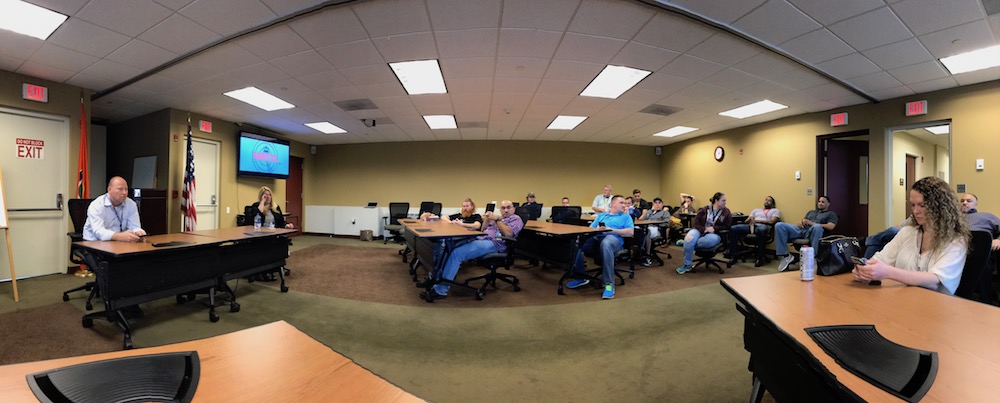 Jan. 27, 2017 // Photo Album: Atlanta, Oklahoma City, Seattle, New York, Serbia: See All of the Places NATCA is Making a Difference Across the Country This Week
NATCA President Paul Rinaldi and Executive Vice President Trish Gilbert attended a solidarity meeting at Atlanta Center. They discussed issues facing NATCA and the National Airspace System and answered questions from the membership.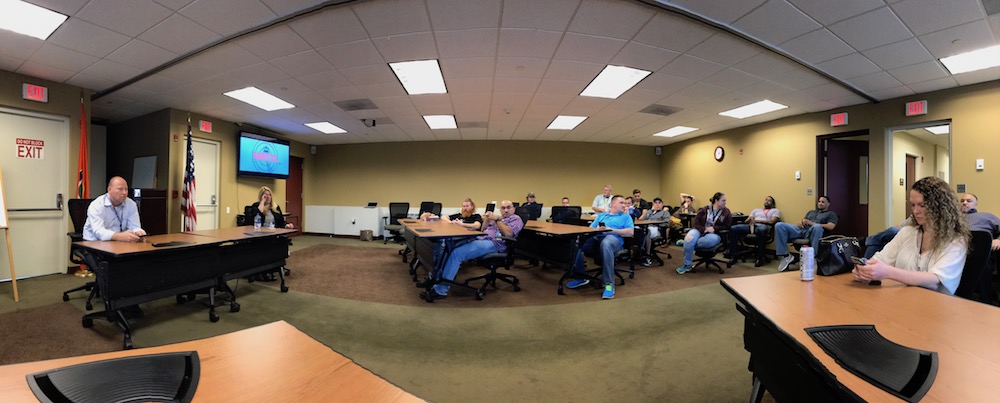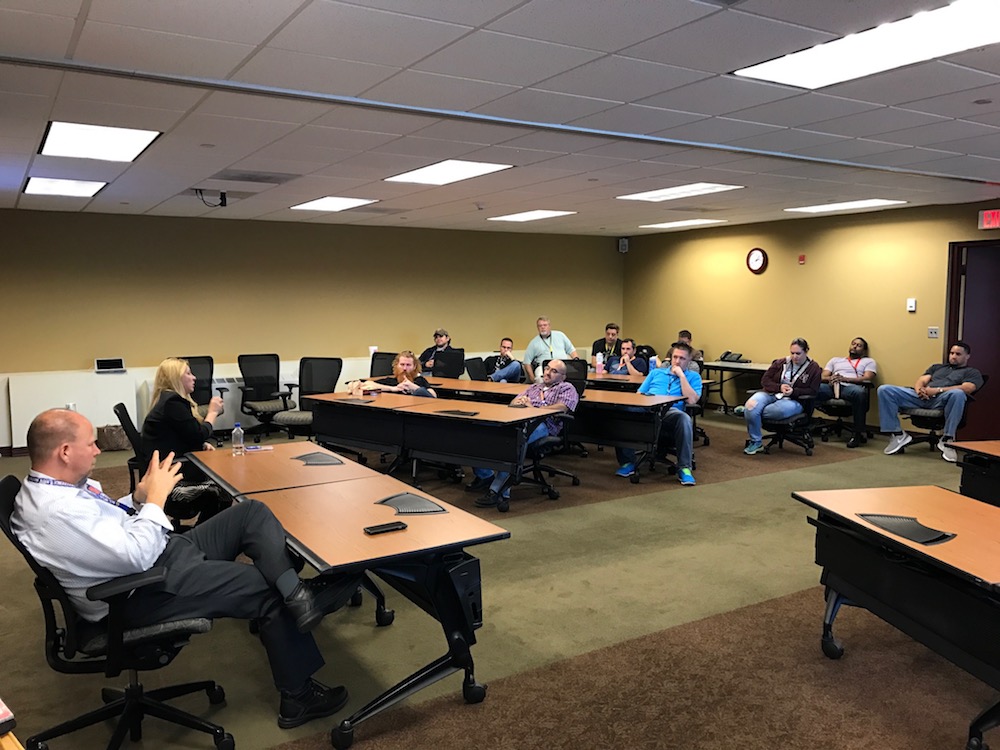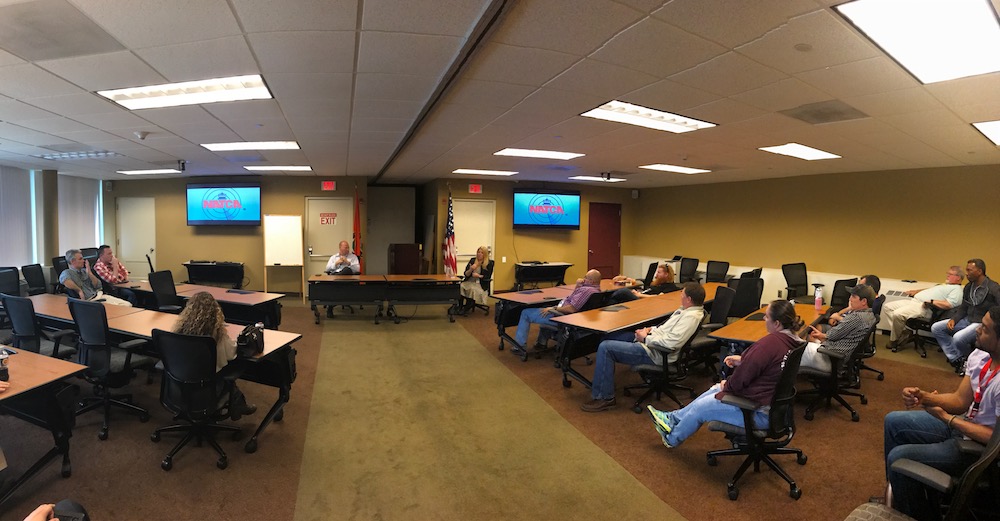 ---
NATCA leadership makes it a priority to educate ATC Academy Students about NATCA and their rights as part of the future air traffic controller workforce. NATCA hosted a lunch meeting and a dinner meeting for Academy students in Oklahoma City on Jan. 26. 40 people attended the lunch and 100 people attended the dinner meeting — a great showing for those interested in learning more about all that NATCA does for the National Airspace System. NATCA Executive Vice President Trish Gilbert, Organizing Committee Chairman John Bratcher and Outreach and Special Events Coordinator Jacqui Smith were all in attendance.
In addition to lunch and dinner meetings, NATCA hosted a NATCA member event that afternoon for 30 current members who are in Radar Training Facility (RTF) training in OKC.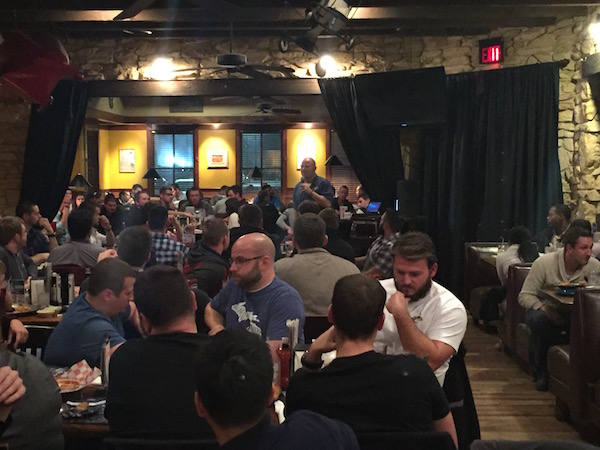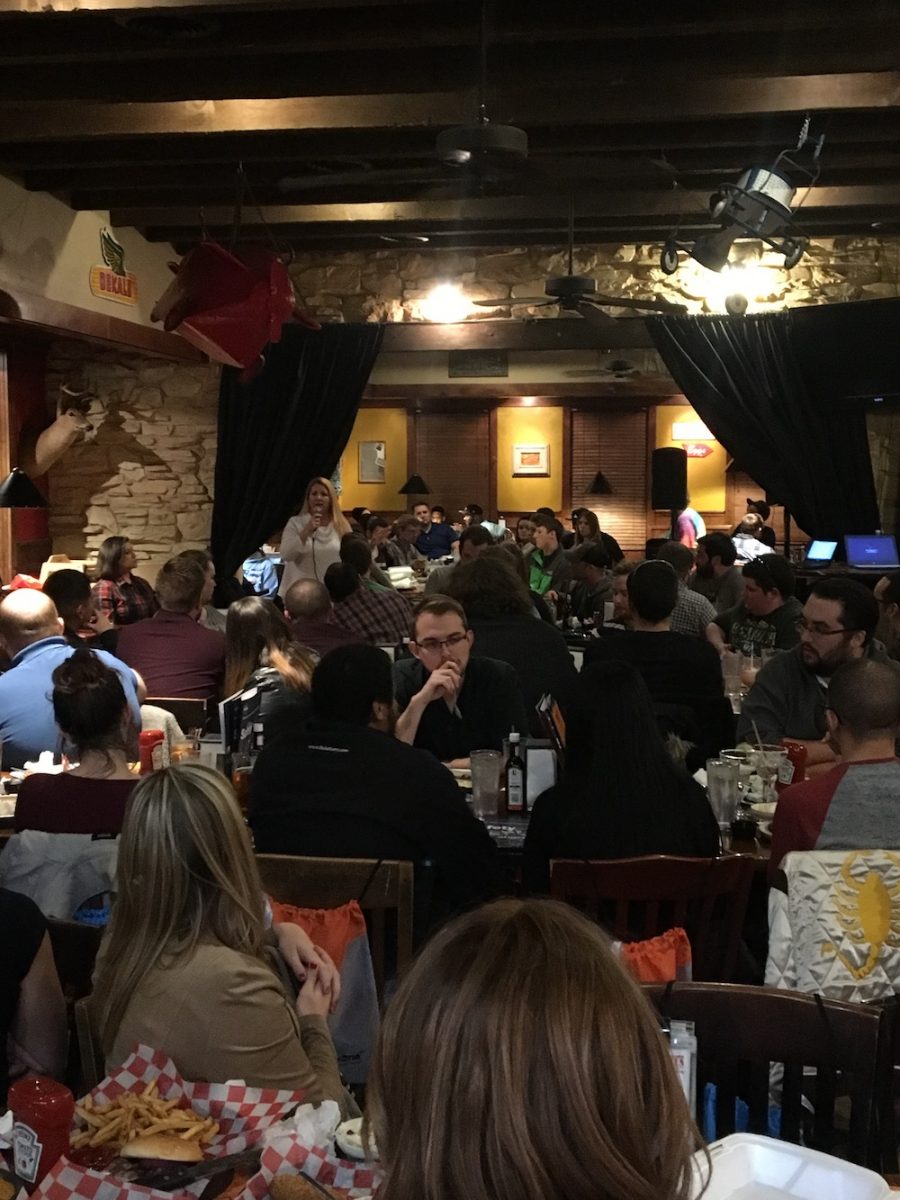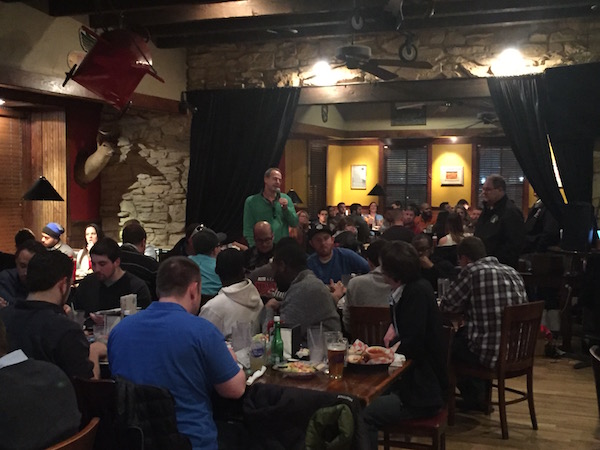 ---
On Wednesday, Jan. 25 in Seattle, representatives from seven aviation industry groups gathered at the annual award banquet during the meeting of the American Meteorological Society (AMS) to make the first presentation of the new "Aviation & Space Operations Weather Prize" to John McCarthy, Ph.D. The A&SO Weather Prize will be presented yearly to an AMS member or group of members for the "most conspicuous effort to advance aviation and space operations safety or efficiency through the meteorological or climatological sciences."
NATCA Weather Representative Matt Tucker attended the banquet.
"Aviation meteorology has contributed to flight safety for decades," said 2017 AMS President Matt Parker. "This recognition demonstrates, in an exciting way, the dedicated, fantastic efforts of a key member of the weather, water and climate enterprise."
McCarthy will receive the first A&SO Weather Prize for his "lifetime achievements to identify, detect, warn, mitigate, and promote industry education on the microburst hazard in commercial and private aviation." McCarthy was the founding Director of the Research Applications Program at the National Center for Atmospheric Research, Boulder, Colorado, from 1981 to 1994.
The seven aviation industry groups coming together to create and award the Weather Prize are NATCA, the Allied Pilots Association, which served as the primary lead for the effort, the Airline Dispatchers Federation, Airlines for America, the National Business Aviation Association, the Aircraft Owners and Pilots Association, and the Airline Pilots Association. The combined representation of these seven associations is over one-quarter of a million pilots, eleven thousand companies and over eleven million employees. Additional associations will join the effort for the 2018 prize.
"My involvement with these groups has been in a number of weather user groups and forums," says Tucker. "Every year NBAA and NCAR sponsor two meetings called Friends and Partners in Aviation Weather (FPAW). We (NATCA) have been involved in FPAW going back to 2000."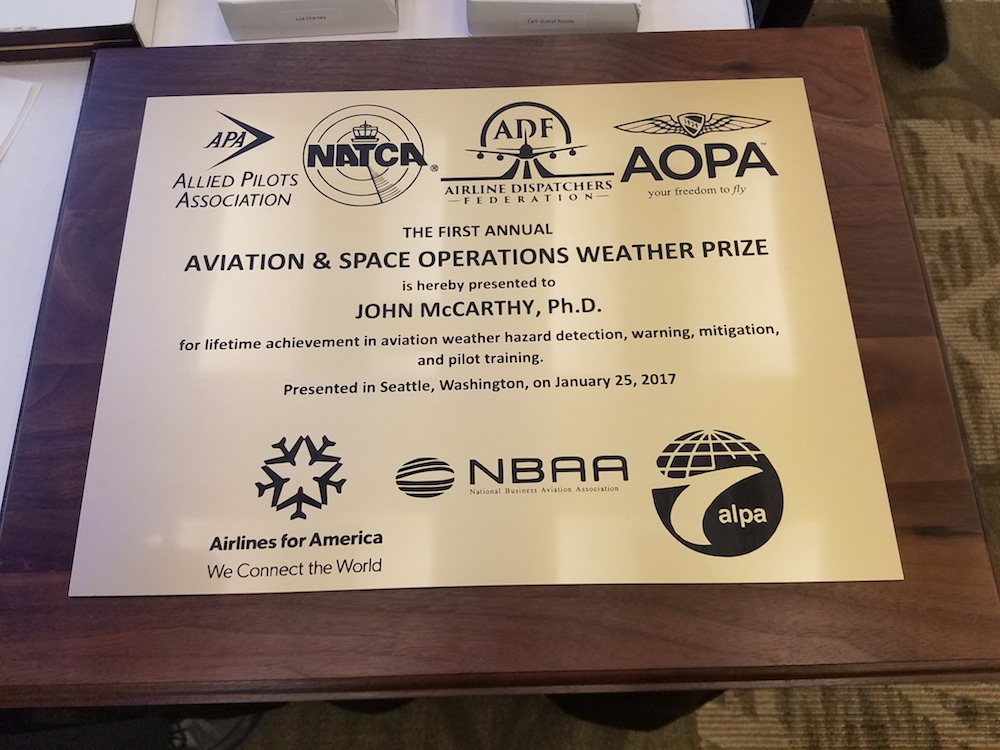 ---
Eight teams competed, including two representing facilities – Boston Center and Boston Tower. Other teams, from Buffalo, Providence, New York, the Washington, D.C. area, Ottawa, Canada, and Long Island, included several NATCA members among its players.
Long Island won the tournament and had retired Chicago Center member Tom Wilson on its roster. BOS was second, featuring Tim Fiset, Bob Heintz, Brian Dubois, and Eric Knight of BOS, Joe Tomich from New York-Kennedy Tower, Robert Casian of Boston TRACON, Kyle DePace of ZBW, and Andy Brennan of Bradley Tower.
The New York "Bad Apples" team finished third. Included on its roster were Bradford Carpenter (JFK), retired New York TRACON members Charles Carpenter and Andrew Samour, Dennis Kelly (Philadelphia), Carlos Wyre (Teterboro), Kevin Southard (New York Center), Christian Lucier (Farmingdale), Matt Harrell (Traverse City), Rick DeRoxstra (Miami Center), and Ron Parncutt, Jordan Anderson, Anthony Guardino, Eric VonDerLinn, Jackie Weiss, John Edmundson, and Jael Latouche of Wilkes Barre.
Pictured below are the Washington, D.C., team, named the "Control Freaks" (pictured below) included ZDC members Kristena Jones, Richard Burchnall, Joshua Hutsler, Michael Christine, Ben Follmer, and John Boccard, Potomac TRACON members Stephen Gregg and Casey Whittaker, and Dulles Tower member Kieron Heflin.
Other members participating included Johnny Fiorentino, Billy Brann, Rick McIntyre, Weir Lundstedt, and Joey Shapiro of ZBW, Billy Robitsek (ZKC), Gregg Neuendorf (A90), Greg Koba, and Chris "CJ" Cloutier of Bedford, Steve Pagano (Erie), Ed Chevanne (SYR), Terry Sweeney (Buffalo – retired), Dennis Beaulieu (Central Florida TRACON and Pittsburgh – retired), Erik Miller (PVD), and Andy Lewis (Rochester).
In the second photo, Eastern Region Legislative Representative Kristena Jones (Washington Center, Control Freaks) stands with her predecessor, retired former Eastern Region Legislative Representative Andy Lewis.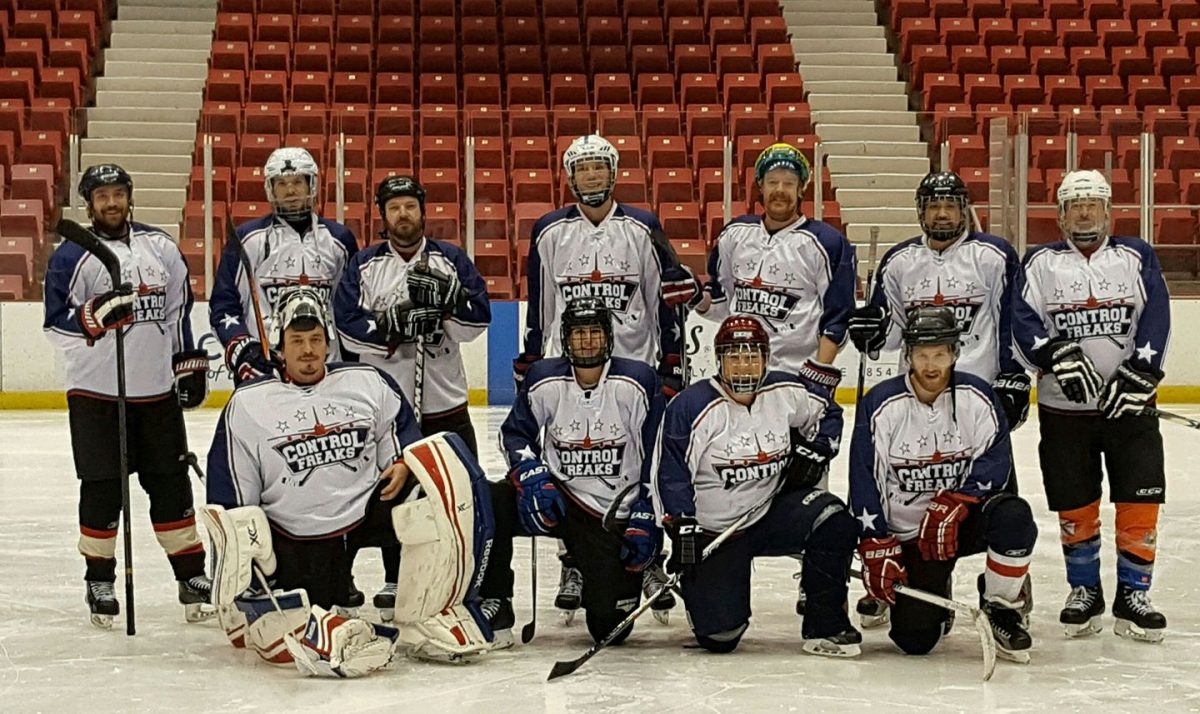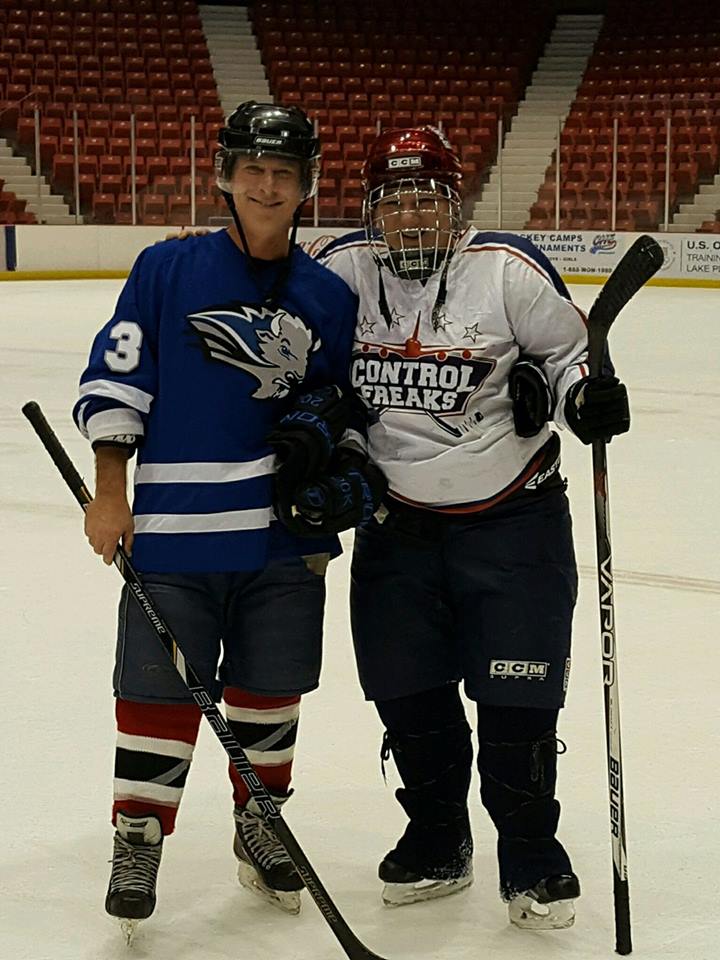 ---
Former two-term executive vice president Ruth Stilwell took second and third place this week in the women's super senior snowboarding division at the 42nd Golden Flight Level ATC ski festival in Kopaonik, Serbia. Congratulations Ruth! The below photo is from her third-place run.