NATCA's Founding Convention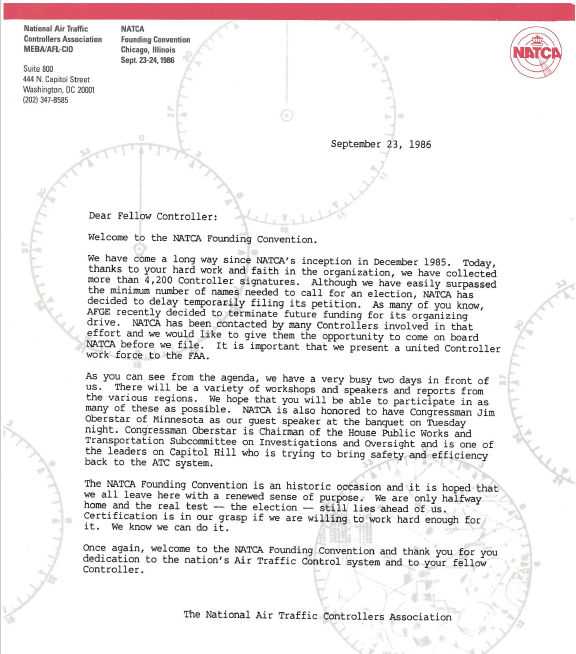 The original announcement letter sent to controllers to welcome them to the convention.
NATCA's Founding Convention
When: Sept. 23-24, 1986
Where: Chicago, Ill.
Theme: "Getting Down to Business"
What:
Marked as a "turning point" for air safety;
Ratification of the constitution, defines NATCA, relationship between NATCA and MEBA (Marine Engineers' Beneficial Association), permits changes and amendments;
Controllers' first show of unity since they lost their collective bargaining rights five years prior.
Regional Reps in Attendance:
Alaskan Region: Joe Dunnigan from Anchorage Tower/TRACON served as regional rep and Anchorage controller Will Faville Jr. assisted him as alternate.
Central Region: Jim Poole from Cedar Rapids Tower/TRACON served as regional rep and Dan Brandt from Omaha TRACON assisted as first alternate with Kansas City Center controller Ray Spickler serving as second alternate.
Eastern Region: Joe O'Brien from New York TRACON served as regional rep but stepped down just prior to the Convention. Steve Bell, also from New York TRACON, stepped up as regional rep and Dave Pearson from Harrisburg Tower/TRACON in Pennsylvania served as alternate.
Great Lakes Region: Fred Gilbert served as regional rep with Cleveland Center controller Scott Lawless as alternate.
New England Region: Howie Barte of Providence Tower served as regional rep with Dave Landry out of Lebanon Tower as his alternate.
Northwest Mountain Region: Gary Molen from Salt Lake Center served as regional rep with Seattle Center controller David Brown as his alternate.
Southern Region: Dennis Delaney from Pensacola Tower/TRACON served as regional rep with Lee Riley of Atlanta Center as his alternate.
Southwest Region: Ed Mullin from Love Field Tower served as regional rep with Houston Center controller Dennis O'Brien as his alternate.
Western-Pacific Region: Karl Grundmann from Los Angeles TRACON served as regional rep and Richard Bamberger from Lindbergh Field as alternate.
View original founding convention highlights here.
View the founding convention NATCA Newsletter here.
View the resulting constitution from the founding convention here.
72 delegates attended NATCA's founding convention at the Chicago-O'Hare Ramada Hotel, including provisional representatives from each of NATCA's nine regions.
On the morning of the first day of the convention, John Thornton announced that NATCA had collected more than 4,200 signatures — about 33 percent of the workforce — calling for an election on whether to form a union. In under a year, the new campaign had met its goal and NATCA would file for an election with the Federal Labor Relations Authority (FLRA). However, the group wanted to gather more signatures before filing them to help ensure a "big win."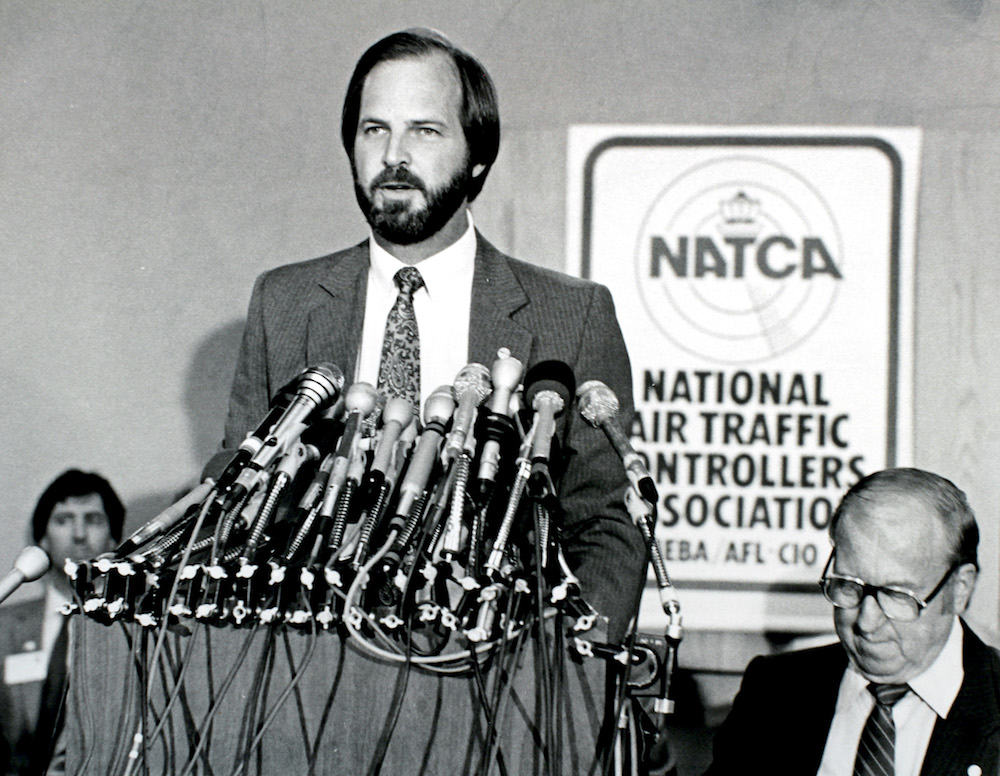 John Thornton and Gene Defries announce the favorable vote for the new union.

"NATCA is a new union," said Thornton. "It is not a reincarnation of the past. Our goals and methods are different, and despite what our critics say, we are not condemned to repeat the mistakes of the past."
The preamble of NATCA's proposed constitution at the founding convention was very different from its more extreme predecessor in PATCO. It explicitly vowed to abide "by lawful means" in carrying out its mission. The clause formalized a no-strike pledge that the union had adopted two months earlier.
The constitution included two other differences. First, it stated that every controller would receive a ballot in national elections and every facility was entitled to send a proportional number of delegates to conventions to vote on constitutional amendments and participate in other business. The second stated that NATCA conventions would be held every two years. That way, the new union would reduce the amount of political fallout that had influenced PATCO for several months before and after its annual gatherings.
During the afternoon of the first day, delegates unanimously approved an interim constitution and adopted initial membership dues of one percent of base pay.
On the second day of the convention, NATCA legally sealed its relationship with MEBA. Board members were told to report to a conference room where Thornton, MEBA President Gene DeFries, and another individual stood near a table with several documents. DeFries explained the resources MEBA could extend, including a promissory note that obligated NATCA to reimburse MEBA for organizing expenses when their finances permitted. At that point, that meant $500,000 — which would climb to $1.5 million within the next year. DeFries explained the documents also stipulated a quarterly affiliation fee of 15 percent of the dues NATCA collected from each member — double the industry average.
Most board members had thought that NATCA would not have to repay the money and were surprised by the affiliation fee. MEBA promised it would be reduced as NATCA membership increased but Eastern regional rep Steve Bell was so upset he left the room. Northwest Mountain regional rep Gary Molen chose to just sign the papers, commenting, "Well, it's their money." Each regional rep eventually signed on the dotted line, including Bell.
After the signing, member signatures rolled in and when NATCA filed its national petition with the FLRA the following year on Jan. 5, 1987, they totaled 5,800. That represented 46 percent of the workforce and was far more than the 3,750 needed. The FLRA approved the petition in March and scheduled a mail-in vote for all controllers during May and early June. The FAA did not appeal the decision.