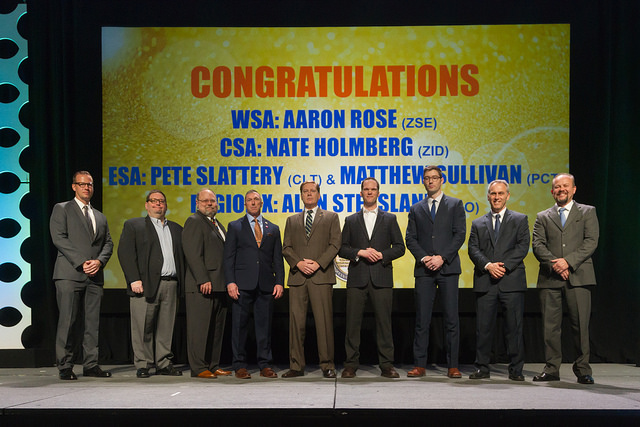 Feb. 24, 2017 // NATCA Professionalism Awards: Pete Slattery (CLT)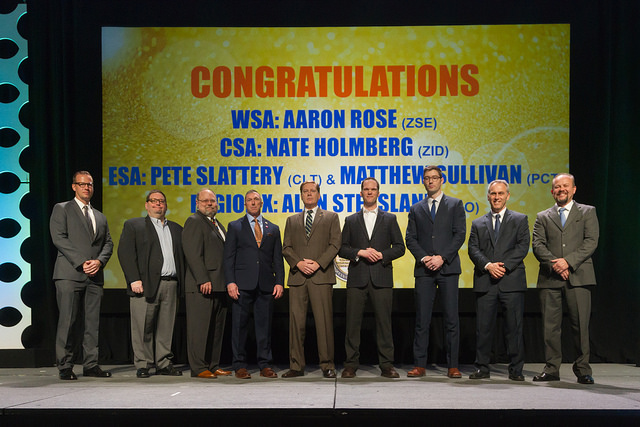 This is the third article in our series profiling the 2017 NATCA National Professionalism Award winners.
Pete Slattery (Charlotte, CLT) is one of the five winners of this year's second annual NATCA National Professionalism Awards. NATCA will recognize his great work on March 21 at Communicating For Safety. He is the co-winner for the Eastern Service Area.
The NATCA Professional Standards Committee (PSC) created the National Professionalism Award in 2015 as a means to recognize those members who have demonstrated a consistent personal commitment to safety and excellence, and whose professional contributions and individual performance has enhanced the standings of our profession.
In nominating Slattery for the awards, his entire local CLT Executive Board had this to say:
"Pete is one of those guys who displays professionalism 100 percent of the time. Pete will always be the one in the room who is prepared and professional at all times. There are many things that come to mind when we think of professionalism. Integrity, respect from peers, respect of others, positive attitude, willingness to work with others, dedication, and reliability are just a few that we think of when describing Pete.
"One unique characteristic of Pete that is admired by all of us is his willingness to listen. Over the course of our collective careers, there have been few that stand out as more professional than Pete Slattery. Recognizing him with such an award would be fitting and appropriate. Of course, if you elect to do so, we would expect Pete to be humbled and appreciative of such recognition…like a true professional would."
Below are the words used by Slattery's peers and co-workers who submitted them in support of his nomination:
"Since the day I started at Charlotte, I have never seen Pete Slattery as anything other than professional. In fact, I don't think I've ever seen him with his shirt untucked. Pete has demonstrated professionalism on numerous levels as a controller, an active union member, a traffic management coordinator, and a coworker in general. If I want to know the answer to something, I ask Pete. If I need help with something or need something done quickly, I can ask Pete."
"In this job, you have to be a team player. I have watched Pete, day in and day out, assist and support both the tower and the TRACON in performing their duties as easily and as expeditious as possible."
"When the operation is moving perfectly and traffic is being flowed proactively to proper runways, I think to myself, 'Pete must be here.'"
"Pete has volunteered at schools, on career day, and at other functions to help show the flying public what our job is all about. He has always played an active role in our union and participated in the vital improvement to our technology and procedures in the National Airspace System (NAS). On both local and national levels, I have seen firsthand that any task Pete takes on is done well and overall helps to improve our profession as a whole."
"Quite simply put: This individual embodies everything that comes to mind when I think of a professional and acts of professionalism. He is an individual with high integrity, has the respect of his peers, and is constantly being a part of the solution rather than a part of the problem."
"Professionalism is the one and only word I would use to describe Mr. Slattery. He always takes time out of his day to help educate members of our facility, as well as schools, tours, and anyone expressing interest in our great profession. Pete dresses and carries himself in a professional manner at ALL times. He, in my opinion, is the best at what he does, and never needs anyone to tell him that. No matter what line of work you are talking about, professionals like Pete are few and far between. Our union and profession are stronger because of Pete, and I hope he is recognized for the countless hours he has provided in order to build a better National Airspace System. Pete is the definition of professionalism, and is a role model to the younger generation on how to be an outstanding employee."
"I have only known Pete for a year and a half, but in that time I have seen more professionalism and desire to improve the NAS come from him than anyone else in my career. He is exactly what a NATCA professional should be, and I can honestly say that if there were anyone who's career I would want to emulate, it would be Pete's."
Learn more about the National Professionalism Award.
Previous stories in this series: