March 3, 2017 // March is Multiple Sclerosis Awareness Month
Below read a message from Professional Standards and Fort Worth Center (ZFW) Traffic Management Unit (TMU) Rep Jimmy Clouse about MS Awareness Month.
March is Multiple Sclerosis (MS) awareness month. Just one of the many diseases recognized annually, but what is MS? The National Multiple Sclerosis web page defines MS most clearly: MS is an unpredictable, often disabling disease of the central nervous system that disrupts the flow of information within the brain, and between the brain and body.
The cause of MS is still unknown but scientists believe the disease is triggered by an as-yet-unidentified environmental factor in a person who is genetically predisposed to respond. The progress, severity and specific symptoms of MS in any one person cannot yet be predicted. Most people with MS are diagnosed between the ages of 20 and 50, with at least two to three times more women than men are diagnosed with the disease.
In 2007, my beautiful bride, Miriam, was diagnosed with MS around Christmas time. Her symptoms included a constant numbing sensation in her feet and legs, which caused us to go to the emergency room. Following a magnetic resonance imaging (MRI), the doctor wanted us to schedule an appointment with a neurologist because the MRI reflected that my wife had lesions on her brain and spine. The first thought that went through our minds while I was holding our 14-month old daughter was that my wife had cancer and that I would be raising our child alone.
After pressing the doctor for his opinion, he told us that with the information he had, he felt that my wife had MS and advised us not to Google Multiple Sclerosis during the holidays, but we did anyways. We also scheduled an appointment with a neurologist and after the first of the year (after seeking a second and third opinion), we knew that we were going to live with MS, but MS would not define us.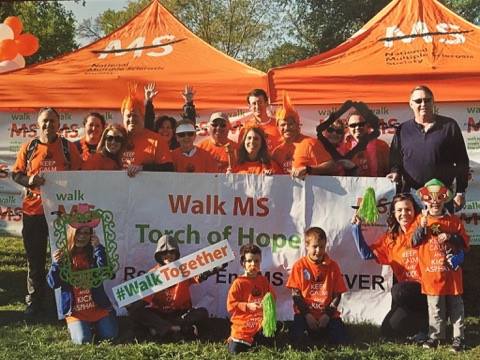 We know the definition, but what does Multiple Sclerosis actually mean? It means that your life has changed. It means doctors appointments, medicine, and needles. It means my wife feeling fatigued. It means symptoms and tests. It means MRIs. It means fighting the negative thoughts that creep into our minds.
But Multiple Sclerosis also means family. It means togetherness. It means fun. It means MS Walks and MS Dinners. It means not fighting alone. It means strength, love, and support. It means shaving my head, painting it orange and wearing an orange tutu when my MS team reaches its fundraising goal. It means that we will not let MS beat us and it means that we will fight. We will bring awareness, find a cure, and We. Will. Win!
I stumbled upon the MS Society's webpage during my Google search and learned that the MS Society holds walks across the country throughout the year to raise awareness and money. I knew that I had to do something to help find a cure for my wife and for the many others that suffer from this disease.
I participated in my first walk in Dallas in 2008. In 2010, we switched to the Fort Worth Walk because it was a quicker drive for me and my wife. This year will be my 10th walk and each year our team continues to grow, which means that awareness of MS has grown. My wife's strength has also grown. She is doing well and medication options have improved since 2008 and earlier.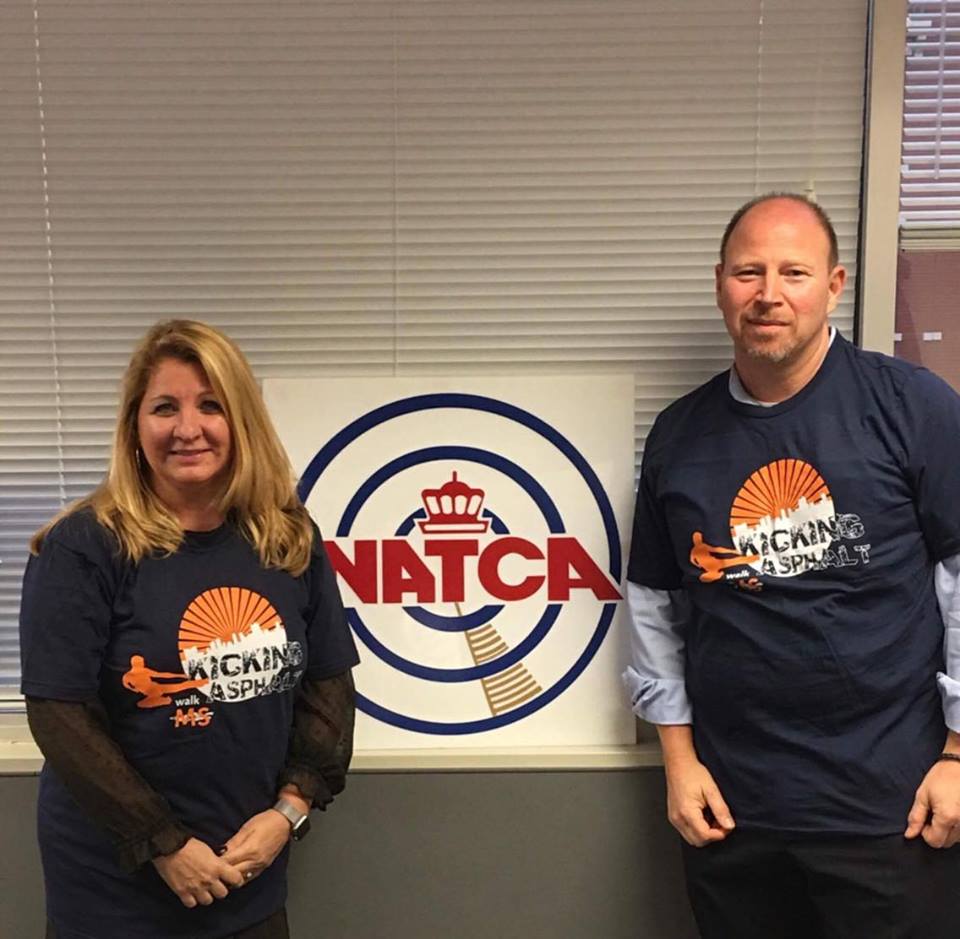 Our MS Team, Kicking Asphalt, has been the top Fort Worth fundraising team for the past two years and we are hoping to make it three straight. We couldn't have done that if it were not for you and the many others that donate to help us find a cure. If you would like to help us in our fight to find a cure or just want to find out more information on this disease, you can do so by joining our public Facebook group "Kicking Asphalt. Let's beat MS! Fort Worth Walk". I also encourage you to Google Charity Navigator to see how your money is spent within any charitable organization.
I want to thank my home facility, ZFW, my fellow e-Board members, my FacRep Nick Daniels, Vice President Jeremy Hughes, and my Regional Vice President Andrew LeBovidge for their support. I'd also like to extend a big thank you to NATCA President Paul Rinaldi and Executive Vice President Trish Gilbert for helping me bring awareness to MS and for their dedicated leadership. And finally, thank you to Elena Nash, the NATCA Charitable Foundation, and to Communications Specialist Sarah Zilonis for being so eager to help me get this letter to my brothers and sisters. You never know what kind of support you will get unless you ask.
NATCA means family and I could not do what I do without the love and support from so many of my union brothers and sisters. I encourage all of my brothers and sisters to get involved. While we cannot possibly support each and every cause in the world, no matter how much we wish we could, I appreciate the opportunity to bring awareness to this disease that affects an estimated 2.5 million people worldwide and nearly 500,000 in the United States alone. Thank you!
In solidarity,
Jimmy Clouse
ZFW TMU NATCA Rep
Professional Standards