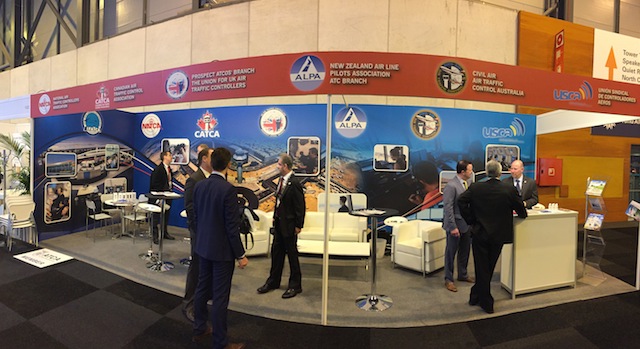 March 10, 2017 // A Global View of Collaboration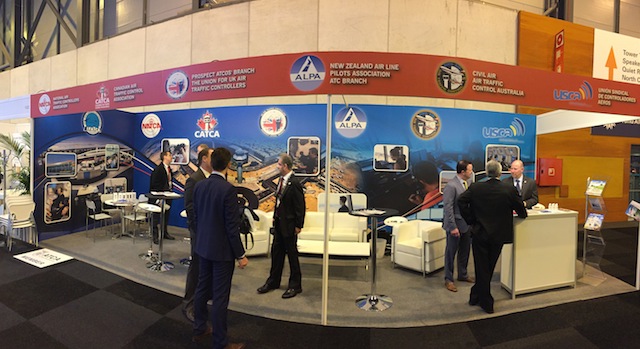 NATCA President Paul Rinaldi spoke on day one of the fifth annual World ATM Congress in Madrid, Spain. He took the stage following NATCA Director of Safety and Technology Jim Ullmann and NATCA Program Management Organization (PMO) Rep Jeff Woods' discussion of the importance of collaboration. CATCA President Peter Duffey and U.K. Prospect ATCOs' Branch Vice Chair Paul Upton joined Rinaldi for the panel. The group delved into the meaning of collaboration on a global scale. Ullmann remained on stage to moderate the panel.
While the countries represented on the panel have unique airspaces of differing sizes and concerns, all union leaders stressed the importance of collaboration between labor organizations.
Rinaldi explained that for many years, it could be argued that labor unions were all guilty of being primarily focused on their own organization's goals, concentrating on issues that only affected their own workforce, their own membership, and their own country.
"However, as we have all witnessed, the world of air traffic control and aviation has moved to becoming more in sync, and no matter that some may wish to 'build walls,' in the ideal world of aviation, these walls cannot exist," Rinaldi said. "As organizations that represent a large percentage of the world's air traffic controllers, it is imperative we work together to break down current barriers, and come to the realization that solutions are best developed with all of the information available."
Rinaldi, Duffey, and Upton then explained how the collaboration between their respective unions came from a desire to learn from common struggles and successes.
Rinaldi said that they began attending each others' conferences and building relationships. They all realized that efforts to merge NextGen and SESAR capabilities were leaving out the voice of the operators. Rinaldi explained that they look at their involvement as holding the standard of air traffic control worldwide very high.
Duffey explained that it was a process of necessity. He said that you look at a conference like the World ATM Congress with a high amount of global competition and global collaboration. He posed, does it not make sense that labor, and the people representing air traffic control, should also collaborate and discuss problems, interests, and common goals?
Upton shared that through the process they learned how much they all have in common. He said his union began to get to know NATCA when there were talks of privatization, and CATCA when discussing oceanic airspace. He said they see each other three or four times a year now and discuss lessons learned.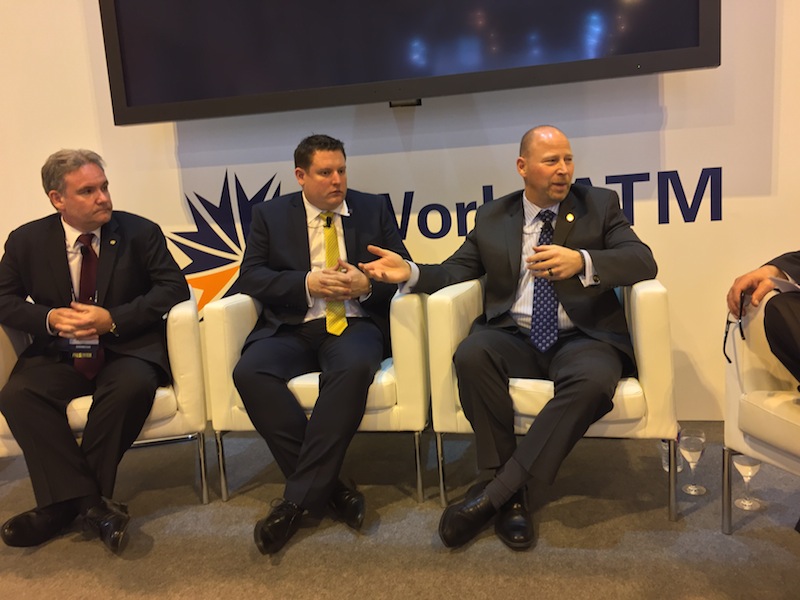 From left to right: CATCA President Peter Duffey, U.K. Prospect ATCOs' Branch Vice Chair Paul Upton, and NATCA President Paul Rinaldi.
For NATCA, collaboration has been a way of life for the last eight years. Rinaldi explained the opportunity to collaborate with the FAA was a leap of faith to build relationships. In order to expect a different result, you must first try a different method. He said it took eight years and a lot of pushing and a lot of believing in the power of doing something differently. "It was a dream and I'm very excited that we're here," Rinaldi said.
"We are developing a lot of collaborating at the local level," said Rinaldi. "There are still pockets that struggle and we identify them and work one-on-one so they value the idea of collaboration."
He said that as an organization, NATCA is always ready for any change because of the tremendous progress and relationships built through collaboration.
Duffey elaborated that collaboration has created a fantastic atmosphere.
"It's nothing short of exemplary," Duffey explained. "Our ability to solve problems is second to none. It's something I would hold up as an example to everybody."
Upton explained that collaboration in the U.K. is unique because of different ANSPs controllers have no choice but to work with. He said collaboration is good from an air traffic control point of view, and described the process in the U.K. as "brilliant."
Needless to say, all felt that these relationships have been extremely beneficial.
"You'll realize the issues are the same no matter where you are," said Rinaldi. "The value added was when we realized the status quo with the FAA was unacceptable and we needed to look at an alternate way to fund the aviation system in the U.S. We need to learn from our brothers and sisters who have been through it, learn from their mistakes, learn from their successes, and really develop our own path without making the same mistakes that have already been made."
Duffey added that whenever facing a new challenge, it's unlikely that another union has not already had the experience. He said you have the opportunity to start much further forward than when you can only rely on your own organization.
A few of the issues discussed include staffing, aviation system funding, and air navigation service providers being overly invested in cost benefits. Rinaldi especially elaborated on staffing as a paramount issue all labor organizations are addressing.
"The fantastic irony is we are sitting in a room of companies that make their livelihood off of what air traffic controllers do every day," Rinaldi said. "These companies exist because of controllers and pilots and a lot of them help us do our job every day with great technology and procedures, but there needs to be an understanding that staffing of ATC facilities must be a priority in order for all of us to be successful."
A major part of collaboration in the U.S. is addressing changes and funding in the National Airspace System. Rinaldi explained that the only way to accomplish change is to establish a stable funding stream. He said once we have that, we would be able to focus on enhancing services and maintaining a high standard of safety as new technologies develop. He said that the push for trajectory based operations, remote towers, and space-based ADS-B would all benefit from funding stability.
To create this kind of major change, the panelists agreed it boils down to collaboration on cultural changes within agencies.
"The concern is are we making it better and safer?" said Rinaldi. "Or are we just changing because it is the new hot thing to do? Change is good if it makes it safer and better, but if it doesn't, there is no reason to change."
The panelists concluded by sharing their steadfast belief that international collaboration is the only way forward.
"I'm really happy and proud to be associated with these gentlemen," said Duffey. "I'm also proud of our counterparts from Australia and New Zealand. Building global labor alliances is very important."
Upton added that seeing new technology is great, but there is a more important message to get across.
"You can have all the new technology and advantages you want in the world but if you don't take the people with you, it won't matter."
Rinaldi concluded by saying that collaboration is the best means to success.
"Education amongst all controllers around the world is very valuable," said Rinaldi. "It is so important we continue to learn from each other."